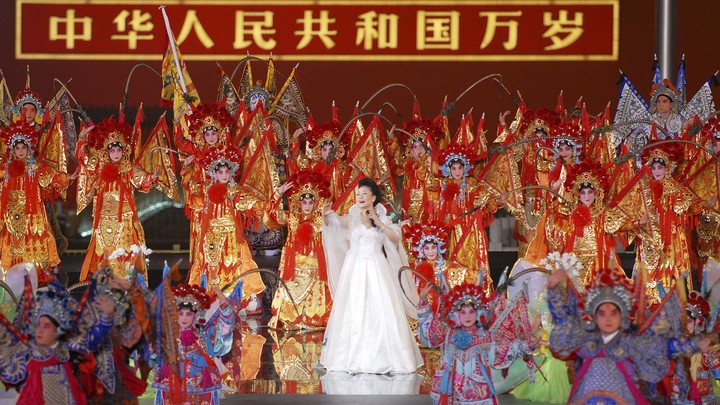 Today's Issue
By Karen Yuan
Peng Liyuan, the wife of Chinese President Xi Jinping, took the stage long before he did. Peng was for decades a folk singer for the People's Liberation Army. Her patriotic performances were viewed by the entire nation during China Central Television's Chinese New Year program—the most watched TV show in the world. Resplendent in bouffant hair and ball gowns, Peng portrayed an image of the Communist Party that was decidedly female. She has carried on that persona since Xi took power in 2012, making public appearances and political appeals of her own, and leading some Western writers to call her China's "first" first lady.
Peng's esteemed position in leadership is extraordinarily uncommon for a party that is often overtly hostile to women. "The entire basis of authoritarian control in China is the subjugation of women," the scholar Leta Hong Fincher told The Masthead in this week's episode of The Present Past. The party, through its control of the Chinese state, is encroaching upon women's education, careers, domestic life, and literal purchasing power. Fincher discovered in earlier research that urban women were frequently pressured to pay for new apartments but placed their husband's name on the deed; they were shut out of China's rapid accumulation of real-estate wealth. "As long as women conform to those kinds of roles that are very docile and subservient, then they're seen as doing the right thing for the nation," Fincher said.
Women's place in Chinese politics has changed dramatically in the past century of Communist influence. "In the early days of the Communist era—the first few decades—there were some prominent women," Fincher explained. Jiang Qing, Mao Zedong's wife, was one of the most important women in the party before Peng. During the Cultural Revolution, Jiang persecuted academics, artists, and other people declared persona non grata under the party's anti-intellectuals doctrine. After Mao's death, however, she was imprisoned by his rivals and committed suicide. Since Jiang, the wives of Chinese leaders have drawn much less attention to themselves.
Peng's prominence as a woman in the Communist Party harkens back to the founding of the party in the early 1920s. Women "played very decisive roles, not only in organizing the meetings, but starting schools to educate women, to teach them literacy, to teach them how to write," Fincher said. Today Peng is a UNESCO special envoy for advancing girls' and women's education. She gave a speech at the organization's headquarters last week emphasizing the importance of female empowerment through schooling. But Peng does not serve on China's Politburo, its most important decision-making body, which has only one woman as a member (its most elite rung, the Standing Committee, has never included women). More apparatchik than politician, Peng takes tea and scones with the Duchess of Cambridge, attends performances with the Finnish first lady, and visits middle schools with Melania Trump.
Still, Peng's unprecedented ability to wield soft power indicates an accommodation of at least one powerful woman. "The very fact that she has been much more visible than her predecessors on her overseas visits suggests that the role itself is in flux," the author Julian Gewirtz wrote in The Atlantic in 2013, noting Peng's high-profile meeting with Michelle Obama, the U.S. first lady at the time.
The paradox of the Chinese first lady is that Peng might be influential not despite the party's oppression of women, but because of it. "Especially under the Chinese president, Xi Jinping, there's been a real resurgence of Chinese traditional values and Confucian values about the proper feminine role," Fincher said. Women, according to party ideals, should be "very dutiful wives and mothers." Peng's image is a carefully crafted performance of traditional femininity. She frequently appears in pre–Communist era formalwear designed by a personal couturier, for example. "A lot of the propaganda that you see today," Fincher continued, "does show very traditionally made-up women wearing the qipao, the traditional, tight-fitting embroidered dress, really properly made up. And this is all described as being part of Chinese."
Chinese media praise Peng's loyalty equally as a wife and citizen. She's been married to Xi for three decades, and they have one daughter. Her fans call her "Peng Mama." In a 2014 profile, People's Daily, the party's media organ, wrote, "Her experience is the best illustration of the China Dream." Any footage that deviates from this persona is furiously scrubbed from the internet, such as the scandalous image of Russian President Vladimir Putin putting a shawl around her shoulders. And sometimes her profile can even be too patriotic. A photo of Peng in a green military uniform singing to troops after the 1989 Tiananmen Square massacre emerged a few years ago, only to be immediately censored.
Peng's popularity isn't a celebration of womanhood for the sake of it. After all, the former singer has not given any performances since her husband took power. As a first lady, she is an ideal Chinese woman: radiant, gracious, ultimately powerless. Her femininity, displayed no longer at center stage but at her husband's side, is a tool and a message: As a woman, service to your party is to your family; service to your family is to your party.
---
Forward this newsletter to someone who might appreciate it. If you were forwarded this newsletter, learn more about the membership program here.
We want to hear what you think about this article. Submit a letter to the editor or write to letters@theatlantic.com.
Karen Yuan
is a former assistant editor at
The Atlantic
.