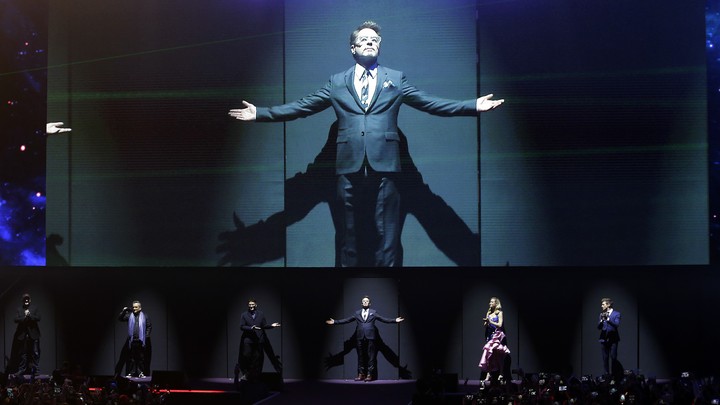 Masthead Weekly 04.19.19
The directors of Avengers: Endgame are so spoiler-phobic that they're keeping even their actors in the dark about the movie's story line. This obsession with the opening-weekend experience, David Sims writes, is changing the way movies are made—possibly for worse.
What to Know: Marvel's Entirely New Sort of Moviemaking
By David Sims
What we're watching: The most anticipated blockbuster of the season—and possibly of the year—is Avengers: Endgame, the 22nd film in the ultra-popular series of interconnected Marvel movies. Though it's not going to be the last of them, its directors, Anthony and Joe Russo, have promised that it'll have a sense of finality, and fan communities have speculated about which characters might die, or be resurrected, as a result.
The strange thing is—even the actors playing them might not know. Tom Holland, a.k.a. Spider-Man, traumatically puffed into ashes at the end of the previous Avengers movie, Infinity War, in one of its most searing moments. But Holland recently revealed that he never read a full script for the movie, and filmed an entire fight scene without even knowing who the enemy was. "I'm just standing there punching the air for 15 minutes, and when I took the job, I didn't think that's what I'd be doing. I've gotten used to it now," he said at a Comic-Con event. For Infinity War, actors didn't get full scripts; for Endgame, actors such as Don Cheadle said they barely understood what the final product would be. "You're kind of like, 'Okay guys, just tell me what to do, and please don't make me look stupid when it comes out,'" he recalled of his conversation with the directors.
Why it should matter: Understanding the Russo brothers' phobia over audiences spoiling the big moments of their movies is easy, and they are hardly the first directors to jealously guard the details of their script. The opening-weekend experience is crucial to any Marvel movie—box-office grosses are driven higher by the notion that audiences need to find out the film's ending collectively, as early as possible. But when secrecy demands that an actor doesn't even know what his motivations are during a scene, that could adversely affect his performance, and the creativity of the project at large.
Will it matter? For box-office purposes, certainly not. Avengers: Endgame is likely to break records when it hits theaters on April 25. Its release is the culmination of the opening-weekend concept, one that barely mattered in Hollywood for decades of moviemaking. A film's first-week gross was a fairly meaningless number, since even the biggest movies would debut in only a few big cities before expanding around the country. In the 1970s, the blockbuster arrived, in which event movies would release simultaneously on screens around the country; Steven Spielberg's Jaws broke records in 1975 when it opened to $7 million on 409 screens. Avengers: Endgame will debut on more than 4,400 screens, and is gunning for the $257 million opening-weekend milestone set by Infinity War a year prior.
What's next: With the rise of streaming media and advances in home-theater technology, the future of the cinematic experience is in flux. Disney, the studio behind the Marvel movies, is betting that colossal event films such as Avengers: Endgame are the thing that will keep compelling audiences to buy tickets. But that means chasing a huge opening weekend for a film shrouded in mystery, which is always followed by significant drop-offs in sales as audiences flock to the next big film. These kinds of movies are products as much as they are art, disparately assembled by directors and editors, with other creative partners such as actors often left in the dark. Avengers: Endgame should be a thrilling experience at the movies next weekend. But it's also a manifestation of an entirely new sort of moviemaking process.
What to Expect
Notes on the news to come
Business
Vegans who get late-night cravings for Tex-Mex can celebrate next week when Del Taco launches new tacos using plant-based meat substitutes. The fast-food chain has partnered with Beyond Meat, a start-up specializing in alternatives to chicken, beef, and pork, to produce the meatless protein. Del Taco is the latest chain to offer meat alternatives on its menu. Earlier this year, Carl's Jr. started selling a meatless burger, and Burger King announced its meatless Whopper on April 1, prompting some to wonder if the chain was playing an April Fools' joke. The meat-substitute market is no gag either. With the industry forecasted to grow 7.7 percent annually by 2025, these fast-food chains are looking to cash in on a trend that is just getting started.
Politics and Policy
The IRS has until April 23 to release Donald Trump's tax returns, according to a letter written by Representative Richard Neal, the Democratic chair of the House Ways and Means Committee. The law professor Philip Hackney told Vox that if the IRS does not comply, the committee may have grounds to bring the agency's commissioner to court "in contempt of Congress." Trump's tax returns have been an object of controversy ever since his 2016 presidential campaign, when he broke a decades-old tradition for candidates by refusing to release them to the public. (Bernie Sanders also declined to release his returns in 2016, but recently reversed course.) Now that the Democrats have taken back the House, they're working to gain access to the president's returns, citing the chance that they might reveal conflicts of interest with foreign businesses or governments. Treasury Secretary Steven Mnuchin, who oversees the IRS, has questioned the constitutionality of Congress's investigative authority. He rejected Neal's initial request to release the returns by April 10.
Global
Get ready to chalk up another first for North Korean diplomacy. Kim Jong Un, the once-reclusive Communist leader, is planning for a meeting with Russian President Vladimir Putin, who has said he misses the Soviet Union. A date has not been announced, but speculation abounds that a meeting might take place before or after an unrelated infrastructure summit in China next week. The two men haven't met, but their countries have been close. Kim's father, Kim Jong Il, toured Russia by rail early in Putin's reign, prompting a tell-all memoir by a Russian official full of stories of live lobsters flown to the train tracks in Siberia and charming young "lady conductors." Putin's Russia was in the doldrums then, and his personal rail cars "did not have the comfort of Kim Jong Il's train," the official wrote. Russia's economy has grown since then, along with Putin's ego. If Kim Jong Un and Putin compare trains, things might go differently this time.
Religion and Values
On April 24, the anniversary of Turkey's World War I deportation of thousands of Armenian intellectuals, France will commemorate the Armenian genocide. The country has officially recognized the genocide since 2001, but this move promises new tension between Turkey and its fellow NATO member. During the commemoration's announcement at a dinner with an Armenian delegation, French President Emmanuel Macron said, "France is, first and foremost, the country that knows how to look history in the face." Turkish representatives have accused France of hostility and hypocrisy. "It is inevitable that this stance of France, which is far from being amicable, will negatively affect its relations with Turkey," the Turkish foreign ministry said in a statement, adding, "France should mind its own dark history in Rwanda and Algeria."
100 Years Ago
"The map of Europe has not simply been scorched by the consuming heat of our time: it has been, in large measure, destroyed. Only a few remains are left, to testify to its previous existence and to its transient character. Political boundaries, long established and generally regarded as permanent, have been swiftly burned away. From the Atlantic Ocean to the Urals, from Archangel to Salonica, modifications are demanded, modifications are in process, which will introduce, if not a new heaven, at least a new earth. In only a few instances, and those relatively unimportant, will the nation frontiers of the future resemble those of the past."  — Charles Downer Hazen, April 1919
Items this week by Andrew Henry, Matt Peterson, and Karen Yuan. Illustrations by Matt Chinworth.
What's New
Updates on your Masthead membership
One Thing You Should Know: "Social media's promise of democratized culture," Megan Garber said in our book-club conversation on celebrity, is that "anyone can be a star, or feel like one." [Read more.]
Where You Can Dive In: In the memoirs, profiles, and interviews of celebrities you've come across, what have you noticed about how these public figures choose to reveal themselves? We're discussing this question in our book club. [Share your thoughts.]
What's Coming: On Monday, the Harvard scholar Elizabeth Perry looks back at how protest has changed in China since the Tiananmen Square massacre.
We want to hear what you think about this article. Submit a letter to the editor or write to letters@theatlantic.com.
David Sims
is a staff writer at
The Atlantic
, where he covers culture.