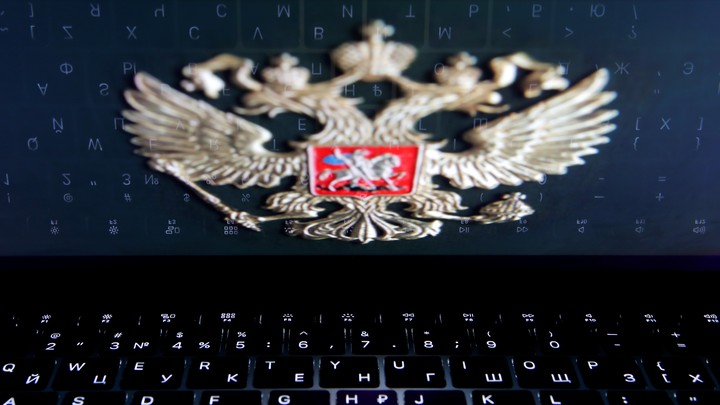 Masthead Weekly 03.22.19
Welcome to your regular glimpse into The Atlantic's fascinations and curiosities. Today, the staff writer Conor Friedersdorf inquires into the state of the American public conversation.
What to Know: The External Influences on American Discourse
By Conor Friedersdorf
What we're thinking: A subject I've returned to again and again over the years is America's public discourse––the ongoing conversation about politics, culture, and much else that unfolds as we try to govern ourselves, learn from one another, and coexist in peace. Social media have transformed public discourse in so many ways. Americans haven't begun to understand them all, in part because we're still at the beginning of the social-media era, and in part because the entire ecosystem changes so quickly all the time. The change I'm thinking about today is the effort by foreign governments––most notoriously Russia––to exploit social media in order to alter our public discourse.
What we're reading: For newcomers, Adrien Chen's 2015 New York Times investigation into the Internet Research Agency is the best place to start. "From a nondescript office building in St. Petersburg, Russia, an army of well-paid 'trolls' has tried to wreak havoc all around the Internet—and in real-life American communities," he wrote. I assume everyone is aware of Russian efforts to interfere in the 2016 election. Still, to get up to date, I would also recommend recent podcast interviews with the researcher Renée DiResta, who has studied the data sets that tech platforms released to Congress when it sought information on foreign-influence efforts. She has a very granular understanding of the foreign actors tactics and the nuances of their efforts.
Here she is with the philosopher Sam Harris,

and more recently, on the comedian Joe Rogan's show.
What we're asking: My two biggest questions are perhaps impossible to answer with certainty: What are foreign governments doing right now to manipulate American public discourse, and what are their motives? That is to say, do they aim to elect particular candidates? To activate, as a survey by the psychologists Karen Stenner and Jonathan Haidt suggests, the theretofore latent authoritarian predispositions of "about a third of white responders across 29 liberal democracies" with such proclivities? Merely to sow chaos? Something else?
What's next: Barring the rise of a malign artificial intelligence, the next turn is any glimpse of the infrastructure that foreign actors are building on social media to influence the 2020 election, and of efforts by the platforms to stop them. I'm not sure whether the electoral-politics angle is actually most important, but it is definitely the one that will garner the most media resources, short of any major news that redirects them.
What to Expect
Notes on the news to come
Sports
California's Santa Anita Park racetrack will reopen on March 29 with North America's most severe medication policy in place. Twenty-two horses have died since December of injuries received while racing or training at Santa Anita. The Los Angeles County district attorney opened an investigation into what some experts called the biggest crisis in California racing history, and the track closed down. A paradigm-shifting decision was made during this time: Santa Anita would ban the use of the anti-bleeding medication Lasix on horses born in or after 2018. Nearly every other country bans Lasix use on race days, but it has been commonly used in American racing since the 1960s.
Politics and Policy
Come Tuesday, selling bump stocks—detachable devices that allow semiautomatic rifles to function like machine guns—will be illegal across the United States. President Donald Trump asked the Department of Justice to issue the ban after the mass shooting in Parkland, Florida, killed 17 students and school-staff members in February 2018, and the administration formally announced the ban in December. Gun-rights groups condemned the regulation and sued to block it. But a federal judge struck down the suit last month, all but assuring that the ban will take effect. Americans who already own the devices will have 90 days to either destroy them or hand them over to law enforcement.
Religion and Values
The American Israel Public Affairs Committee kicks off its annual policy conference on Sunday. Although the conference will feature speakers from both major political parties, it comes at a tense time for the Democrats. The freshman Democratic representative Ilhan Omar sparked discord in the party in February when she accused AIPAC of paying politicians to support Israel, a statement that was widely interpreted as an anti-Semitic stereotype. House Speaker Nancy Pelosi condemned Omar's statement, while other Democrats criticized House leadership for not doing more to call out the anti-Muslim bigotry aimed at Omar in the backlash. In the meantime, Adam Milstein, the chairman of the Israeli American Council, backed out of the conference after making an unfounded accusation that Omar and the fellow first-time representative Rashida Tlaib represent the Muslim Brotherhood and "clash with American values." He was scheduled to moderate a panel on anti-Semitism.
National
The New Jersey legislature will vote Monday on a bill to legalize cannabis for recreational use. The state's decision is expected to kickstart a billion-dollar industry, allowing anyone over the age of 21 to possess small amounts of the drug and incentivizing marijuana businesses to start up. Republican lawmakers have complained about the political maneuvering that has gone into the new policy. Democrats maneuvered two committees into advancing the bill this week without hearing the opposition's objections in what one Republican senator called an "outrageous" process. But with Democrats in control of all the branches of government in Trenton, the party has little incentive to share what has in other states been a bipartisan cause.
50 Years Ago
"In the first decade of the Cuban Revolution, the old Cuba died; in the second, it is to be born again, to grow again like sugar in a field. The unspoken dialectic of Fidel's speech places nationalism and revolution side by side, and synthesizes them, through agricultural development, in the Cuban earth. Castro's language is heavy with an accretion of detail and anecdote, sounding at times like the Georgics of Virgil. 'Once droughts have been overcome,' he began, 'once hurricanes have been coped with through the proper protection of crops; once plagues are eliminated and undergrowth cleared ...' After ten years of stumbling progress, the country has experienced bitter deprivation. In Havana, strict rationing is now in effect; even the hours to be spent waiting in line for food are rationed. Yet the path of revolutionary development now seems determined. Cuba is to be an agricultural community, the garden of the world."  — Emma Rothschild, March 1969
Items this week by Madeleine Carlisle, Andrew Henry, and Karen Yuan. Illustrations by Matt Chinworth.
What's New
Updates on your Masthead membership
One Thing You Should Know: "A well-lit photograph can transform the most mundane object into a work of art," the Atlantic art director Katie Martin wrote for The Masthead. "A poorly lit photograph can make the crown jewels look dull." [Go behind the scenes here.]
Where You Can Dive In: This month's book-club discussion on faith and religion is coming to a close. If you haven't had a chance to jump in, you still can. If you've been following along, what did you think? [Read the discussion and give us your feedback.]
What's Coming: On Monday, the economic historian Adam Tooze revisits a warning from the 1990s of capitalism gone wild.
We want to hear what you think about this article. Submit a letter to the editor or write to letters@theatlantic.com.