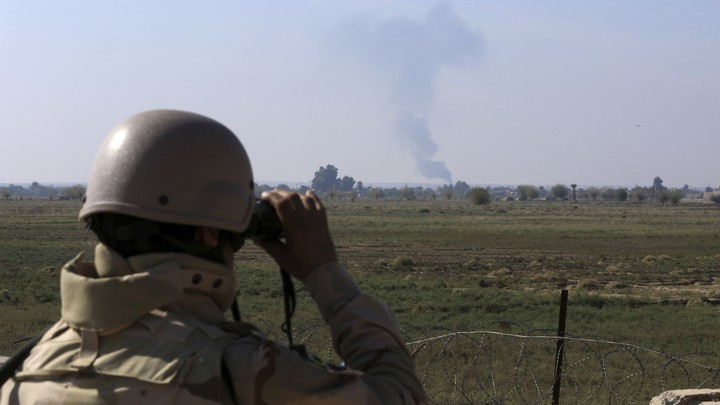 Masthead Weekly 03.15.19
The anti–Islamic State coalition has taken "100 percent" of the terrorist group's land in Syria, President Donald Trump declared in February. The statement was premature, and despite the fact that it's likely to come true soon, the staff writer Kathy Gilsinan explains why ISIS isn't finished quite yet.
What to Know: The Islamic State's Last Square Mile
By Kathy Gilsinan
What we're watching: The end of the Islamic State is supposedly at hand—the end of the physical state, at least. It's actually been at hand for several weeks; the group is now estimated to hold only about a square mile of territory on the Syrian border. The assault on the enclave by U.S.-backed Kurdish forces has stopped and started several times to allow civilians to leave. Just five years ago, ISIS looked like a juggernaut, having erased parts of the Syrian-Iraqi border in its march to seize land for its so-called caliphate, which at one high-end estimate was thought to measure about the size of Great Britain. (Putting a concrete number on this has always been tricky; estimates vary, partly because some of this was sparsely populated desert that no one really holds.)
The important thing is that the final assault will be a major victory for the U.S. and its allies, but an incomplete one. When Trump declared ISIS's defeat while it was still holding territory in Syria, many paying attention to this issue were outraged, pointing out that territorial control was only one thing that made the group dangerous—and that after ISIS loses this square mile, its adherents can perfectly well keep attacking people in Syria, Iraq, Europe, the United States, the Philippines, or anywhere else. Another important thing to keep in mind: The end of ISIS still leaves behind a traumatized region. Washington, D.C., naturally focuses on the Islamic State's threat to the United States, but the group's main victims have been Syrians and Iraqis. Reporting from the region bears this out in horrifying terms.
What we're asking: My biggest question, and the story I'll be pursuing as the weeks unfold, is about what happens to all the ISIS foreign fighters who have surrendered to Kurdish forces and are currently being held in Syria. A lot of Western countries (such as the U.K.) do not want to take back their own radicalized citizens. And one Syrian writer recently asked why his compatriots should have to put up with the foreigners who traveled to their country to help destroy it. In any case, the number keeps growing as more fighters surrender. According to The Wall Street Journal, 2,000 people were being held in Syria—and that was before U.S.-backed forces announced the surrender of 3,000 more people. Where will they end up?
What's next: The next chapter is hard to predict. Trump is determined to withdraw from Syria, though he has recently said he's willing to leave a few hundred troops there. In the past, the U.S. has defeated terrorist groups and their supporters only to watch them rise up again. Some of the conditions in the region that facilitated the rise of the Islamic State—the corruption, the sectarian discrimination, the radical religious fervor of some—remain in place. One thing the United States has learned in the post-9/11 era of constant wars against terrorist adversaries is that the war's never quite over when you declare it over. As former Defense Secretary James Mattis used to say: "The enemy gets a vote."
What to Expect
Notes on the news to come
The Skies
U.S. commercial rockets will soon blast off from Brazil's Alcantara Launch Center after the Brazilian president, Jair Bolsonaro, signs an agreement next week during a trip to Washington. Because launching rockets from the equator uses less fuel compared with doing so from U.S. launch sites, aerospace companies such as Boeing and Lockheed have long angled to launch from Alcantara to cut costs. Previous negotiations broke down in 2003 when the Brazilian government refused to sign an accord that would have protected the confidentiality of U.S. aerospace technology, but with a new Brazilian congress and president now in power, negotiators were able to secure such an agreement last year. U.S. aerospace companies might have much to gain if estimates about the private space industry hold true—some analysts predict that revenues will skyrocket to $1.1 trillion in revenue by 2040.
Global
Russian President Vladimir Putin is reportedly planning a visit to Crimea in March to commemorate the fifth anniversary of the Russian occupation. Ideally the lights will be on when he arrives. Crimea has experienced large-scale blackouts under Russian rule, and European Union sanctions make it difficult to buy new electrical equipment. But trust the Russians to come up with a gray-area solution. In 2017 Siemens revealed that a Russian firm had purchased turbines from the German company for a legitimate use, only to divert them to Crimea in violation of the sanctions. Without the Germans' expertise, the turbines have proved difficult to install correctly. But by Monday, Crimea's power plants are due to be fully up and running. If not, Putin can always celebrate by candlelight.
Politics and Policy
Throughout next week, Representative Steve King is expected to host three town-hall events in his home state of Iowa. As the number of Democratic contenders for 2020 grows by the day, interested parties are waiting to see whether a Republican candidate will challenge President Donald Trump. King has announced he will seek reelection for his congressional seat, but he has not publicly expressed interest in challenging Trump. However, the congressman, who's espoused incendiary and nativist anti-immigrant remarks throughout his career, has pointed out similarities between his stance and that of President Trump. Earlier this year, King was censured for defending white supremacy and stripped of his committee assignments. Some have called for his resignation. Those critics will be disappointed for the time being: In total, King is scheduled to hold 39 town-hall meetings this year.
Arts and Culture
Elizabeth Holmes, the former Theranos CEO, is the subject of a documentary that will air Monday on HBO. Holmes was charged with swindling millions from investors on false promises of über-fast, über-cheap blood tests since the company's 2003 inception. The Inventor features interviews with former Theranos employees, as well as leaked footage that reveals the company's internal life. (Keep an eye out for a surreal clip of Holmes, usually severe in a black turtleneck, dancing to MC Hammer's "U Can't Touch This.") By getting inside Theranos, the film gets inside Holmes's mind, addressing a lingering question about her: How did she manage to scam everyone? "I don't think it was outright greed," the film's director, Alex Gibney, told Recode's Peter Kafka. He thinks Holmes had convinced herself first. "I think she believed in the mission."
75 Years Ago
"What is meant by the viruses? To most people they are as mysterious as spells of primitive magic. In 1935, Wendell M. Stanley isolated the crystalline protein which is the tobacco virus. Here are substances which seem to stand on the dividing line between the animate and the inanimate, and as more is known about them our whole concept of 'life' may well be changed. The fact that to 'live'—that is, to multiply —viruses must be associated with living cells is of fundamental importance in our treatment of viral infections."  — Justina Hill, March 1944
Items this week by Andrew Henry, Matt Peterson, Patricia Yacob, and Karen Yuan. Illustrations by Matt Chinworth.
What's New
Updates on your Masthead membership
One Thing You Should Know: "I've always thought it's hard to understand the smoldering aggressiveness of Putin's Russia unless you appreciate the sense of disorder and humiliation that lots of Russians felt" in the 1990s, the former diplomat Bill Burns told The Masthead this week. [Listen to the conversation.]
Where You Can Dive In: "To what extent do you think being skeptical of your own belief system is necessary to maintain it?" Rosa Inocencio Smith, a culture editor, asked in our book-club discussion on faith and religion. [Answer on the forums.]
What's Coming: America's other big anti-terror front might also be about to change. U.S. negotiators are holding peace talks about Afghanistan with the Taliban. But America's not the only one talking: Russia is hosting its own set of negotiations. The Washington Post Moscow correspondent Amie Ferris-Rotman joins The Masthead on Monday to talk about Russia's angles in Afghanistan.
We want to hear what you think about this article. Submit a letter to the editor or write to letters@theatlantic.com.