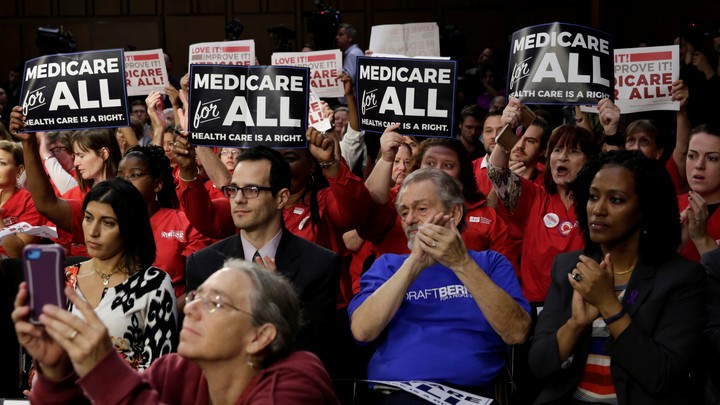 The Masthead Weekly 03.08.19
The new class of Democrats is starting to put forth big, new reforms that would socialize health care. Those plans won't pass, but our health writer Olga Khazan is here to explain why you should pay attention anyway. — Matt Peterson
What to Know: The Push for Single-Payer Health Care
By Olga Khazan
What we're watching: Now that Democrats have taken the House and we're all getting a little sick of insurance networks and crazy co-pays, good old-fashioned socialized medicine is looking mighty tempting to some. Progressive House Democrats unveiled a Medicare-for-all bill late last month, which would do away with private insurance and move everyone onto a public insurance plan with no out-of-pocket costs. The rub? It will probably cost trillions of dollars, and we don't know yet how it would be paid for. It's also almost certainly not going to happen unless Dems control all of Congress and the presidency, which is to say, until 2021 at the earliest—and it might not even happen then. But Democrats are getting the ball rolling anyway.
What we're asking: Do Americans actually want this? In some polls, even a majority of Republicans support Medicare for all. But the number of people who voice support for single-payer health care really depends on how the question is asked, and whether the pollster reassures the respondents that they can keep their current insurance plan if they like it. Americans tend to like their employer's health-insurance plan, and threatening to yank those plans is likely going to scare a lot of people away from this idea. Single-payer health care also comes with a bunch of externalities that Americans don't really think about—which makes sense; they've never had to!
At the same time, drug prices are rising quickly, and unsubsidized Obamacare plans are becoming more and more unaffordable for people. Even in 2016, a lot of Trump voters I spoke with seemed to yearn for some sort of public plan they could be on that's cheap and easy. The mood today feels a lot like that of 2008 and 2009, before the passage of Obamacare. People were so frustrated with not being able to get insured at all, and the question in the air seemed to be, What can we do to overhaul this? The answer was Obamacare. So maybe this is how the revolution begins: not with a bang, but with a high deductible.
What's next: Probably just more discussion and policy papers and deliberation over the issue of single-payer health care. Democrats don't have the political power to make big policy changes, and in the meantime, health care is moving in the opposite direction, with states adding work requirements and other contingencies to government-provided health insurance. Still, Obamacare-like policies spun around in policy circles for decades before becoming law, so we can expect a lot of people to start kicking the tires on single-payer health care in part just to normalize it. These things tend to seem too foreign and different, until all of a sudden they're not.
What to Expect
Notes on the news to come
Sports
ESPN's sports-betting analysis show Daily Wager launches on Monday. It will join a growing field of media companies wading into sports-betting content after the Supreme Court overturned a nearly nationwide ban in May. Since the ruling, Fox, CBS, and NBC premiered their own sports-betting shows, and a slew of new podcasts launched as well. As legalization grows, so too will audiences. Eight states have already legalized sports betting, and 28 more have introduced bills. With the market for sports gambling primed for growth, ESPN's choice to double down seems to be a safe bet.
Politics and Policy
Quick, name the Russian ambassador to the United States. If you came up with Sergey Kislyak, you're almost right; he had the job until he was recalled to Russia after his high-profile involvement with the Trump campaign. Since late 2017, the occupant of that diplomatic post has been the decidedly lower-profile Anatoly Antonov. But after largely avoiding the public eye, Antonov has recently started speaking out. U.S.-Russian arms control is "in crisis," he said at a Washington think tank on Monday. He'll have an opportunity to expand on that idea next week, when he appears at the 2019 Carnegie International Nuclear Policy Conference. But he'll have competition for media attention. Keynoting the conference will be Stephen Biegun, President Donald Trump's negotiator with that other great nuclear problem child, North Korea. If Russia wants its nuclear relationship with the U.S. to take center stage, Antonov may have to speak louder.
Arts and Culture
The Man Booker Prize is in its final year—sort of. The 2019 awards, one for fiction in English and the other for fiction in translation, will run as usual, but the Man Group, a hedge fund that has supported the main award since 2002 and the international prize since its genesis in 2005, will cease its sponsorship after this year. Crankstart, a charity run by the tech billionaire Michael Moritz, will take over in 2020, funding the prestigious awards for at least the next half decade. In the meantime, the international prize's longlist will be announced on March 13, with a shortlist to appear a month later and a winner to be revealed in May. (The English-language prize's longlist will not appear until July.) The international prize has gained new relevance as the readership of translated literary fiction in Britain has grown: Translated books now account for almost 6 percent of the U.K. market, from half that amount not long ago. In the United States, only about 1 percent of all books published each year are translated works.
Global
Young people are angry about the lack of political action against climate change—and they're getting louder about it. On March 15, tens of thousands of teenagers in more than 30 countries will skip school and take to the streets to protest what they see as lackluster governmental responses to the climate crisis. The face of this grassroots movement against climate change is startlingly young: The activism is led by a 16-year-old Swede named Greta Thunberg. She gave a viral speech to world leaders at the UN climate conference in December, and has been busy organizing youth protests across Europe since. Adults are invited too, especially politicians. When British Prime Minister Theresa May scolded the marchers for playing hooky, Thunberg said, "If you think that we should be in school instead, then we suggest that you take our place in the streets, striking from your work. Or join us." Or, as another organizer put it, "Why should we go to school if there is going to be no future?"
100 Years Ago
"The fundamental aim of warfare is to destroy the enemy's will to fight, or morale. The usual method is to destroy his powers of resistance by crushing his armed forces and by starving him into surrender. But a nation actually without an army and navy may, as Spain did in 1808, fight a desperate guerilla warfare against the invader, preferring extermination to surrender, and winning in the end—winning by sheer morale. On the other hand, we have the spectacle of Germany, while still uninvaded, while still in possession of huge tracts of enemy territory and of a still powerful army and navy, suddenly collapsing and accepting terms appropriate to a nation beaten prostrate and helpless."  — William Oliver Stevens, March 1919
Items this week by Andrew Henry, Matt Peterson, Parker Richards, and Karen Yuan. Illustrations by Matt Chinworth.
What's New
Updates on your Masthead membership
One Thing You Should Know: "This constant reportage of the great spirituality of [Indian] culture …  has created [among Indians] a sort of inverted pride in an ancient culture, which is largely not factual but based on a mythology about the past," the journalist Hartosh Singh Bal told The Masthead this week. That pride has contributed to the rise of nationalism in India under Narendra Modi. [Learn more.]
Where You Can Dive In: The Masthead book club is back! We're hosting a discussion in the forums focused on a theme (not, as many book clubs do, on a single book). Our co-host: Rosa Inocencio Smith, an editor on The Atlantic's Culture desk who, at the end of the month, will write an essay just for members and inspired by the conversation. March's theme is faith. [Join in.]
What's Coming: William J. Burns first read Anatol Lieven's "A New Iron Curtain" while in between stints as a diplomat in recently post-Soviet Russia. A lot has changed since then: Burns became the U.S. ambassador to Russia and eventually the deputy secretary of state, and much of what Lieven predicted for Russia played out. On Monday, Burns revisits the piece for The Masthead.   
We want to hear what you think about this article. Submit a letter to the editor or write to letters@theatlantic.com.