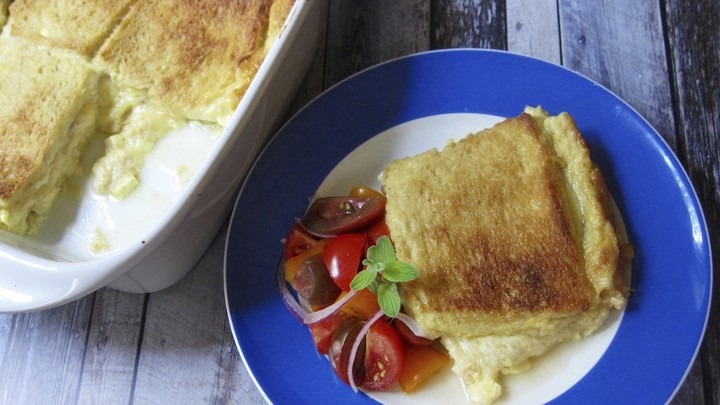 Masthead Weekly 03.29.19
The staff writer Joe Pinsker, who has eaten the same lunch at work for years, was curious about who else shared his habit. In today's newsletter, Joe describes discovering a world of same-lunch eaters after reporting out his question.
What to Know: The Joy of a "Boring" Lunch
By Joe Pinsker
What we're eating watching: Earlier this month, I wrote an article about people who eat the same thing for lunch every day, including one guy who brought a peanut-butter sandwich to work for about 25 years. People form these lunchtime rituals for many reasons—some told me it's one fewer thing to worry about, others said it was cost-effective, and still others had more individualized reasons. The story had a personal element as well: I myself have been eating the same lunch at work for about five years now (bean-and-cheese soft tacos, greens, baby carrots, and whatever fruit's in season).
When my article was published, I braced myself for judgment, figuring that this behavior would be deemed strange and perhaps robotic. To my surprise, I found camaraderie. Emails and tweets poured in from readers in support of the practice. "Just because your lunch is boring, doesn't mean you are," wrote one Twitter user. I learned the long-standing lunch habits of total strangers: "Toasted cheese and tomato on brown bread"; "tuna sandwich chips and coke"; "chicken breast, three bags of raw vegetables and seltzer." (One unexpected lunch option that kept popping up again and again: peanut-butter and jelly sandwiches. I had thought of them as a lunch cliché—a childhood touchstone that's talked about more than it's actually eaten by adults—but apparently a lot of people out there rely on them daily.)
What we're asking: What percentage of people actually eat the same thing for lunch every day? As I noted in my article, a couple of surveys investigated this question, but they don't seem very reliable, because they were commissioned by food companies (as what appear to me to be marketing ploys), not independent researchers.
After hearing back from so many people who do eat the same thing for lunch, my guess at that percentage is now higher than what I would've estimated before I published my article. Even so, I wonder whether the outspoken diners I heard from were merely a proud, self-selecting group, and whether everyone else mostly kept quiet. Perhaps a political pollster could help me out by slipping in a question about lunch while asking for people's feelings about the Democratic presidential candidates.
Another dimension of further inquiry: variety in other meals. "Most people like the same thing or a narrow dossier for breakfast, but want variation in dinner," observed the food historian Paul Freedman when I reached out to him. Lunch occupies a middle ground—hence my focus on it in the article—but I'm curious whether and why people are okay with sameness only at certain times of the day.
What's next? After reading my article, one of my co-workers started bringing the same thing for lunch to the office every day. He says he's been surprised by how much it's simplified his weekly meal prep. So look out for more converts to the same-lunch cause.
As for me, more bean-and-cheese tacos. If I've made it five years, I don't see why I can't make it 10.
What to Expect
Notes on the news to come
Arts and Culture
The director Jordan Peele is poised to become an ever more towering figure in the world of horror entertainment. Following his 2018 Oscar win for the film Get Out and this month's theatrical release of the blockbuster Us, April 1 will welcome Peele's latest thriller venture: a reboot of The Twilight Zone, streaming on CBS All Access, which he will produce and narrate. The original series was aired—in black and white—60 years ago. As it did then, the show will feature star actors. The comedians Kumail Nanjiani and Tracy Morgan have protagonist roles in the first episode, titled "The Comedian." Adam Scott, from The Good Place and Parks and Recreation, takes the lead in the second, a new take on a vintage Twilight Zone episode called "Nightmare at 30,000 Feet."
Religion and Values
Brunei will implement a new penal code starting April 3 that imposes harsh punishments: death by stoning for same-sex sexual acts and adultery, as well as limb amputation for robbery. The small nation quietly announced the penal code in an order posted on its attorney general's website in December, prompting outcry from human-rights organizations such as Amnesty International. The new code wasn't a spontaneous decree. It is the full realization of a years-old intitiative directed by Brunei's sultan, Hassanal Bolkiah, to institute a strict interpretation of Sharia law in the Muslim-majority country. Since 2014, Brunei has banned the sale of alcohol and imposed fines and imprisonment for actions such as undergoing an abortion or skipping Friday prayers.
Global
The Trump-administration trade adviser Peter Navarro went on television last year with a bold message. "I don't believe any country is going to retaliate" against American tariffs on steel and aluminum, Navarro said. America's major trading partners proceeded to prove Navarro wrong—except for one. India has repeatedly opted not to implement retaliatory tariffs. New Delhi's latest deadline for retaliation, March 31, is expected to once again come and go without action, even though the Trump administration moved earlier in the month to raise the cost of even more Indian exports to the U.S. But while the Trump administration sees tariffs as a projection of national strength, India appears to see the reverse. Retaliation would suggest that negotiations had failed. And that, an Indian-government official told LiveMint, would look weak.
Technology
Remember Google+? Unless you're one of the social-media service's few fervent users, you probably won't miss your account when Google officially shuts down the unsuccessful platform on April 2. The tech company will begin deleting all user content that day, including photos, videos, posts, and eventually accounts. If you've posted anything, save or download it before it disappears. Former Myspace users learned this painful lesson recently when the social-media site accidentally wiped nearly all the content its users had created from 2003 to 2015. And even if you don't remember posting to Google+, check just in case. In December, Google announced that an API bug might have exposed the private profile data of more than 52.5 million Google+ users. (Yes, there are that many users—at least for a few more days).
25 Years Ago
"Gun-control laws don't work. What is worse, they act perversely. While legitimate users of firearms encounter intense regulation, scrutiny, and bureaucratic control, illicit markets easily adapt to whatever difficulties a free society throws in their way. Also, efforts to curtail the supply of firearms inflict collateral damage on freedom and privacy interests that have long been considered central to American public life. Thanks to the seemingly never-ending war on drugs and long experience attempting to suppress prostitution and pornography, we know a great deal about how illicit markets function and how costly to the public attempts to control them can be."  — Daniel D. Polsby, March 1994
Items this week by Ena Alvarado, Andrew Henry, Matt Peterson, and Karen Yuan. Illustrations by Matt Chinworth.
What's New
Updates on your Masthead membership
One Thing You Should Know: The Fed's capable handling of the 2007–08 financial crisis "has in a sense enabled Congress to behave less responsibly," the economic historian Adam Tooze told The Masthead this week. [Listen to his explanation.]
Where You Can Dive In: This month's book club has wrapped up with a shout-out in today's Books Briefing newsletter. Check out the discussion on faith in literature. [Then share your feedback.]
What's Coming: Next week, the writer Leta Hong Fincher discusses a century of radical progress for women's rights in China—and the recent backslide.
---
Forward this newsletter to someone who might appreciate it. If you were forwarded this newsletter, learn more about the membership program here.
We want to hear what you think about this article. Submit a letter to the editor or write to letters@theatlantic.com.