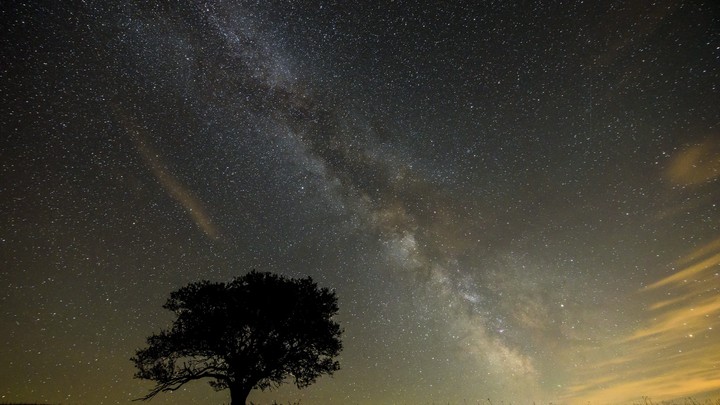 This month's theme is faith—those compasses of belief, religious or otherwise, that guide our life. Today we're closing out our monthly book club with reflections on that theme from Atlantic writers. If you haven't been following along, here's what you've missed.
In an expansive conversation on the forums, members discussed depictions of faith in literature with input from Rosa Inocencio Smith, an editor on the Atlantic's Culture desk, and guest comments from Emma Green and Isabel Fattal, Atlantic writers on religion. In this issue of The Masthead, Rosa spins out a big idea inspired by the discussion. And we've got some song picks from Spencer Kornhaber, The Atlantic's music writer, to listen to as you read our community's recommendations.
---
What do you think of the book club? Share your feedback, as well as any suggestions for our next discussion theme, here.
Frank O'Hara's 'Unknown, Silvery Darkness'
By Rosa Inocencio Smith
Today, March 27, is the anniversary of the birthday of Frank O'Hara, the American poet who lived from 1926 to 1966. And it's the end of our Masthead book club discussion on faith. These two occasions are linked, in a roundabout way: by coincidence, but also—bear with me here, because we'll get back to it—by the connections they make. O'Hara is known for playful, diaristic poems that portray everyday urban life, steeped in quotidian details and animated by surprising associations. As streams of consciousness, many of them unpunctuated and fragmented by line breaks, his poems follow the waterfall motion of a loud and eager conversation.
Our online conversation this month was wide-ranging and touched on various topics, too. The types of faith that members described and noticed in literature fall roughly into three categories. There are social faiths, or the rules and communities inside of which we operate: organized religions such as Judaism and Buddhism; the secular groups that borrow those religions' traditions; and "workism," the term coined by The Atlantic's Derek Thompson, which the member LeslieH reflected might underpin her choices just as her Christian beliefs do. There are inner faiths: the deeply held, guiding principles that members saw expressed by the narrators of I Know Why the Caged Bird Sings and The Adventures of Huckleberry Finn, as well as in the life of the mystic Simone Weil.
And then there are external faiths, which members noticed in the poetry of Mary Oliver and Robert Frost: faith in the miraculous anatomy of a grasshopper, or in the silence of snowy woods, or in other things that surround us and, apart from that, have nothing to do with us. I'm particularly struck by the member djbermont's description of natural forces greater than humanity: "Those things are not for me, against me, or about me. They are just there, happening, and they will continue to be there after I'm gone."
There's something both frightening and liberating about the choice to place your faith in a universe that simply doesn't care about you. To trust, at the height of joy or in the midst of personal turmoil, that life will continue past this moment of acute feeling; that things will work out, in general, even if not necessarily for you. Such radical acceptance can come with a sense of awe, and a sense of giddiness—after all, the present can take so many possible paths to a final resolution. And when you step back from the world to see it as something separate from yourself, admiring its multitude of vagaries is so much easier.
Which brings us back to Frank O'Hara, and to one last reading recommendation. His poem "Ave Maria," published in 1964, takes its title from a prayer, but its subject matter, at first glance, seems far from spiritual. The poem is a tongue-in-cheek exhortation, addressed to "Mothers of America," to "let your kids go to the movies!" It celebrates children's explorations as they come of age, learning "where candy bars come from," eating "gratuitous bags of popcorn," yearning after the onscreen glimpses of "some glamorous country they first saw [while] playing hookey," and eventually having their first sexual encounter.
All these small discoveries are tokens of impulse and idleness, which many faiths (religious or workist or otherwise) so often associate with sin. In this poem, though, what is most "unforgivable" is "keeping [your children] from the darker joys"—that is, closing them, or yourself, off from new experiences. The soul, O'Hara writes, "grows in darkness, embossed by silvery images"; it is fed by embracing the uncertain impact of things that you can't quite foresee, or control.
Ave Maria the prayer is a plea for redemption, spoken sometimes in the sacred shadows of a confessional: Pray for us sinners, now and in the hour of our death. "Ave Maria" the poem mirrors this, with the darkened theater as the setting for the discovery of a new life. And perhaps it's at that moment of discovery, or on the threshold of change, that all three types of faith discussed in our book club come into play. Social faith can ground you and guide you when your circumstances shift. Inner faith can help you move forward once you've made a choice. But first, it is the third kind of faith—that trust above all in the world's continuance—that can give you the courage to stand on the edge of an unknown, silvery darkness and take a leap.
A Playlist for March's Reading List
Members and staffers suggested several books on faith in our discussion. Here, selected by Spencer Kornhaber, are songs to accompany those readings.
📖 Muslim Cool, by Su'ad Abdul Khabeer (from Emma Green)
🎶 "We the People …," by A Tribe Called Quest. The influence of Islam on hip-hop is a lot more ingrained than is often recognized; even Drake drops an inshallah here and there. Q-Tip and Ali Shaheed Muhammad of A Tribe Called Quest have quietly repped the religion all along, or not so quietly, as on this 2016 protest song about the various peoples endangered by Donald Trump's administration.
📖 From Yoga to Kabbalah, by Véronique Altglas (from Andrew Henry)
🎶 "Ray of Light," by Madonna. How can I not pick the ultimate quasi-mystical banger from pop's lead appropriator of Kabbalah?
📖 God Is Not Great: How Religion Poisons Everything, by Christopher Hitchens (from the Masthead member 3rdofalice)
🎶 "Judith," by A Perfect Circle. Worship has been the basis of so much important music, but anti-worship has its own traditions in heavy metal. "Judith" is a little poppier than many sonic jeremiads against the faithful but like most, it has a fun jolt of condescension, aimed in this case toward the singer's own mom.
📖 Community: The Structure of Belonging, by Peter Block (from the Masthead member paulhaluszczakm7)
🎶 "Unbelievers," by Vampire Weekend. The secular search for meaning and fellowship represents an under-heralded core drive of much of indie rock. Here, Ezra Koenig poses questions of the spirit with real openheartedness as his band imagines the sound of a very gentle tent revival.
---
Forward this newsletter to someone who might appreciate it. If you were forwarded this newsletter, learn more about the membership program here.
We want to hear what you think about this article. Submit a letter to the editor or write to letters@theatlantic.com.