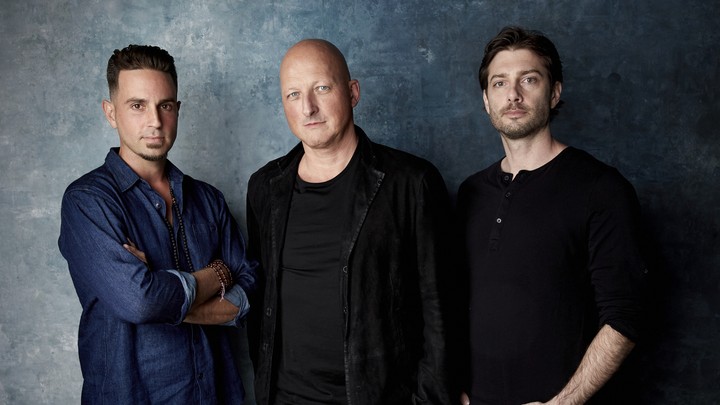 The latest must-watch documentary will hit HBO this weekend. In this Masthead Weekly, the culture writer Sophie Gilbert tells us what to expect from Leaving Neverland. — Matt Peterson
What to Know: Leaving Neverland and the Difficult Path Ahead
By Sophie Gilbert
What we're watching: On Sunday, HBO airs the first half of the filmmaker Dan Reed's two-part documentary, Leaving Neverland. Playing out over four hours, the movie is a wrenching, thorough account of allegations against Michael Jackson, explored through the perspective of two men who say he sexually abused them when they were children. It debuted in January at the Sundance Film Festival, where it received overwhelmingly positive reviews and prompted a sparsely attended protest by some of Jackson's ardent fans. But the movie's wider release on HBO means that it's time for a larger reckoning with allegations that have surrounded Jackson since 1993, and that continue to circulate almost a decade after his death.
The synopsis: In interviews, both men—the choreographer Wade Robson and the former child actor James Safechuck—explain at length how they entered the strange and reclusive world of the King of Pop. Their stories are distressingly similar. First, they state, Jackson befriended their families and gained their trust, providing VIP concert tickets, first-class flights, and luxury accommodations on tour or at his various properties. Then he invited both boys for sleepovers in his bedroom, where they say he began sexually assaulting them. Pivotal to the alleged abuse, Robson and Safechuck both detail, was how Jackson played on their fandom, using his status as one of the world's most popular artists to manipulate them. "He's a creative genius, and that creative genius thinks you're special," Safechuck says at one point. "What's not to like?"
The review: The stories Robson and Safechuck share complicate the public perception of Jackson immeasurably. In their telling, Jackson was a habitual pedophile who used his money and his fame to gain access to young boys, whom he isolated from their families both physically and emotionally to facilitate his abuse. Both are extremely persuasive and sympathetic, communicating some of the layers of self-deception that they say made it hard for them to accept what had happened until recently. (Robson even testified in Jackson's defense in court when another boy, Gavin Arvizo, accused Jackson of sexual abuse in 2003.)
What we're asking: One of the big questions up for debate now isn't about Jackson himself, necessarily, but about his legacy—the impact of his music is so incalculable that it's hard to imagine the pop landscape without him. (Jackson's estate, which is well aware of the ongoing value of his brand, is suing HBO for $100 million. While the singer was alive, he denied all charges vehemently, and his family continues to dispute them, arguing that Robson and Safechuck are merely seeking a payout.)
But the cultural landscape of 2019 is very different from the decades during which Jackson was at the peak of his fame. The past 18 months have seen a cascade of allegations against men in the entertainment industry and beyond, although none of the accused have been quite at Jackson's level of renown. On Monday, the R&B singer R. Kelly appeared in a Chicago courtroom on charges of sexual abuse involving four people, three of whom were minors. Allegations have surrounded Kelly for decades, but only recently—following a series of exposés and a Lifetime series by the director dream hampton—have they started to stick, resulting in legal investigations and campaigns such as #MuteRKelly. Jackson is dead, and so the issue of what to do with these accusations mostly involves his music. Is it possible to still enjoy some of the most indelible pop songs in history, knowing what multiple people have alleged about the man who made them? Is it possible not to, given Jackson's extraordinary influence?
What's next: Reed's decision to focus exclusively on Jackson's two accusers and their families is a smart one, because it centers Leaving Neverland around the subject of surviving alleged trauma rather than on Jackson himself. But the movie is certain to spark a larger reengagement with the singer, and with debates that have been largely shelved since Jackson was acquitted of abusing Arvizo in 2005. (In a sign of how high profile the debate over Jackson has become, Oprah Winfrey is interviewing Safechuck and Robson after the second half of Leaving Neverland airs on Monday night.) How could so many fans—so many people—justify that an adult man seemed to have ongoing intimate relationships with young boys, constantly adding new favorites to his entourage? How could so many accept the fact (confirmed by Jackson himself) that he shared his bed with them? As with so many cultural works at the moment regarding figures such as Lorena Bobbitt, Tonya Harding, and Monica Lewinsky, Leaving Neverland doesn't just detail one particular scandal. It indicts an environment in which alleged victims were almost always derided and the powerful were almost always untouchable. Not anymore.
What to Expect
Notes on the news to come
Religion and Values
The U.S. will close its consulate general in Jerusalem next week, according to Axios. The facility had housed a dedicated diplomatic mission to the Palestinian Authority. Secretary of State Mike Pompeo announced in October that the mission's operations would be folded into the main U.S. embassy to "improve the efficiency and effectiveness" of U.S. operations. The Palestinian Authority lambasted this characterization in a statement, arguing that the merger proves that the Trump administration is disinterested in working toward a two-state solution. U.S.-Palestinian relations have been frosty since December 2017, when the Trump administration fulfilled a long-standing congressional directive to recognize Jerusalem as Israel's capital. The PA spokesperson Nabil Abu Rudeineh said that little will change after this merger "unless the American administration changes its position on Jerusalem and the [Palestinian] refugees."
Global
On March 7, three weeks before national elections, Thailand's constitutional court will rule on whether to disband the political party that sought to nominate a former Thai princess for prime minister. The candidacy of the king's sister by the Thai Raksa Chart party briefly boosted the hopes of the allies of the exiled former Prime Minister Thaksin Shinawatra, but they were dashed when the monarch deemed her candidacy "extremely inappropriate." Now the court, whose members are appointed by the king, will decide whether the party's remaining 300 candidates should also be effectively blocked from participating in the election. Past bans on political parties have resulted in street violence. As Punchada Sirivunnabood, a Thai political scientist, told Bloomberg, "If parties linked to Thaksin keep being disbanded, the conflict will never end, and will intensify."
Arts and Culture
If you're a book lover with a lot of spare change, visit the country's largest collectibles auction house for its annual rare-books bonanza next week. Heritage Auction's crown jewels are first-edition volumes of The Federalist Papers in the original publisher's pale-green paper boards, estimated to start bidding at a cool $75,000. Literary buffs with different tastes and smaller wallets will also be able to pick from a pile of first-edition novels by authors such as J. R. R. Tolkien, George Orwell, and Mary Shelley. In fact, if HA's website is any indication, those smaller-ticket items will be popular: A bundle of the first three Harry Potter books by J. K. Rowling has nine bids already, while The Federalist Papers have received only one bid so far. You can add yours by March 6.
Business
Disney's $71 billion purchase of 21st Century Fox may be ready to close as soon as March 8, after regulators in Brazil recently approved the deal. Brazilian regulators signed off after the companies agreed to sell off Fox Sports and the channel's broadcasting rights to major programs such as the South American soccer competition Copa Libertadores. Brazil's concerns reflect those that exist stateside, where the Department of Justice had only agreed to the merger after Disney sold all of Fox's regional sports networks. The deal's international approval—with modest modifications—reflects the landscape for antitrust advocates: Earlier this week, an appeals court green-lit another blockbuster merger between AT&T and Time Warner.
100 Years Ago
"In the early days of the war the attention of newspaper readers was attracted by the stories of queer behavior on the part of men exposed to prolonged and violent bombardment. Men reported as being 'gibbering idiots' emerged from the battered Belgian forts, men with reduced intelligence wandered about in a dazed and dreamy state, men were partially or completely paralyzed, were blind or deaf or insensible to pain. It was immediately thought that these conditions were the result of violent concussions occurring in the vicinity, and the striking but misleading term of 'shell shock' came into being. The name was applied to all queer nervous and mental symptoms, and these patients suddenly acquired considerable notoriety. To be added to the group later were any nervous phenomena not definitely and obviously connected with peace-time neuroses, and all were thought to be satisfactorily explained by proximity to exploding shells."  — Frederick W. Parsons, March 1919
Items this week by Andrew Henry, Matt Peterson, and Karen Yuan. Illustrations by Matt Chinworth.
What's New
Updates on your Masthead membership
One Thing You Should Know: "Korea is, I think, the best example in post-world-war history of how easy it is to get into a war and how hard it is to get out," the historian Bruce Cumings told The Masthead this week. Taking the long view of President Trump's negotiations, it's little surprise that the hostile status quo is holding. [Read on.]
Where You Can Dive In: Do you seek meaning in work? If so, you may be a "workist," a term Derek Thompson coins in his latest Atlantic piece. Derek is discussing workism with members in the forums. [Join in.]
What's Coming: Indian Prime Minister Narendra Modi was facing a difficult reelection campaign until very recently. But the new hostilities between his country and Pakistan set him back on familiar political territory. On Monday, the Indian journalist Hartosh Singh Bal will put the political moment in context for us.
We want to hear what you think about this article. Submit a letter to the editor or write to letters@theatlantic.com.
Sophie Gilbert
is a staff writer at
The Atlantic
. She was a finalist for the 2022 Pulitzer Prize in Criticism.