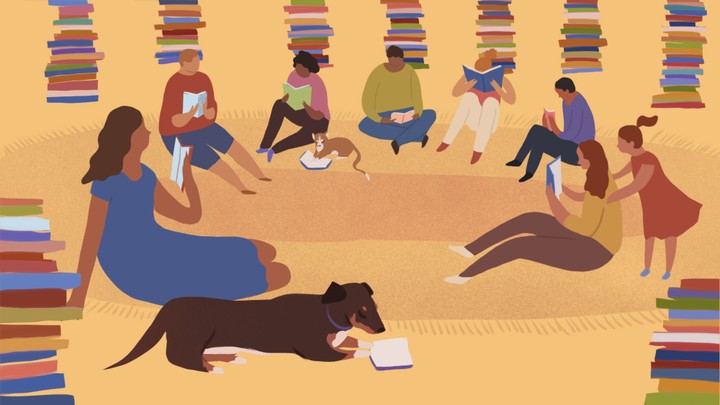 Good news, book lovers: We're bringing back The Masthead's book club. Join us, starting now, for a month-long discussion of fiction and nonfiction. You'll meet some new friends in the process—our new project is a collaboration with The Atlantic's Books Briefing newsletter.
Here's how it'll work.
Every month, we'll host a discussion in the Masthead forums focused on a theme (not, as many book clubs do, on a single book). We're hoping this means anyone and everyone can participate. Even if you haven't read Believe Me: The Evangelical Road to Trump, for example, you can still discuss evangelicalism and politics—especially if you're reminded of another book with a different take on the subject. Novels, memoirs, poetry, biographies; whatever your reading tastes, we want to hear what the books you're reading have made you think about.
We'll kick off the thread with a few recommendations and prompts, but we encourage you to share your own. We have a special guest and co-moderator: Rosa Inocencio Smith, an editor on The Atlantic's culture desk, will join each conversation with her thoughts. Feel free to ask her for specific recommendations, like what to read if you're heading to the movies (Raymond Chandler) or planning a wedding (Jasmine Guillory), or any other books-related questions.
At the end of the month...
We'll highlight the discussion with comments from a few insightful members in the Books Briefing email. (Sign up for it here.)
Rosa will reflect on how the theme manifests in literature in an essay inspired by members' comments and written just for you. (Here are some of her recent pieces.)
More Atlantic writers will pair music, TV, and movie recs to book recs from members, like wines to dinners.
March's theme is faith.
Organized religion, ideologies, trusted family recipes handed down by generations—we all have something that we steadfastly believe in. Our structures of belief guide the way we live. But they also can make us feel stifled, or leave us lost and confused when some of our beliefs clash with others. What better way to examine these complicated relationships than through literature, arguably the most powerful medium through which people have expressed their faith?
---
Join the conversation on the forums.
---
To start us off, here are a few books The Atlantic has recently written on:
And here are a few questions our team has been mulling over:
As more and more Americans eschew traditional religion, many are seeking out new ways to find community, identity, and meaning, from the consumerist churches of fitness classes to the obsession with work. (And brunch, a Sunday morning ritual to renew ourselves as a group...sound familiar?) What are other new, secular "religions"? What books explore them?
Political figures are often talked about in messianic metaphors: Ruth Bader Ginsburg is an icon to the left; Donald Trump is salvation to conservative Evangelicals. What does this language reveal about Americans' relationship with politics?
Sometimes books themselves can become talismans of faith: Because we read them at an important junction in life or they made a major impact on our thinking, we might reread them, quote from them, and carry them with us wherever we go. What are the books you've read that you keep faith in?
---
Head over to the forums to discuss these questions.
We want to hear what you think about this article. Submit a letter to the editor or write to letters@theatlantic.com.
Karen Yuan
is a former assistant editor at
The Atlantic
.
Andrew Henry
is a former religion community manager at
The Atlantic
.