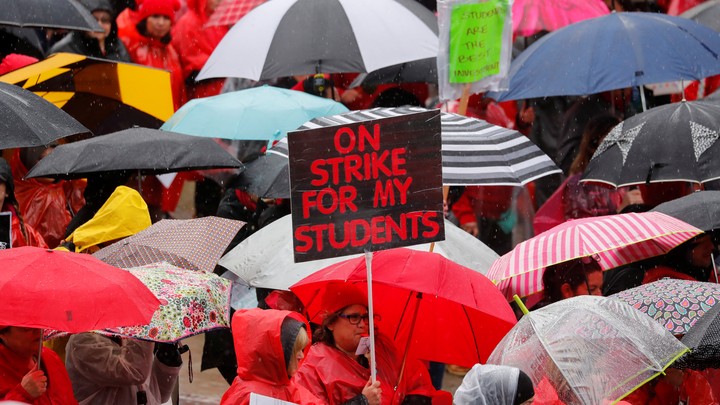 If the recent round of teacher strikes feels unusual to you, says the education reporter Alia Wong, you're right. The United States is undergoing an unprecedented surge in labor activism among educators. In this issue, Alia tells us what to expect as a new round of protests gets under way. — Matt Peterson
What to Know: The National Teacher Uprising
By Alia Wong
What We're Watching: Teacher protests are cropping up across the country, many of them culminating in days-long strikes that cancel classes for thousands of children. Close to 200 teachers at four Chicago charter schools went on strike Tuesday over a collective-bargaining stalemate. Their demands include staffing increases and pay raises. Preceding this strike was the massive one staged last month by Los Angeles's 30,000 public-school teachers, who for six days picketed in an effort to secure classroom improvements, from class-size reductions to the hiring of more campus nurses. The Los Angeles strike followed another walkout by a different set of charter-school teachers in Chicago—seeking, in part, better support for immigrant students.
I like to think of this recent uptick in teacher activism as the second chapter of a wave of walkouts that kicked off last February in West Virginia. Years of funding cuts and declining access to quality instruction prompted public-school teachers in all 55 of the state's counties to boycott their classrooms. Then walkouts happened in deep-red states such as Oklahoma, Kentucky, and Arizona. The common denominators across these statewide protests? Laws that restrict labor organizers' clout, as well as austerity measures implemented in response to the Great Recession.
What You Should Know: The current national teacher uprising is unprecedented. The last major round of educator activism took place in the 1960s; these strikes focused largely on bread-and-butter labor issues such as pay and work conditions. Membership in all kinds of unions declined in the following decades, while resentment of labor's political influence grew among the general public. Teachers' unions, which historically served more as professional guilds than blue-collar, activist labor organizations, came to generally avoid strikes, perhaps partly as a result. But the era of relative quietude is suddenly over.
What makes this wave unique are, as I recently reported, "the stakes, the sentiments, [and] the long-term implications." As the lists of demands out of Los Angeles, Chicago, and West Virginia attest, this generation of striking teachers is framing its movement around social justice. A plurality of Los Angeles's teachers, for example, are Latino, many of them L.A. natives who themselves attended the city's public schools. A lot of them participated in the mid-1990s Chicano-student demonstrations, which centered on socioeconomic inequality and immigrant rights. As one UCLA education scholar told me, by flocking to the picket lines, the country's teachers today are starting to see themselves as "guardians of democracy."
What's Next: Public-school teachers in Oakland, California, voted on Monday to authorize their own strike, and are slated to start picketing later in February. A similar scenario is playing out in Denver, where educators are gearing up for a walkout as soon as next week; the Mile High City school district's efforts to preempt the move have thus far done little to quell its 5,600 teachers' concerns. Teachers nationwide might feel emboldened by the activism of their striking counterparts and exasperated with what they perceive to be the status quo of disregard and disinvestment. Some states that underwent strikes last year might see repeats—West Virginia's teachers, for example, have threatened to boycott their classrooms again in response to legislative proposals that they argue ignore the exact concerns they voiced in their first walkout.
In the meantime, look to Oakland for a sign of changes to come in the protests' tactics. Students there boycotted class today in solidarity with their teachers. Oakland is an object lesson in the underlying premise that's given the larger uprising much of its momentum: Many of the educators' demands—livable wages in an area with soaring housing costs, for example, and public-school investments that ensure equal opportunity despite growing socioeconomic stratification—are synonymous with the needs of the broader communities in which they live.
What to Expect
Notes on the news to come
Global
Leaders of the Catalan pro-independence movement will head to trial on February 12 in Spain. Twelve people face charges of rebellion and misuse of public funds related to Catalonia's bid for independence in 2017. Many Catalan parliamentarians fled the country after a declaration of independence (which national authorities did not recognize) led to clashes between protesters the police. Others who remained have been in custody ever since. Their upcoming trial has angered separatists. Grassroots activist groups have vandalized courthouses around Catalonia in protest, dumping feces on the doorstep and spray-painting the walls with the words merda de justicia—"shit justice."
Politics and Policy
Congress and President Donald Trump have until February 15 to reach an agreement that would prevent a second federal-government shutdown. The House was supposed to be out of session—and Democratic lawmakers were supposed to be on a retreat—during the second half of next week, but House leaders decided to keep their members in D.C. in case they need to vote on a spending bill. In December, Democrats refused to appropriate money for President Donald Trump's proposed wall along the southern border, and Trump refused to sign a spending bill without wall funding—an impasse that caused the longest government shutdown in history. Ahead of another possible one, Trump has said that he gives Congress a "less than 50-50 chance" of coming to a deal. Democrats might need to wait a while on their next retreat.
Technology
Looking for a place to share the love on Valentine's Day? Fortnite, the world's most popular video game, is here for you. The game is launching an event, Share the Love, to tide over impatient gamers waiting for its next season to come out at the end of the month. Over the next couple of weeks, players will be kept busy through daily challenges, tournament games, and deliveries of free virtual swag, such as heart-patterned outfits for their characters. Fortnite is hosting more and more of these events—recently, developers created a Showtime event, as well as a 12 Days of Christmas challenge. The lead-up to each event is a frenzy of hype and anticipation. Share the Love was first leaked by data miners on the popular subreddit r/FortniteLeaks. And since the official announcement, game vloggers have been breathlessly discussing updates, tips, and hacks on YouTube. The video game's perhaps biggest effect—its social network—reveals itself again.
Culture
The art community will be closely watching the inaugural edition of Frieze Los Angeles, the mega art fair landing in the city next week. The city is a "graveyard" within the global art-fair circuit, and past attempts at breathing life into the scene—FIAC Los Angeles, Paris Photo Los Angeles, Art Platform Los Angeles, to name a few—didn't take off. For a city full of filmmakers, musicians, and other creative types, L.A.'s lack of art can be a head-scratcher. Contributing factors include its geographical remoteness from art power hubs such as New York and London, as well as its relative youth. (Case in point: The Metropolitan Museum of Art opened in 1870; the Los Angeles County Museum of Art, L.A.'s first art museum, opened in 1961.) Some critics believe that Frieze will be "dead on arrival." Others hope that the fair will invite new confidence in L.A. as a worthy contender in the world of art. Exhibits open February 14.
100 Years Ago
"The fat woman has been so long accustomed to commiseration that it may be difficult for her to realize her new dignity; we have all pitied her, been sorry for the bursting glove-clasp, the exuberant girth, the sweets desired but denied, the chin whose apparent hauteur was so unjust to the kindly heart beneath it … But now all that evil time is forgotten. The anti-fat nostrum, the recipes for rolling, the panting mountain climb, all the many-doctored advice, all the beauty-parlor pummeling—all this is obsolete, for obesity has come into its own. The corpulent dame now has dresses made to exhibit, not to conceal, her shapeliness; these throng authentic fashion-sheets. She has her own clothes, not the adapted 'line' of the lean and lovely sylph. The fat woman is no longer done out of her inheritance by a cruel and carping world. She has become a 'stylish stout.'"  — Anonymous, February 1919
Items this week by Andrew Henry, Olivia Paschal, and Karen Yuan. Illustrations by Matt Chinworth.
What's New
Updates on your Masthead membership
One Thing You Should Know: A Rohingya Muslim who hopes to smuggle himself out of Myanmar might need to bribe an immigration official about $2,600—nearly twice the country's average annual income. In an Atlantic story supported by Masthead members, Timothy McLaughlin shares the tale of a man who attempted to flee within his own country. [Read it here.]
Where You Can Dive In: Virginia Governor Ralph Northam is still in office a week after reporters called attention to his yearbook page, which depicted individuals in blackface and a KKK costume. Republicans and Democrats alike have called for his resignation. Members are discussing whether Northam, and others in his position, deserve mercy. [What's your take?]
What's Coming: The Masthead reviews the history of work and poverty with a look back at a gem from our archives: John Brooke's "The Gentle Art of Poverty."
We want to hear what you think about this article. Submit a letter to the editor or write to letters@theatlantic.com.
Alia Wong
is a former staff writer at
The Atlantic,
where she covers education and families.