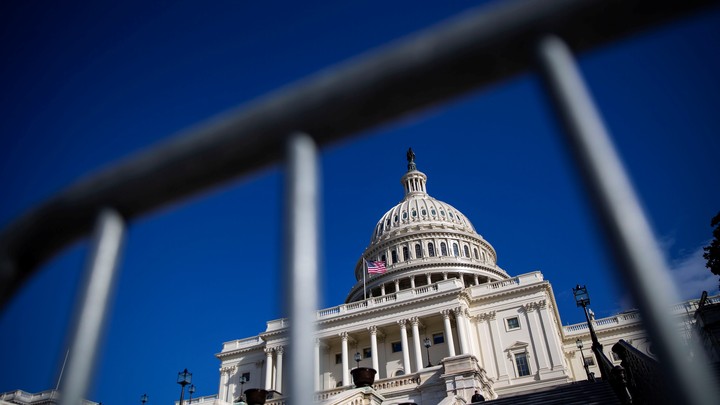 Are you prepared for another shutdown of the federal government? The Ideas writer Annie Lowrey is here this week with an assessment of the risk.
Meanwhile, we at The Masthead are reviewing the nearly 300 applications journalists sent in for the Masthead Reporting Residency. We'll share details about the finalist soon. — Matt Peterson
What to Know: The Threat of Another Shutdown
By Annie Lowrey
What we're watching: The government shutdown is over, and yet the government shutdown lingers on. The federal financing lapse, the longest in United States history, finally ended when President Donald Trump agreed to sign a bill to keep the lights on through February 15. But hundreds of thousands of workers missed two paychecks, and stand to be in worse financial shape even after they come in. The affair cost the American economy something like $3 billion, never to be recovered. And the underlying political fight, over Trump's lonely, deep-held desire to build a wall on the southern border, remains unresolved. That raises the likelihood of another shutdown occurring in February or sometime later in 2019.
Will it? Trump does not want to shut the government down again, but he would be willing to do so if that is what it took to get more money for border security, his chief of staff, Mick Mulvaney, has said. The country's debt ceiling, which becomes an issue again in March, presents yet another frightening opportunity for an economically disastrous political fight.  
Won't it? In response to the pointless, painful, ever-long shutdown, a number of lawmakers from both parties have proposed ending shutdowns forever. "Shutting down the government should be as off limits in budget negotiations as chemical warfare is in real warfare," Senator Lamar Alexander, a Tennessee Republican, told The New York Times. That would be relatively simple to do through something called an automatic continuing resolution, which maintains government funding at a given level even if spending bills lapse.
What's next? Chances are that Washington, D.C., is headed into a period of more turbulence—procedural chicanery, political brinkmanship, and vicious partisan infighting—now that Trump faces true opposition in the form of a Democratic House. Trump has threatened to invoke the National Emergencies Act to build the border wall with Mexico. The end of the Mueller investigation, calls for Trump Cabinet members to testify before Congress, the potential release of Trump's tax returns: All mean volatility and uncertainty emanating from Washington.
Further ahead … The political center of gravity is moving away from Washington, toward Des Moines, Oakland, Atlanta, Concord, and Detroit: The 2020 presidential election is in full swing, with a huge slate of Democratic candidates needling Trump, Trump needling them right back, and the Starbucks founder Howard Schultz considering making a Naderesque run as a political independent. No Democrat has a clear advantage in the race. But the early numbers do look terrible for Trump, who has a 65 percent disapproval rating despite presiding over a strong economy. Were that strong economy to start to falter, it would likely spell disaster for Trump's reelection campaign.
It would also mean a lot of pain for average Americans. The shutdown helped expose how fragile many families' finances are, even as this period of economic expansion nears the decade mark. Worry, concern, uncertainty, and precariousness remain dominant themes, even with the federal government back up and running.
What to Expect
Notes on the news to come
National
In normal times, the Department of Agriculture releases a key report each month on crop forecasts. But because the department was shuttered and its employees furloughed, January's report was delayed—and still hasn't been released. The World Agricultural Supply and Demand Estimates might sound like a wonky white paper that's irrelevant for all but government bureaucrats and agriculture-industry insiders, but even yeoman farmers rely on it when planning and harvesting their crops. For them, the new release date of February 8 can't come soon enough—though it's winter, they'll soon have to make key decisions on which crops, and how many, to plant.
Religion and Values
On Sunday, Pope Francis will become the first pontiff ever to visit the Arabian Peninsula following a personal invitation from the crown prince of the United Arab Emirates. The pope plans to hold private meetings with Muslim leaders at the Grand Mosque of Sheikh Zayed in Abu Dhabi, attend an interreligious conference, and lead mass for an expected 135,000 adherents in the country's largest stadium. The UAE has publicly positioned itself as a place of cultural and intellectual interchange—2019 is the "Year of Tolerance"—while denying religious freedoms and cracking down on dissent. The British academic Matthew Hedges was recently detained and forced to sign a confession in a language he couldn't read. "I was one of the lucky ones," Hedges wrote. The papal visit, part of the pope's effort to improve Church relations with the Middle East, will let the country portray itself in a different light.
Global

A group of diplomats from the Americas will meet Monday to talk about the crisis in Venezuela. The gathering is notable for who is hosting it (Canada) and who is absent (the United States). The Canadian government has tried to find a middle ground between the Trump administration's threats of military force against the dictatorial Venezuelan president, Nicolás Maduro, and Latin America's anxiousness about Washington's meddling. The result is the so-called Lima Group, formed in 2017, and which the United States says it supports but is not a member of. That structure might solve the problem of the region's dislike of Trump's foreign policy, but actually fixing Venezuela will be another matter entirely.
Culture
"The Rocinante is safe," Jeff Bezos announced last year to a cheering crowd of fans of The Expanse. Amazon Studios had saved the space opera—and its Don Quixote—themed spaceship—after its cancellation by SyFy. A massive fan campaign beseeched the streaming giant to pick up the show, nudged along by an email from the writer George R. R. Martin and a plane flying the banner #SAVETHEEXPANSE around Amazon Studios' offices in Santa Monica, California. A new season will be available on Amazon Prime starting February 8. The Expanse is only the latest example of a trend in which streaming services rescue shows let go by cable channels. Netflix bagged Fox's Lucifer and ABC's Designated Survivor last year. For its part, Amazon has orders from Bezos to capture more Game of Thrones–style, high-end dramas "with global appeal," according to Variety. Or, in the case of The Expanse, galactic appeal.
150 Years Ago
"No matter how good the polytechnic, scientific, technological, or mining schools may be, it is a delusive expectation that their graduates will be able to enter at once the highest grades of employment, and assume the direction of practical affairs upon a large scale immediately upon leaving the schools. Common sense brings any one who considers the magnitude of the investments necessary in mining and metallurgical works to this conclusion. Young men of twenty to twenty-four are seldom equal to great money responsibilities."  — Charles W. Eliot, February 1869
Items this week by Saahil Desai, Andrew Henry, Matt Peterson, and Karen Yuan. Illustrations by Matt Chinworth.
What's New
Updates on your Masthead membership
One Thing You Should Know: "The [private military] industry has grown up, and the U.S. has gone away and stopped paying attention. It's crazy now—Vegas meets military action." That's according to Sean McFate, a former military contractor, who spoke to the authors of a new Atlantic investigation that was supported by Masthead members. [Read it here.]
Where You Can Dive In: Do you remember gym class? Members in the forums are discussing an Atlantic story reporting that many students hate P.E. so much that they're skipping school to avoid it. [Join in.]
What's Coming: Jason Stearns joins The Masthead on Monday for a historical briefing on conflict and democracy in the Democratic Republic of Congo.
We want to hear what you think about this article. Submit a letter to the editor or write to letters@theatlantic.com.