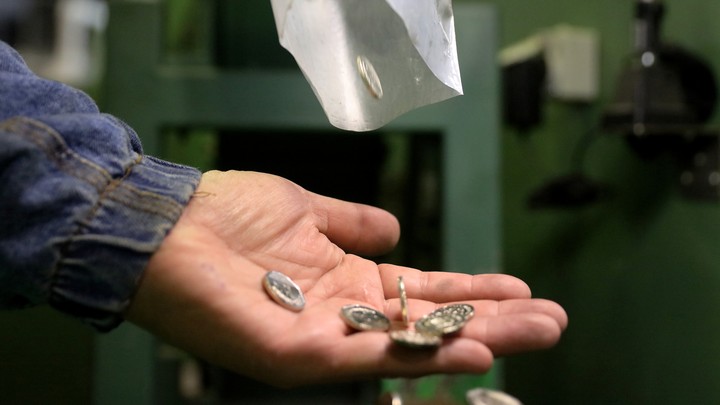 Today's Issue
---
John Brooke saw his move to San Diego as a kind of surrender. He was jobless and nearing 60. His savings had nearly run out. He needed to be somewhere warm where, in his words, he could learn "how to be poor." In 1977, The Atlantic published his story.
Brooke's piece is worth reading just for the scams and schemes he cooks up to get what he needs. Spoiler: Living cheaply wasn't easy, and by the end of the story, Brooke all but gave up. Today The Masthead revisits the itemized budget Brooke helpfully provided. It offers a foothold to discuss the ways that work, unemployment, and the broader economy have changed since the late '70s.
This is an inherently particular and artificial enterprise. One person's story can't stand in for the many different experiences people have with poverty. And Brooke was able to publish his account in a national magazine, which suggests he might have had more support than others who are similarly situated. But comparing Brooke's budget with a contemporary equivalent allows for a vivid sense of how much harder it would be today to attain with a similar sum even the meager quality of life Brooke did 40 years ago.
In each section below, we've listed Brooke's spending in actual 1977 dollars, the same amount adjusted for inflation, and our best guess at what an equivalent expense might be in 2019.
Brooke's budget in 1977 dollars: $1,765.
"My total annual income, from a modest pension ($1980) and the interest ($168.75) from an equally modest savings account, is 6 percent of what I earned in my prime—and less than two thirds of the property tax I once paid on a five-bedroom home with swimming pool in Westchester County, New York …
"I had arrived in San Diego with some $4000 … [Now] my balance was down to $2500 and change … The round sum, deposited at 6.75 percent interest in my savings and loan association, increased my annual income by $168.75—$14 a month ...
"If I could survive at the bottom, the only direction in which my style of living could move would be up. My experimental budget totalled $1765 a year—a respectable $383.75 less than I had available to spend. Every entry in it requires explanation."
Brooke's budget in current dollars: $7,198.48.
Inflation means that $1 in October 1977 is the equivalent of $4.08 today, according to the Bureau of Labor Statistics.
Brooke fell well under the poverty line in his day. Only 2 percent of American families earned less than $2,000 a year, according to the Census Bureau; the median family earned $16,000. In 2019, a person needs to earn less than $12,490 to qualify as poor.
One complicating factor: Interest rates today are lower than they were in the late 1970s. The $2,500 in Brooke's savings account generated a healthy, low-risk return in 1977. Today his savings would be worth $10,736.45. Interest on that would yield $241 a year  in today's dollars at a 2.25 percent interest rate, the highest rate available on Bankrate.com. For simplicity's sake, however, we'll just adjust his entire budget for inflation.
Brooke's rent in 1977 dollars: $600. In current dollars: $2,448.
With a friend's help, Brooke found a space in a rooming house. He didn't have a stove, but in a "corn popper we occasionally fried eggs for breakfast and boiled macaroni for dinner."
Comparable rent in 2019: $8,400. That's assuming Brooke found his way into one of San Diego's rapidly vanishing single-room-occupancy hotels. The Voice of San Diego reported in 2016 that a room with a shared bathroom—of the kind Brooke rented in 1977—came with a monthly rent of about $700. That would swamp his annual income, but it would still be far more affordable than the average rent in San Diego County, which the The San Diego Union-Tribune estimates to be $23,520 a year. The area is cheaper than Los Angeles and San Francisco, but rent continues to increase at more than twice the rate of inflation.
Brooke's medical costs in 1977: $50. In current dollars: $204.
"This is probably too much, since it is earmarked exclusively for drugs, proprietary and prescriptive. In seven months in San Diego, my medical bill, at private-practice rates, has exceeded $5000 (my own estimate). I have paid nothing for this; nothing for a thorough physical examination, nothing for eight visits to a clinic, nothing for treatment for a stubborn ear infection, nothing for having my blood pressure taken—daily, if I choose—nothing for the twice-weekly therapy group for my depression, nothing for one hour a week of private therapy, also at the VA Hospital. Should my health seriously deteriorate, I have nothing to fear but the deterioration itself—and whatever lies beyond it. The VA will give me a bed and board and do its best to keep me breathing."
Comparable medical costs in 2019: $312. As a veteran, modern-day Brooke would likely find himself with relatively low medical costs, compared with the average American. He'd also have to deal with the difficult bureaucracy of the VA. Medical costs have generally skyrocketed compared with other areas of spending. Based on a basic outline of potential expenses listed by the VA, Brooke's twice-weekly group therapy would cost nothing if the underlying condition was combat-related; even if it wasn't, with his low income, he would still likely incur no costs. Assuming he successfully navigated the VA system, one primary-care visit ($15 co-pay) and one expensive medication ($11 co-pay) a month would still leave his budget in decent shape.
Brooke's food costs in 1977: $730. In current dollars: $2,978.40.
"This allows a daily expenditure of $2, which may seem low. It is low. The free lunch is my only substantial daily meal. In seven months I have lost twenty pounds. I am down to 175 and have never felt better. When starvation threatens, I eat lunch twice."
Comparable food costs in 2019: $3,521. That's what the Economic Policy Institute calculates a single man in San Diego can reasonably expect to spend if he purchases groceries and cooks all his meals at home. Its calculator draws on data from the Department of Agriculture.
Brooke's 1977 clothing costs: $60. In current dollars: $244.80.
"Unquestionably excessive. My total outlay for seven months is $32.37, of which $24 went for a new pair of shoes."
Comparable clothing costs in 2019: $244.80: Brooke could almost certainly get by with the same amount of inflation-adjusted money in 2019. The revolution in global supply chains since Brooke's day has kept prices for basic consumer goods extremely low. In fact, the $24 he spent on new shoes might go even further today. At the time of writing, a pair of faux-suede men's bucks were available from Old Navy for less than $22.
Brooke's 1977 laundry and dry-cleaning costs: $35. In current dollars: $142.80.
"Also probably high. My shirts go to the Skills Center, three a week at 15¢ each. My two suits have been dry-cleaned once—$1.60—and will not require this attention again until next year. Everything else I wash myself in the shower stall."
Comparable laundry costs in 2019: $106.36. In 1977, Brooke had shirts cleaned individually. Assuming he bought washable men's shirts—far more common today—he could get by at a Laundromat instead of a dry cleaner for most of his clothes. A load of laundry costs $1.50 on average, according to The Simple Dollar; one load a week would set him back $78. Add $28.36—the price to dry-clean two suits, according to San Diego's Veribest Cleaners—and you get costs that, again, have kept up with inflation.
Brooke's 1977 transportation costs: $0.00. In current dollars: $0.00.
"The fact is that I could turn an annual profit of $277.68 in this category if I had the nerve. I don't. If I swore to a lie—that I am unable to get to the VA Hospital except by my own private conveyance (a lie that would not be investigated)—I could collect mileage, in my case $2.08 per visit, every time I went to La Jolla. Tipped to this by a group member who is doing just that, I signed the lie, collected my $2.08, and then chickened out: it was more than my conscience, despite its fresh callosities, could tolerate. Now I charge the hospital 70 per visit—round-trip bus fare from San Diego—against an actual expense of 30 with my Goldfare card. The excess finances eight additional bus rides a week, more than I ordinarily take."
Comparable transportation costs in 2019: $468.00. Brooke would need to spend $4.50 for a round-trip bus ticket for each of his twice-weekly trips to La Jolla (assuming that he did not continue to scam the VA). If he wanted an adult metro pass in San Diego, that would cost another $864 a year. (Goldfare cards are no longer used, and the transit authority now requires ID to prove eligibility for senior discounts.)
Brooke's 1977 cigarette costs: $0.00 In current dollars: $0.00.
"My buying trips to Tijuana, ten cartons of Delicados per trip, constitute a Mexican Standoff. My clients in Horton Plaza support my smoking habit."
Comparable cigarette costs in 2019: $0.00. Brooke managed to keep himself in smokes by smuggling cartons across the border from Tijuana and reselling them. Cigarette prices in Mexico are still considerably cheaper than in California, so that plan would still work. (It would also still be illegal.) Nowadays, a more common tax scam is to make repeated visits to duty-free stores on the border, according to the Government Accountability Office. If he wanted to stay out of legal gray zones, our 2019 Brooke could have a carton of Marlboro 100s delivered in San Diego for $77.05, or $0.39 a stick. That's a considerably higher cost than the $0.02 he was paying for American cigarettes back in 1977.
Brooke's 1977 movie costs: $0.00. In 2019 dollars: $0.00.
"If I don't catch the weekly feature at the Cedar Community Center, I see a firstrun movie free at any one of a number of theaters in the San Diego area. My host is the savings and loan association, which hires a movie house in off-hours, usually mornings, and admits any of its depositors free."
Comparable movie costs in 2019: $0.00. Seniors still have good access to cheap movies in the area. If you want to pay commercial, though, it'll cost you. A ticket for Monday's 1:00 p.m. showing of What Men Want at the AMC in Mission Valley, San Diego, would cost Brooke $12.69 for an adult ticket, or, if he were willing to scam his way in—as we can safely assume he would be—$11.19 for a senior.
Brooke's 1977 entertainment costs: $60. In current dollars: $244.80.
"An arbitrary figure arrived at by multiplying $5 by the months in the year. The sum covers such extravagances as the dollar I paid to see King Kong at the Cabrillo and, I must confess, Deep Throat at the Pussycat. That venture into hard-core porn, my first, set me back $2.50 and cured me of all desire to do it again."
Comparable entertainment costs in 2019: $244.80. Brooke's estimate is arbitrary, so simply adjusting it for inflation illustrates how little has he to keep himself amused. Americans in his age bracket (55–64) spend $2,852 a year on average on entertainment, according to the BLS. As The Masthead has reported, pornography costs have gone to zero for many people. But if he still wanted to visit an adult theater—these days, they charge by the hour instead of by the film—a few are still running in the San Diego area. Entry will cost about $10, according to Yelp reviews.
Brooke's 1977 coffee costs: $0.00. In current dollars: $0.00.
"My daily consumption is three or four cups. Within easy biking distance of my rooming house are several dozen sites which serve coffee free, among them the lounge in the savings and loan association reserved for its depositors, who become automatic members of the association's Investors Club. Free coffee, free phone calls, library, and other benefits, such as a free strongbox, for which I have no use."
Comparable coffee costs in 2019: $0.00. Free coffee is still bountiful for the motivated grifter. Should he desire to pay, a small cup of Starbucks would set Brooke back $2.15.
Brooke's 1977 drinking costs: $30. In current dollars: $122.40.
"This permits me ten beers a month at 25 per 9-oz. glass."
Comparable drinking costs in 2019: $122.40. San Diego remains a drinkers paradise. A recent investigation by The New York Times found readily available small pours for as little as $1.50 for a four-ounce glass.
Brooke's 1977 incidentals costs: $200. In current dollars: $816.
"The account book I began keeping in March suggests that I will have trouble emptying this coffer. Sample entries: two pocket notebooks, 45; trouser clips (for my bike), 63; typewriter ribbon, $3.18; "Swets" (whatever they are; the entry is illegible), 98."
2019 incidentals costs: $816.00. As with clothing, a 2019 Brooke might find that these costs have actually decreased—so long as he can have them delivered. Notebooks are available for less than 80 cents apiece. Trouser clips for bicycles are somewhat less readily available, with costs close to $5.00 apiece. Typewriter ribbons are there for the finding, but who would bother. "Swets" remains incomprehensible.
All told, Brooke's equivalent 2019 expenses add up to $12,739.96. With an annual income of only $7,198.48, it's safe to say he'd need to find some way to bring cash in the door. As stated at the outset of this analysis, these comparisons are impossible to make exact, and Brooke benefited from several circumstances that would be unlikely for the average person in 2019. For more on the macro-level differences in the economy that would shape the experience of someone attempting a similar budget today, listen to our conversation with Heidi Shierholz.
We want to hear what you think about this article. Submit a letter to the editor or write to letters@theatlantic.com.
Matt Peterson
is the editor of The Masthead, the membership program at
The Atlantic
.