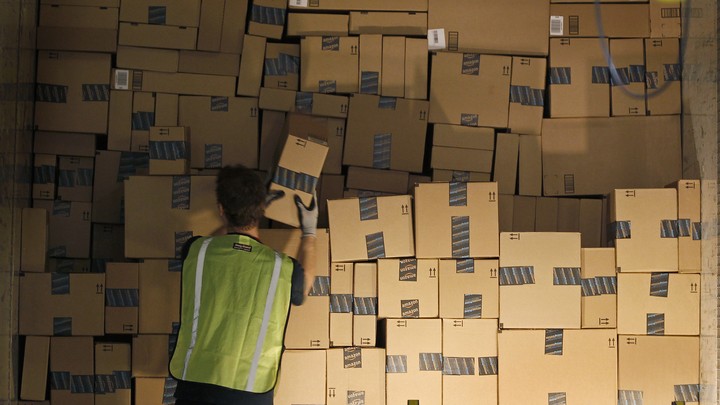 It was just one branch of one company in one city, but Amazon's cancellation of its planned New York office has cities and companies all over the country rethinking their plans. Sarah Holder has been monitoring the fallout on CityLab, and she joins The Masthead today to relay what she's seen. — Matt Peterson
What to Know: Amazon's New York Exodus
By Sarah Holder
What we're following: The consequences of Amazon's decision to pull out of its plan to build a New York headquarters are still unfolding. The controversial retreat was a big win for organizers, and a disappointment to public officials who wanted to broker a better deal. Now, it's making cities rethink the important yet obscure incentives they give to megacorporations such as Amazon.
How we got here: There were signs that Amazon's North America–wide search for a new corporate headquarters might end with a twist from the beginning, when it first announced the HQ2 competition more than a year ago. Amazon promised it would infuse 50,000 jobs and billions in investment in one winning location, and 238 jurisdictions jumped at the chance to compete. The plan seemed like an elaborate, Willy Wonka–style PR boon.
What could have been the end of the competition came last November, when Amazon announced it would be splitting its HQ2 into HQs two and three, putting one 25,000-employee office in Long Island City, Queens, another in Northern Virginia, and a third 5,000-employee satellite in Nashville, Tennessee. The choice seemed obvious: Near D.C., Amazon would consolidate access to political power; in New York City, financial power. In both, the company would find a large pool of tech talent.
What Amazon wasn't counting on, however, was New York City's chilly reception. Opponents of the plan on the ground and in state and local government were outraged that, with no public oversight, New York had offered the company—helmed by the richest man in the world, Jeff Bezos—$3 billion in tax incentives, and a building site next to the largest public-housing development in the country.
During dramatic public hearings, city-council members raised more concerns: The promised jobs would be well paying, but would locals get them? How would the region's already pricy housing market, or its subway system, handle the shock? Local groups like Make the Road New York argued that Amazon, which has pitched its facial-recognition technology to ICE, would put Queens' immigrant population in danger; they criticized the company's employment practices too. But the real political threat came when, in January, the vocally anti-Amazon state senator Michael Gianaris was elected to serve on a board that would have given him veto power over most of the Amazon deal.
Then, in February, Amazon announced it would be pulling out of New York City entirely. It wanted to settle in a city that wanted it too.
What does it mean? For New York City, it's complicated. Mayor Bill de Blasio condemned Amazon's decision to retreat rather than negotiate. Governor Andrew Cuomo blamed politicians for driving Amazon away. Other proponents of the deal lamented the loss of $27 billion in potential tax revenue, an increase in employment opportunity, and a revitalized Long Island City. The $3 billion promised to Amazon was contingent on hiring, and it won't magically be invested into state public services. And according to polls, about 56 percent of New York residents actually supported the deal, despite the national outcry. But for those who fought for Amazon's ouster, it was an organizing victory. New York City doesn't need jobs, analysts have argued, especially not the ones Amazon was offering: It needs affordable housing.
What's next: Amazon will not be choosing an alternate HQ location, it says, and instead will double down on hiring in its more than 30 other corporate offices across North America. (That hasn't stopped other former HQ contenders from asking to be reconsidered—the 2020 presidential hopeful Cory Booker has advocated for Newark as an option.)
Amazon is far from unique in its expansion methods. Google is spending $1 billion on a new 7,000-job campus in New York City; its CEO, Sundar Pichai, recently pledged $13 billion to developing new data centers across the U.S. What's more, the company reportedly proposed receiving up to $6 billion in tax incentives from Toronto to build Sidewalk Labs, a massive planned smart city; a Washington Post story last week revealed that Google has been using shell companies to secretly advocate for Amazon-style tax breaks and public concessions as it spreads its footprint across America.
Amazon's competition, however—along with the unraveling of Foxconn's $4.1 billion deal to build a factory in Wisconsin—has succeeded in thrusting a once-obscure process of economic development into the limelight, and inspired cities to start setting their own terms for economic symbiosis with Big Tech. State legislators in New York are pushing a bill to ban the state from offering company-specific tax incentives, and asking other states to follow. There have been calls for federal intervention too. San Francisco and Mountain View, California, have passed taxes on businesses to fund affordable housing and homelessness initiatives, after Amazon helped kill a similar measure in Seattle, the home of its first headquarters.
Amazon's extremely public expansion could have given it an opportunity to forge a new image of what a tech company does in—and to—a city. In Virginia, it still can: Governor Ralph Northam quietly approved the Amazon package this month without as much public protest, perhaps because the incentives offered had clearer community benefits. What the New York backlash reveals is that some cities aren't willing to take the chance.
What to Expect
Notes on the news to come
Politics and Policy
President Donald Trump must decide in the next several days whether to activate a provision that would unleash potentially thousands of lawsuits against foreign investors operating in Cuba. Title III of the 1996 Helms-Burton Act enables Cuban Americans to sue foreign companies using property confiscated during the Cuban Revolution, a class that includes many European investors. The authors of the law built a back door into Title III that allows the president to suspend the provision for six months if it's deemed against the national interest. Every president since 1996 has taken this option, but the Trump administration threw a curveball in January when it suspended the provision for 45 days rather than the usual six months. Senator Marco Rubio has long advocated for activating Title III, saying that the Cubans who lost property "deserve justice." But if Trump allows the lawsuits to proceed, it will open up a new dispute between the U.S. and its European allies at a time when there's already plenty for them to fight about.
Global
The "incredible" deal Trump agreed to with Xi Jinping to resolve their countries' trade differences expires on March 1. That deadline may be extended. But even if an agreement is reached between the two countries' principal negotiators, their bosses, Trump and Xi, will need to sign off on the conclusion. That puts much of the real negotiating action back in Washington. Trump gets along well with his chief negotiator, Robert Lighthizer, but the president is reported to be willing to settle for far less than what Lighthizer demands of China. Lighthizer has prepared for this moment for decades and isn't likely to give up without a fight—he may well prefer no deal to a weak one. But he doesn't have final say. As one of his predecessors in the role said, the toughest negotiating partner for a U.S. trade representative is the United States itself.
National
Civil servants who may have been wrongly dismissed, demoted, suspended, or otherwise maligned will soon lose their primary recourse for appeal, barring swift action by the Senate. Mark Robbins, the acting chairman and only remaining member of the Merit Systems Protection Board, is due to leave his post on February 28 when his already extended term runs out. Without him, the MSPB will be unable to review cases, effectively squashing 2.1 million federal employees' chance to lodge workplace complaints. President Trump had delayed board-member nominations by a year, and his nominees have so far been unable to win Senate confirmation. Unless new board members are confirmed before Robbins leaves office, the recommendations he has written on the agency's backlog of roughly 1,900 cases will be void, vacating years of work and further impeding the review of cases. For discontented federal workers, the outlook is grim.
Culture
When Paris Fashion Week begins Monday, Karl Lagerfeld's recent passing will cast a shadow over the revelry. The fashion titan's absence was already deeply felt at Milan Fashion Week yesterday, where Fendi debuted his final collection for the brand with many models wearing low ponytails, large sunglasses, and high, stiff collars—Lagerfeld's signature look. Their hair, plastered into finger curls, recalled the '30s, the decade of the couturier's birth. Chanel, the designer's other brand, will be missing Lagerfeld in Paris as well. But at the end of last month's Chanel show, he had already skipped his customary walk-and-wave, saying he felt "tired." His legend seemed immutable, until suddenly it wasn't.
25 Years Ago
"The [English] countryside is, of course, where antiquity most naturally (if sometimes unobtrusively) survives. On our rambles the low, golden light of late afternoon revealed the furrows of medieval ploughs. Our paths took us down lanes, overgrown and casual in appearance, that the Romans had built as major roads, their unremitting straightness giving them away. We crested hills that had been used as relay stations—a bonfire set on one, and then the next, and then the next—for the transmission of important news. On other hillsides circles of stones fending off purple and yellow gorse marked the locations of prehistoric hearths."  — Cullen Murphy, February 1994
Items this week by Andrew Henry, Matt Peterson, Parker Richards, and Karen Yuan. Illustrations by Matt Chinworth.
What's New
Updates on your Masthead membership
One Thing You Should Know: Despite Amazon's exit, "NYC is going to add tens of thousands of tech jobs (from Google, Apple, and, yes, Amazon) in the next ten years no matter what," the Ideas writer Derek Thompson wrote in the forums. [Read the discussion.]
Where You Can Dive In: Many Americans not only live in a totalizing bubble, a new study says, but prefer to. Does a whole segment of the country really isolate itself from the rest of society? Members are discussing in the forums. [Join in.]
What's Coming: The Korean War could end as early as next week, when President Trump meets Kim Jong Un, the North Korean leader, in Vietnam. To mark the occasion, the Masthead is going back to 1953, the year the current cease-fire was signed.  
We want to hear what you think about this article. Submit a letter to the editor or write to letters@theatlantic.com.
Sarah Holder
is a staff writer at CityLab covering local policy, housing, labor, and technology.