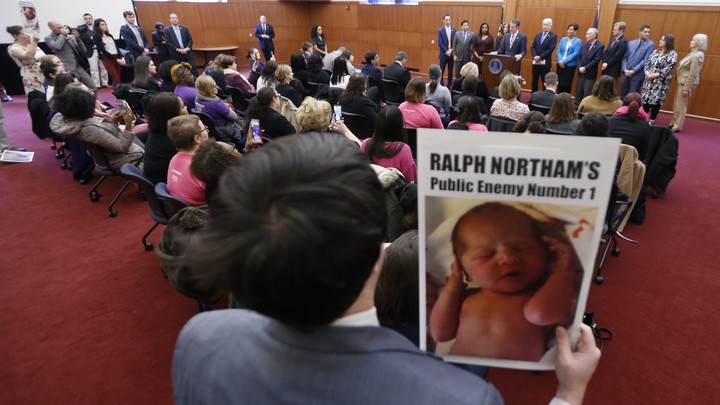 If you, like most Americans, skipped the State of the Union last week, you may have missed an important sign of where national politics is headed. As Emma Green reports today, President Donald Trump's vivid criticisms of new state-level abortion bills reveal how important actors in both parties are thinking about the issue. — Matt Peterson
What to Know: Abortion and the 2020 Election
By Emma Green
What we're watching: Recently, attention in the world of religion and politics has been focused on abortion. The big question is how this issue will factor into Republican and Democratic political strategies over the next 18 months, in the lead-up to the 2020 election.
What's happening: Legislators in Virginia and New York considered bills to expand and simplify access to late-in-pregnancy abortions, which prompted significant backlash from conservatives. Critics focused on a few comments in particular: A Virginia assemblywoman, Kathy Tran, testified that her bill would allow an abortion even as a woman showed signs of going into labor, and Virginia's governor, Ralph Northam, gave a radio interview in which he appeared to endorse not resuscitating children after they're born, seemingly in reference to babies with severe disabilities. President Donald Trump graphically called out these legislators, along with Democratic efforts to expand late-abortion access, in his State of the Union address: They "cheered with delight upon the passage of legislation that would allow a baby to be ripped from the mother's womb moments from birth," he claimed.
What we're asking: People who are active in the anti-abortion movement have told me that they're compelled by Trump's apparent passion on this issue; many believe he abhors abortion on a personal, visceral level, and is not just using this issue to curry favor with voters in the Republican base (as others claim). If I could give the president truth serum, I would ask him about his beliefs, and how he came to abandon his self-professed "very pro-choice" politics in favor of an anti-abortion position.
What's next: Democrats across the country are introducing bills that resemble those in New York and Virginia, taking advantage of their massive statehouse wins in November's election. This will be important to watch—not only to see whether these pieces of legislation pass, but also how they are received locally and nationally. American public opinion on abortion has stayed remarkably constant in the four and a half decades since the Supreme Court affirmed abortion rights in Roe v. Wade. In most circumstances, Americans do not support the right to have an abortion late in pregnancy. If Democrats—and, importantly, the organizations that strongly influence Democratic policy on this issue, such as Planned Parenthood—are by and large leaning into support for expanded abortion access, even late in pregnancy, will they lose voters because of it?
What to Expect
Notes on the news to come
National
In Oregon, this year's "School Exclusion Day" will coincide with the Pacific Northwest's severest measles outbreak in the past two decades. By February 20, parents must provide their children's immunization records to child-care facilities and schools. The state is one of 17 nationwide that allow parents to cite personal or moral beliefs as a reason for exempting their kids from immunization requirements, a policy that leaves children vulnerable to preventable diseases such as measles. Parents who appeal for nonmedical exemptions must undergo some health education, and schools with measles outbreaks may force unvaccinated children to stay home temporarily. The overall number of unvaccinated children in Oregon has dropped in recent years, but clusters of unvaccinated children remain a concern for health officials. One school in Multnomah County had a vaccination rate of only 30 percent, according to Willamette Week.
Religion and Values
The Vatican will host an unprecedented summit of Catholic leaders in Rome next week to address the Church's ongoing sexual-abuse crisis. Pope Francis announced the summit in September amid a spate of scandals, including the defrocking of two Chilean bishops accused of sexual abuse and a grand-jury report revealing that hundreds of priests in Pennsylvania had abused 1,000 minors over the course of decades. The summit aims "to advance a framework of protocols for responding to allegations of clergy sexual abuse," according to Cardinal Blase Cupich, but critics remains skeptical that any lasting change will materialize. As if to confirm concerns, Pope Francis tried to "deflate" expectations in a recent interview, warning that "the problem of abuse will continue."
Culture
Last year, Netflix's food-documentary series Chef's Table was criticized for not featuring a more diverse queue in its sumptuous spotlights of culinary visionaries—there were five women out of 22 chefs, most of them European. Chef's Table's subsequent fifth season became much more inclusive, highlighting more female chefs, as well as chefs from Thailand and Turkey. Its sixth season, dropping February 22 on the streaming platform, adds even more diversity. The show will feature its first black female chef, Mashama Bailey, whose restaurant is located in a formerly segregated Greyhound bus station in Savannah, Georgia. It will also spotlight Asma Khan, the chef at a London-based Indian restaurant staffed entirely by women. The new season's cast suggests that Chef's Table is serious about grappling head-on with the culinary world's inclusion issues.
25 Years Ago
"The Minister's eyes were like egg yolks, an aftereffect of some of the many illnesses, malaria especially, endemic in [Sierra Leone]. There was also an irrefutable sadness in his eyes. He spoke in a slow and creaking voice, the voice of hope about to expire. Flame trees, coconut palms, and a ballpoint-blue Atlantic composed the background. None of it seemed beautiful, though. 'In forty-five years I have never seen things so bad. We did not manage ourselves well after the British departed. But what we have now is something worse—the revenge of the poor, of the social failures, of the people least able to bring up children in a modern society.'"  — Robert D. Kaplan, February 1994
Items this week by Ena Alvarado, Andrew Henry, and Karen Yuan. Illustrations by Matt Chinworth.
What's New
Updates on your Masthead membership
One Thing You Should Know: In 1977, the writer John Brooke paid $600 a year to board in a rooming house in San Diego. Today, he'd face annual rent as high as $8,400—just for a room. The Masthead broke down how the living cost of poverty has risen since Brooke's time. [Read on.]
Where You Can Dive In: Amazon has canceled its plans to build a corporate campus in New York City. Why did Amazon back out of NYC but double down on building its campus in Arlington, Virginia? Members are discussing in the forums. [Join in.]
What's Coming: The Atlantic is taking Monday off for Presidents' Day, so you won't get an email from us. We'll be back later in the week.
We want to hear what you think about this article. Submit a letter to the editor or write to letters@theatlantic.com.
Emma Green
is a staff writer at
The New Yorker
. Previously, she was a staff writer at
The Atlantic
, covering politics, policy, and religion.