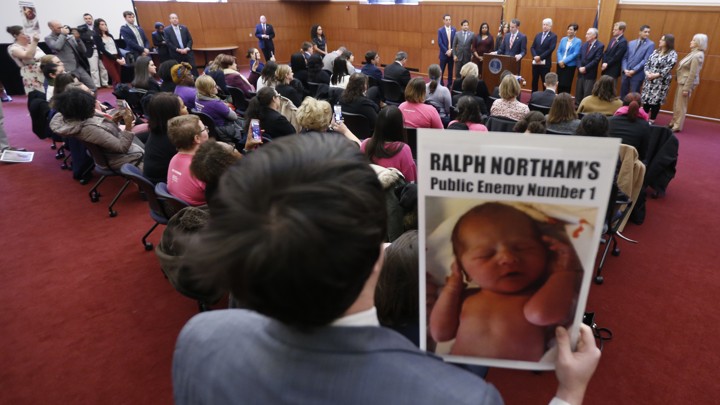 If you, like most Americans, skipped the State of the Union last week, you may have missed an important sign of where national politics is headed. As Emma Green reports today, President Donald Trump's vivid criticisms of new state-level abortion bills reveal how important actors in both parties are thinking about the issue. — Matt Peterson
What to Know: Abortion and the 2020 Election
By Emma Green
What we're watching: Recently, attention in the world of religion and politics has been focused on abortion. The big question is how this issue will factor into Republican and Democratic political strategies over the next 18 months, in the lead-up to the 2020 election.
What's happening: Legislators in Virginia and New York considered bills to expand and simplify access to late-in-pregnancy abortions, which prompted significant backlash from conservatives. Critics focused on a few comments in particular: A Virginia assemblywoman, Kathy Tran, testified that her bill would allow an abortion even as a woman showed signs of going into labor, and Virginia's governor, Ralph Northam, gave a radio interview in which he appeared to endorse not resuscitating children after they're born, seemingly in reference to babies with severe disabilities. President Donald Trump graphically called out these legislators, along with Democratic efforts to expand late-abortion access, in his State of the Union address: They "cheered with delight upon the passage of legislation that would allow a baby to be ripped from the mother's womb moments from birth," he claimed.
To access this story, become a member
Sign up for our brand-new membership program, The Masthead, and you'll not only receive exclusive content you can't find anywhere else—you'll also help fund a sustainable future for journalism.
We want to hear what you think about this article. Submit a letter to the editor or write to letters@theatlantic.com.
Emma Green
is a staff writer at ​
The Atlantic
, where she covers politics, policy, and religion.