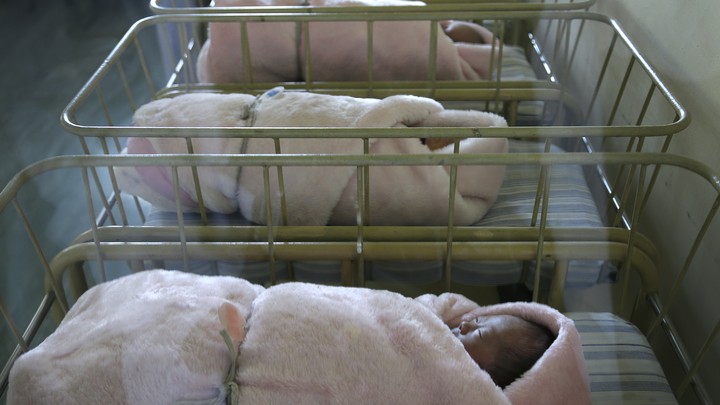 The Atlantic has been busy this week. We've brought you the 50 most unthinkable moments from the Trump presidency, and, from the Ideas editor Yoni Appelbaum, the case for impeachment. Today's Masthead Weekly takes us to another crisis altogether: the scientific scandal over the alleged creation of the world's first gene-edited babies. Take all that news in, then join us on the forums to process it. — Matt Peterson
What to Know: The
CRISPR

Baby Scandal

By Ed Yong


What we're watching: Late last year, a young Chinese researcher named He Jiankui caused an international controversy by claiming that he had, for the first time in history, altered the genomes of two baby girls using the technique known as CRISPR. It's still unclear whether his claims are true, but they nonetheless sparked widespread condemnation from scientists and ethicists. And as more troubling details unfolded, it became clear that this was perhaps the worst possible scenario for introducing the first gene-edited babies into the world.

Why the fuss? It's truly hard to capture the full scope of what He—that's his surname—did wrong in a short paragraph, so I refer you to this long list of 15 ethical and technical problems. But in brief: Under a cloak of secrecy, and against the consensus of the scientific community, He used a risky and largely untested procedure to disable a gene called CCR5 in the two girls. That was meant to reduce their risk of being infected with HIV. But in reality, there are other, safer ways of doing that, and the procedure didn't meet any genuine medical needs. The work appears to have been sloppy, and the process of getting informed consent was utterly inadequate.
What we're asking: What were He's motives? Was he genuinely but naively trying to help his patients? Was this a cynical way of showing that CRISPR could be used to edit human embryos, paving the way for more such work? It's impossible to get inside his head, and given that his own writings and talks on this topic have been bizarrely self-contradictory, I'm not even sure He can be treated as a reliable source on his own motivations. I also want to know who exactly knew about He's work along the way; his university, and the hospital where the procedures were allegedly done, have both disavowed the experiments.
What's next? I think fears of a Gattaca-style dystopia, where designer babies are made with tailored traits like height and intelligence, are overblown and scientifically implausible, as I argue here. Nonetheless, He's work crosses serious lines and must be held to account. He is allegedly trying to publish a paper describing his work, and it's unclear whether any journal will actually agree to publish it, or whether the details within will shed any light on how he actually pulled off the experiments he claims to have done. What will happen to the twin girls, Nana and Lulu? Or to the other CRISPR pregnancy that He mentioned in one of his talks?
And perhaps most importantly, how will the scientific community react to the paper? The criticism of He's work hasn't been universal, and some prominent figures have come to his defense. As I argued in my piece on the CRISPR baby scandal, and in this other one from last year on scientists resurrecting a long-dead virus, the edifice of modern science makes it too easy for small groups of researchers to almost unilaterally decide to do experiments of potential global consequence—and which everyone else only learns about after the fact. He's work is a particularly striking example of that risk, and it will likely not be the last one.
What to Expect
Notes on the news to come
Business
The battle over e-commerce market share in India is heating up. On January 20, Amazon India and the Walmart-owned company Flipkart will launch dueling shopping holidays: Amazon's Great Indian Sale versus Flipkart's Republic Day Sale. With tens of millions of Indians gaining internet access year after year, India remains an untapped customer base for e-commerce giants. Amazon has poured billions of dollars into its India business and has embarked on a hiring spree in Bangalore, dubbed by the company as the "Silicon Valley of India." Meanwhile, Flipkart aims to hold its slim lead over Amazon as India's largest online retail provider, investing in television advertising and its wholesale arm. But as the e-commerce market in India is expected to spike from $38.5 billion in 2017 to $200 billion within the next decade, these head-to-head sales days won't be the last skirmish in the war for online retail dominance.
Global
On Tuesday, the annual bacchanal of globalism will kick off in Davos, Switzerland. The World Economic Forum meeting has long been a punching bag for critics of the global elite, and this year's gathering—spawning headlines like "Everything You Need to Know About the Fourth Industrial Revolution"—will be no different. (To be clear: You need to know nothing.) But even as an object of hate, Davos remains the stick that global ambitions are measured against. (In: Jair Bolsonaro. Out: Theresa May.) When President Donald Trump (also out) threatened House Speaker Nancy Pelosi's congressional delegation to Afghanistan, citing the government shutdown, the instant rejoinder from reporters was to ask whether U.S. officials will still attend Davos. (There will be no official U.S. delegation.) All that attention has attracted other billionaires, like Michael Bloomberg, who have sought to create their own rivals to Davos elsewhere. So far, they have failed. Long live the king.  
Politics and Policy
The decision to celebrate Australia Day on January 26—the anniversary of the day in 1788 when ships first carried thousands of colonists to the continent's southeastern coast—has long been a sore spot for many of the continent's Aboriginal peoples. But the country's prime minister, Scott Morrison of the center-right Liberal Party, is doubling down on the date. Some municipalities—mainly in left-leaning parts of the country—have stopped offering citizenship ceremonies on Australia Day, so Morrison wants to make the ceremonies mandatory. Also, he wants to crack down on casual wear, banning "boardies and thongs" (American translation: board shorts and flip-flops) at the ceremonies. To Morrison's government, requiring citizenship ceremonies is a necessary piece of national pride; to opponents, it's little more than an insult to the country's indigenous peoples, and, as one mayor wrote in Melbourne's The Age, "a public relations stunt designed to further divide this country and stir the dying embers of a culture war." It seems to be working.
Sports
The soccer star Cristiano Ronaldo has been celebrating his Supercoppa Italiana win all week, but next Monday may feel less festive. The former Real Madrid player will need to appear in Spanish court on charges of evading $16.5 million in taxes by funneling income through a series of offshore companies. He is expected to be given a $22 million fine and a two-year prison sentence, although he's unlikely to serve time as a first-time offender. But this is hardly the first time a soccer player has faced tax-fraud charges. The release of the "Football Leaks" in 2016—the Panama Papers for the world of soccer—has revealed the ugly side of the beautiful game: Since the documents' launch, eight of the world's top players, including Lionel Messi and Neymar, have been embroiled in tax scandals.
100 Years Ago
"There has been more than one reason, as I have said, for the waning of Kipling's popularity. In the first place, he does not give us so many good stories as once, in the full flush of his genius, he did. That is a perfectly legitimate reason. Then, too, he has had an unlucky trick of seeing ahead. When 'The Edge of the Evening' was first published (in 1913), it passed for hysteria. Only 'fools' believed in German spies—in 1913. But there are other causes more insidious and more potent. He stands, not only politically for the highest type of Toryism,—at least, one fancies he does,—but for a lot of other outdated things: pious attachment to the soil; romantic love, enduring, clean outside and in; the beauty of childhood and the bitterer beauty of parenthood; patriotism unshrinking; and unashamed; loathing of the mob and the mob's madness and meanness; the continuity of the English political tradition, from Magna Charta down; religious toleration; scrupulous perception of differences between race and race, type and type; the White Man's Burden."  — Katharine Fullerton Gerould, January 1919
Items this week by Andrew Henry, Matt Peterson, Parker Richards, and Karen Yuan. Illustrations by Matt Chinworth.
What's New
Updates on your Masthead membership
One thing you should know: "There has been a real hesitancy among politicians to appear angry," our cover-story writer Charles Duhigg wrote in the forums. Then Donald Trump vented his rage. Is Trump a harbinger for more openly angry candidates in future elections? [Read Charles's thoughts.]
Where you can dive in:  A member asked in the forums: "Are white evangelical Christians losing political ground?" Not necessarily, the religion writer Emma Green responded, but their political allegiances are fracturing. [Join the discussion with Emma.]
What's coming: The Atlantic is closed Monday for Martin Luther King Jr. Day, but we'll be back in your inbox later next week.
We want to hear what you think about this article. Submit a letter to the editor or write to letters@theatlantic.com.
Ed Yong
is a staff writer at
The Atlantic
. He won the Pulitzer Prize for Explanatory Reporting for his coverage of the COVID-19 pandemic.