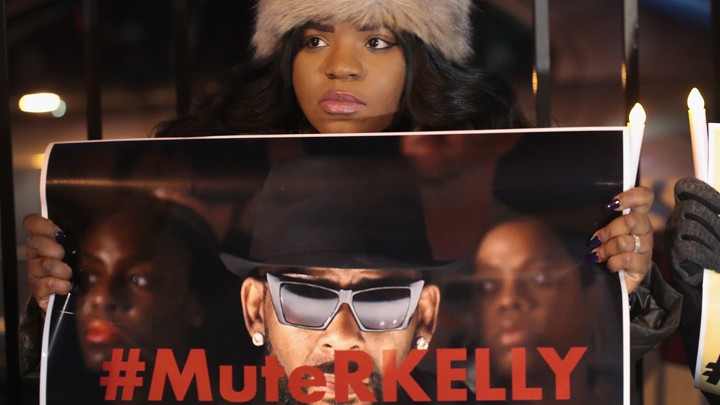 Allegations of abuse have followed the musician R. Kelly for years. The question that the culture writer Hannah Giorgis brings today is, After a painstakingly detailed documentary series was released last week, can anyone still look away? In this issue of The Masthead, she walks through a moment that could be a sea change for the music industry.  — Matt Peterson
What to Know: Can Surviving R. Kelly Exorcise the Music Industry?
By Hannah Giorgis
What we're watching: Three days into the new year, Lifetime premiered Surviving R. Kelly, a six-part docuseries about the music megastar's life and long history of alleged abuses. While the allegations about the 51-year-old singer have been widely known for years, the documentary is the first visual work that puts the numerous accusations into stark focus. Among other accounts, Surviving R. Kelly painstakingly traces the early-2000s child-pornography case revolving around a tape that appeared to show Kelly having sex with—and urinating on—someone who seemed to be a minor. (Kelly was found not guilty in 2008, after lawyers claimed that the man pictured was not him, and he has consistently denied all allegations against him, even in the puzzling 19-minute confessional track he released last year.) The series documents how the singer's three decades of commercial success, bolstered by both raunchy hits like "Bump 'N Grind" and near-gospel mainstays like "I Believe I Can Fly," fueled his relative immunity from legal consequence. The testimonies from alleged victims are wrenching and immediate, their pain rendered all the more impactful when juxtaposed with the apathy of the many R. Kelly supporters who have enabled his behavior through the years.

Why it should matter: Even for those familiar with the accusations, Surviving R. Kelly is a devastating, urgent watch. The documentary, produced by the filmmaker Dream Hampton, has rendered visible the kinds of abuses that often gain the least media attention: those that target black girls and women. (As the music writer Jim DeRogatis, who has been covering Kelly's alleged abuses for nearly 20 years, told The Village Voice in 2013, "The saddest fact I've learned is nobody matters less to our society than young black women. Nobody.") Over the three nights it aired, Surviving R. Kelly garnered an average of 2.1 million viewers.
To access this story, become a member
Sign up for our brand-new membership program, The Masthead, and you'll not only receive exclusive content you can't find anywhere else—you'll also help fund a sustainable future for journalism.
We want to hear what you think about this article. Submit a letter to the editor or write to letters@theatlantic.com.
Hannah Giorgis
is a staff writer at
The Atlantic
, where she covers culture.