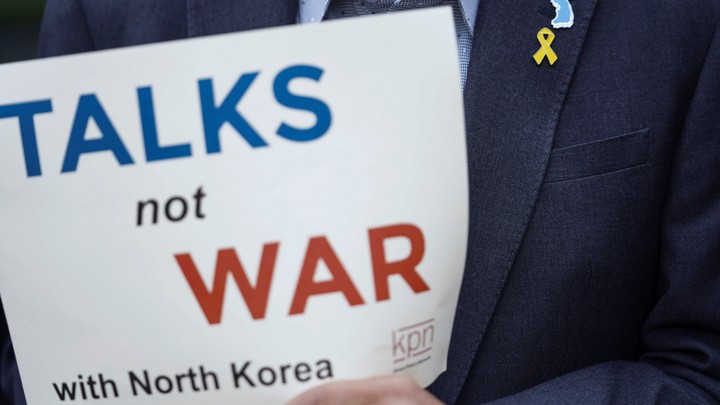 As President Donald Trump continues to tango with his Democratic adversaries over the funding of the federal government, another negotiation looms. Uri Friedman reports for The Masthead this week on the upcoming second round of nuclear talks with North Korea's Kim Jong Un. — Matt Peterson
What to Know: The Second North Korea Summit
By Uri Friedman
What We're Watching: Donald Trump has announced that he will hold a second summit with North Korea's leader, Kim Jong Un, in late February at a still-unannounced location (the odds-on favorite is Vietnam). It's an effort to revive nuclear negotiations that have flatlined since the two leaders shook hands and signed a vague statement in Singapore last June.
In applying unprecedented military and economic pressure on North Korea and then becoming the first American president to meet with a North Korean leader, Trump has made addressing Kim's nuclear-weapons program his signature initiative in foreign affairs. Now comes the part where we learn what, if anything, the brinkmanship-turned-bromance will amount to. What happens between now and the end of the second summit will help determine nothing less than whether North Korea becomes the world's newest nuclear-weapons power, the two Koreas finally reconcile after decades of chronic conflict, and the U.S. alliance with South Korea endures.
The Good: The U.S. is heading into the second summit in a better place than it was a year ago, when Trump and Kim were brandishing their "nuclear buttons" and warning of catastrophic war. Now the two men are talking and writing each other frothy letters. The United States has halted military exercises with South Korea that antagonized Pyongyang, while North Korea has blown up parts of a nuclear test site and suspended tests of nuclear weapons and long-range missiles that could deliver nuclear warheads to the United States. It was these tests that set off alarms in Washington in 2017.
The Bad: In terms of its capabilities, if not its intent, North Korea poses as grave a nuclear threat to the United States and its allies as it did before the Singapore summit. South Korean President Moon Jae In, an architect of the international diplomatic opening to Kim, has taken significant strides toward rapprochement with North Korea, including moving to demilitarize border areas. But Trump and Kim haven't gone much further than the first tentative step of meeting and agreeing to strive for peace, new relations, and the "complete denuclearization of the Korean peninsula."
Former South African President F. W. de Klerk, the only leader to ever give up a homegrown nuclear-weapons arsenal, once told me that his country's decision resulted from an improbable confluence of factors (his personal opposition to the bomb, the fall of the Soviet Union, the end of apartheid). It's exceedingly unlikely that Kim will choose to do the same, now that he's developed a nuclear program much more sophisticated than South Africa's abandoned one. Unlike de Klerk, Kim considers nuclear weapons essential for securing his regime.
The Ugly: I'm wondering whether there are any circumstances in which the young North Korean leader would actually disarm. Will he ever calculate that, over the long haul, the upside of renouncing nuclear weapons outweighs the downside? The former South Korean National-Security Adviser Chun Yung-woo, who is no starry-eyed observer of North Korea, sketched out one conceivable scenario for me. Kim could cede a nuclear force he now knows how to rebuild, in a matter of months if necessary, in exchange for resolving all his, in Chun's words, "existential problems." This could entail everything from ending the sanctions and international isolation that are strangling the North Korean economy to drawing down the American military presence in South Korea as part of a peace treaty, including removing troops and nuclear assets. (That's what the North Koreans mean when they talk about the "denuclearization of the Korean peninsula.") Real denuclearization, in other words, would require a dramatic transformation of the status quo.
What's Next? Pyongyang wants peace and new relations first, and denuclearization (possibly) later. Washington wants precisely the reverse. The second Trump-Kim meeting could surface some middle ground involving reciprocal measures: The United States, for example, could ease some sanctions, allowing inter-Korean economic and political reconciliation to proceed, in return for North Korea agreeing to cease its production of additional nuclear material or dismantle the intercontinental ballistic missiles that directly threaten the United States. But another outcome can't be ruled out: Trump, who is eager to portray his North Korea diplomacy as a success and critical of the cost of stationing U.S. troops in South Korea, could grant Kim's wishes even if the North Korean leader doesn't reciprocate. The burning question at the moment is just how far the U.S. government is willing to go in overhauling its relations with North Korea.
What to Expect
Notes on the news to come
Politics and Policy
On January 29, exactly two months before Britain will exit the European Union, British lawmakers will have an opportunity to vote on amendments to the government's now-rejected Brexit plan. The options, according to Reuters, include holding a second referendum, asking the European Union for a delay of the exit date, and other plans to transfer power from Prime Minister Theresa May's government to parliamentarians. The debate will put the spotlight back on Speaker John Bercow, who has the power to select which amendments will be voted on. Brexit might not ever be brought under control, but in the meantime, at least the world can enjoy Bercow's colorful attempts to bring parliament to order.
Global
The United States Agency for International Development will cease all ongoing projects in the West Bank and Gaza on February 1, ending USAID's 20-plus-year mission in the Palestinian territories. This follows the Trump administration's decision in August 2018 to cut more than $200 million in Economic Support Funds to the West Bank and Gaza, as well as ending support of the United Nations Relief and Works Agency for Palestine Refugees in the Near East, the UN agency responsible for providing humanitarian aid and security to millions of Palestinian refugees since its inception in 1949. Dave Harden, who previously ran the halted USAID programs, criticized the cuts as "another example of the end of the two state solution." Trump has said recently that he supports a two-state policy, but the pullback of aid to Palestinian development projects won't win over many of his critics.
National
As of February 1, an American will no longer be in charge of the World Bank, at least temporarily. Jim Yong Kim, the president of the multilateral lending institution, announced earlier this month that he will step down much sooner than expected. The Trump administration has said it will try to continue the tradition wherein the top job at the bank goes to an American, but it will need support from other countries to make that happen. The best defense of that arrangement has long been that American officials identified the spread of global goods, like the rule of law and free markets, with U.S. interests, so having an American in charge was good for everyone. But President Trump's "America First" policies explicitly challenge that worldview. That will make it even harder for Trump's team to argue that its candidate is the right person for the job, and not just the right person for America. Global institutions have never been free of power politics, even if governments don't like to talk about it. Trump has put those dynamics front and center.
The Skies
This January has been a cold one for those in the Northeast, and it will only get colder: January 31 could be the coldest day in the region this winter, according to AccuWeather meteorologists. Those in the Midwest won't be spared, either. As snowy squalls from the Arctic Circle sweep toward the Great Lakes, a polar vortex is expected to blast through the entirety of America's heartland into next week, bringing with it the harshest chill of the season. For places like Fargo, North Dakota, and Minneapolis, Minnesota, expect highs in the negatives. Residents of places like St. Louis, Missouri, and Pittsburgh, Pennsylvania, can rejoice at expected highs all the way in the single digits. Stay bundled up: Meteorologists are anticipating frigid gusts in February, too.
75 Years Ago
"One of the most delightful things in the world is to begin a Mary Poppins. It's as satisfactory as the smell of fresh-made toast in the early morning or an ice-cream soda on a hot summer's day. It is sheer and joyous escape of a very special kind and potency. And with the publication of Mary Poppins Opens the Door, there are three Poppins books to begin and, sadly, three to end. Australian-born P. L. Travers, dancer, Shakespearean actress, and—according to AE—one of 'the more notable of the young Irish poets,' wrote Mary Poppins, the first book, mostly for the fun of it, and perhaps that, plus P. L. Travers's special wit and magic, is what contrives to make Mary Poppins and its sequel, Mary Poppins Comes Back, a perennial and international delight."  — Anonymous, January 1944
Items this week by Andrew Henry, Matt Peterson, and Karen Yuan. Illustrations by Matt Chinworth.
What's New
Updates on your Masthead membership
One Thing You Should Know: Amazon "has inadvertently provided cover, in plain sight, for bad actors worldwide to create multiple digital storefronts selling counterfeit goods," Deborah Copaken wrote in The Atlantic this week. She herself became a victim when a fraudulent seller swindled $925 from her for a fake Canada Goose coat. [Read on.]
Where You Can Dive In: Trump has announced a deal to pause the government shutdown until mid-February. We're discussing the shutdown in the forums. [Join in.]
What's Coming: Monday, The Masthead talks to the legal scholar Tim Wu about the movement to revive antitrust enforcement—and its biggest target, Facebook.
We want to hear what you think about this article. Submit a letter to the editor or write to letters@theatlantic.com.
Uri Friedman
is a contributing writer at
The Atlantic
and the managing editor at the Atlantic Council.