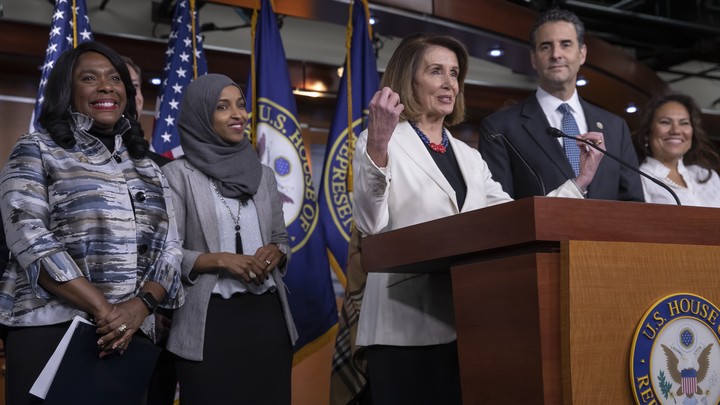 Some days it seems like there's no way Washington can get through the next 24 hours. But it will, somehow, and then it will be on to the next fight. For our last Masthead issue of 2018, we asked the politics writer Elaine Godfrey to give us a preview of the subjects that the new freshman class of House Democrats wants on the agenda. — Matt Peterson
What to Know: House Democrats' Big Plans
By Elaine Godfrey
What we're watching: I'm keeping an eye on the incoming House Democrats of the 116th Congress. There are so many interesting freshmen who will be sworn in next month, from the (ubiquitous) New York progressive Alexandria Ocasio-Cortez to a sizeable cohort of former veterans-turned-lawmakers, including Virginia's Abigail Spanberger and Mikie Sherrill of New Jersey. It's the youngest, most diverse, and most heavily female group of freshmen ever.
What to know: For their first project of the new year, House Democrats are planning to introduce a sweeping democracy-reform bill, known as HR-1, which would change campaign-finance laws, expand voting rights, and crack down on lobbying. They're also expected to put forward legislation that would require background checks on all gun sales, a move I reported on earlier this week. Both of these bills would be unlikely to pass the Republican-controlled Senate, so they're mostly symbolic. But symbolism is everything for a party trying to establishing its priorities in the lead-up to 2020.
What to watch for: Congress and climate reporters alike are watching how the Green New Deal shakes out. The deal, which is backed by Ocasio-Cortez, starts with creating a select committee in the House to develop a plan for the country to switch to 100-percent renewable energy sources. It's the reason hundreds of climate activists are staging sit-ins in the offices of House Democratic leaders. It's still not clear whether incoming Speaker Nancy Pelosi would support the select committee—or what kind of power it might have—but her decision will certainly speak to her relationship with the incoming progressive members.
Another longer-term development to keep an eye on: Last month, Ocasio-Cortez and the incoming Michigan lawmaker Rashida Tlaib announced that they were joining up with Justice Democrats, a progressive political-action committee, to recruit working-class challengers to take on more conservative Democrats in the House in 2020. This week, it was reported that Ocasio-Cortez is considering recruiting a primary challenger to run against New York Democrat Hakeem Jeffries—who shrugged off the alleged threat with a quote from the Notorious B.I.G.: "Spread love, it's the Brooklyn way."
It is, of course, dicey to make predictions about politics, but however all of these plans proceed, it's safe to expect an energetic 2019 in the House. Stay tuned!
What to Expect
Notes on the news to come
National
Utah drivers will soon face the country's strictest DUI law. At 0.05 percent, the state's new maximum allowable blood-alcohol content for drivers is below the 0.08 percent rate imposed by all other states. But it's in line with nearly 100 other countries, which also use the 0.05 percent threshold. Although alcohol-impaired driving fatalities have declined nationally in recent years, they accounted for nearly 11,000 traffic deaths in 2017, according to the U.S. Department of Transportation. A press release from the American Beverage Institute, a restaurant and bar trade association, claimed that drivers are not "meaningfully impaired" at 0.05 and that the purported benefits of this law are exaggerated. Regardless, since the law goes into effect on December 30, revelers in Utah might want to enlist a designated driver before heading home from their New Year's Eve parties.
Global
It came down to the wire, but 2018 is now set to pass without an election in the Democratic Republic of Congo—just like 2017. A vote had been scheduled for December 23, but the government of President Joseph Kabila announced on Thursday that it would be indefinitely postponed. Officials blamed a fire that destroyed most of the capital's voting machines last week, among other reasons for being unable to proceed with the vote. Kabila has not stepped down despite hitting the constitutional limit of two terms in 2016. Analysts have suggested that he fears for his personal safety if he were to leave power. (He became president in 2001 after his father was assassinated.) In an interview with Der Spiegel last year, Kabila insisted that he couldn't possibly serve a third term because the constitution didn't allow for it. And yet his presidency endures.
Business
On December 30, the revised and revitalized Trans-Pacific Partnership trade deal will go into effect. But didn't Donald Trump kill the deal, you ask? Yes and no. After Trump announced early in his presidency that the U.S. would withdraw from the deal, the remaining 11 countries went back to the negotiating table. The original deal technically required an American signature, but a creative work-around was struck: Rename the deal and drop the parts the U.S. insisted it wouldn't agree to. The result is the Comprehensive and Progressive Agreement for Trans-Pacific Partnership (thank Canada's Justin Trudeau for the "progressive" part), which seven countries have now ratified. The deal covers far less ground than it did before, but it is still very much alive.
Arts and Culture
For weeks, Spaniards have been lining up for hours outside of lottery stands to buy tickets for the biggest lottery in the world: the Spanish Christmas lottery, better known among locals as El Gordo, or "the fat one." On Saturday, hopefuls will find out if they won a share of the €2.3 billion prize by tuning in to a lottery-draw broadcast, an hours-long, Broadway-esque show in which schoolchildren sing out the numbers. Nearly 75 percent of the country participates in the Christmas event, which has been ongoing since 1812—even through the Spanish Civil War. Year-round, Spanish residents spend almost 2 percent of the country's GDP on lottery tickets. Many of them have never won anything, but they participate in the lottery year after year anyway. It's just "tradition," as a Madrid local told MarketWatch.
125 Years Ago
"It is so with all essential literature. It has a quality to move you, and you can never mistake it, if you have any blood in you. And it has also a power to instruct you which is as effective as it is subtle, and which no research or systematic method can ever rival. 'Tis a sore pity if that power cannot be made available in the classroom. It is not merely that it quickens your thought and fills your imagination with the images that have illuminated the choicer minds of the race … It acquaints the mind, by direct contact, with the forces which really govern and modify the world from generation to generation. There is more of a nation's politics to be gotten out of its poetry than out of all its systematic writers upon public affairs and constitutions."  — Woodrow Wilson, December 1893
Items this week by Andrew Henry, Matt Peterson, Matt Thompson, and Karen Yuan. Illustrations by Matt Chinworth.
What's New
Updates on your Masthead membership
One thing you should know: "Something I had to cut for space was that 'Q' might be a term that quite a few [cisgender and heterosexual people] would embrace," the contributing editor Jonathan Rauch wrote in our forums about his latest Atlantic piece proposing to drop LGBT from the term LGBTQ. [Read Rauch's thought.]
Where you can dive in: We're talking about Kiese Laymon's Heavy, this month's Masthead Book Club pick, in the forums. Next month, we'll share a Q&A with Laymon. [Check out the teaser.]
What's coming: This is the last issue of the year for The Masthead, but you'll still be able to find us on the forums and on email. We'll be back with new stories after New Year's. Happy holidays!
We want to hear what you think about this article. Submit a letter to the editor or write to letters@theatlantic.com.