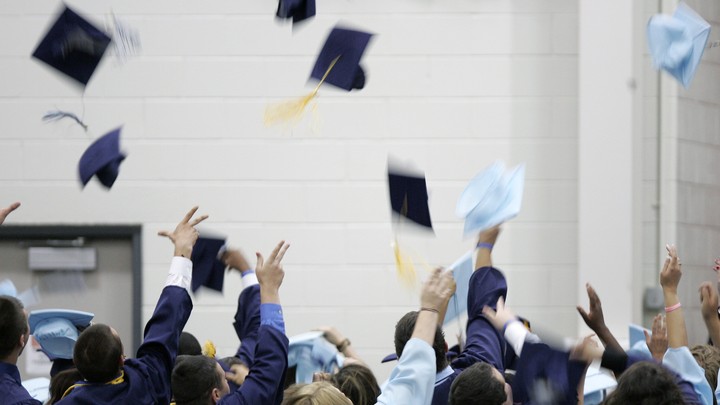 With Democratic primary debates coming potentially as soon as the first quarter of 2019 (sorry!), it's time to start checking in on the issues that will be dividing the candidates. Today, the education reporter Adam Harris has a preview of the coming battle over higher education. And head to the bottom of this email for details on our December Book Club pick, Kiese Laymon's Heavy.  — Matt Peterson
What to Know: The National Conversation About Free College
By Adam Harris
What we're watching: It's hard to escape the question of college affordability. The upward trajectory of college costs undergirds concerns about the utility of higher education. For the past couple of years, advocates looking for an answer to the affordability question have often argued  that college should be "free"—though precisely what that means is up for debate. The Atlantic's education team has been keeping an eye on how the "free college" conversation has progressed, and how it might factor into the 2020 election. The cycle is almost certain to feature a slate of progressive candidates, several of whom have already outlined free-college plans. Of course, there will be at least one candidate on the ballot who is opposed to the idea: President Donald Trump.
What you should know: There's a pretty significant difference in what people mean when they say "free college." There's "tuition free," which, as the name implies, covers a student's tuition. Then there's "debt free," which usually covers tuition in addition to things like books, room and board, food, and other essentials. Most of the free-college programs that have cropped up in states across the country are tuition-free programs, and they tend to be at the community-college level. One main reason for this is that free-college programs are expensive.
Democrats in the midterm elections were wary of campaigning even on less expensive tuition-free ideas. As The Wall Street Journal noted following the election, "proposals to make college tuition-free prove to carry slim appeal with many of the groups Democrats would like to win back, such as white blue-collar voters." Several Democratic strategists have told me they believe that free college, on a policy level, might not be a winning issue. Instead, they say, the messaging should focus on affordability. The argument tends to be that if students have a vested interest in their education—evinced by spending their own money—they will value it more. And as Republicans, both voters and politicians, increasingly object to the culture of higher education, which they believe is biased toward liberals, promoting the idea of sending people to college for free seems to run counter to an argument that would sway swing voters.
What to watch for: Bernie Sanders and Elizabeth Warren are among the potential 2020 contenders who have already outlined a free-college proposal, and Democrats in the Senate, such as Kamala Harris, have pointed to free college as one of their platform pieces. But I will be interested to see if they are able to get more members of their caucus on board. If not, then the likelihood of any kind of national tuition- or debt-free college program coming to pass in the next few years will fall, and we will have to continue to keep our eyes on the states, where movement toward making college free is happening.
What to Expect
Notes on the news to come
Transportation
Travelling to, from, or within the U.K. this holiday season? Anticipate cancellations, delays, and other shake-ups. Two major strikes are scheduled for the Saturday before Christmas, when many people will be on the move. The Professional Pilots Union—the largest to represent pilots from Virgin Atlantic Airways—will be protesting for its recognition as an organization, demanding inclusion in negotiations about benefits. Members of the National Union of Rail, Maritime, and Transport Workers, on the other hand, will be rallying against South Western Railway over its rule that only drivers can operate trains, and fighting for the addition of train guards who can take charge in emergencies if a driver is incapacitated. Commuters shouldn't expect RMT members to let up: They've already held 16 consecutive weekends of strikes.
Technology
On Monday, Tumblr will ban all pornographic content from its site. According to the company, the decision was made in order to foster "a better, more positive Tumblr," but the excision of NSFW content may alienate an important audience. Consumers of porn make up about 22 percent of the user base. Adult-content bloggers also feel adrift without a mainstream host for their content. Other major platforms such as Instagram, Facebook, and YouTube have strict policies banning pornographic material, but Tumblr's permissive stance had enabled independent adult-content creators to thrive. With the new rules in place, critics argue that Tumblr will lose the creators who made it unique in a crowded field of social-media platforms.
Global
In the grammar of politics, elections tend to be periods, marking the end of a historical sentence and the beginning of another. Madagascar's presidential runoff on December 19 will be a semicolon at best; it will move the country between two closely connected eras without the finality of other forms of political punctuation. The candidates are Marc Ravalomanana, a former president ousted by a coup in 2009, and Andry Rajoelina, the former president who ousted him. In 2013, Ravalomanana tried to return from exile to campaign, but Rajoelina's government prevented his plane from landing. This time, the high court has intervened to ensure a fairer fight. The first-round vote went smoothly, according to election observers. But both candidates are wealthy and have significant bases of support. Even if this runoff goes well, it's not likely to be the final word.  
Arts and Culture
On Thursday, the Bollywood elite are invited to join the actor Priyanka Chopra and the artist Nick Jonas in Mumbai for what will be the couple's second wedding reception. Their highly publicized festivities began earlier this month with a Christian ceremony (Chopra's iconic accessory: a 75-foot-long veil. Jonas's: a horse), and continued with a Hindu ceremony and a reception with the Indian prime minister. The couple have been documenting their wedding on Instagram while featuring a number of brands, from Amazon to Elit Vodka. They've faced criticism that their nuptials are a form of sponsored content, or are being staged for other nonmarital motives, but elaborate, multiday weddings are relatively normal in Indian culture. Either way, the couple has been at the center of pop-cultural attention, which, as the Vox writer E.J. Dickson wrote, indicates their "exceptionally adept knowledge of the marketing landscape." Many happy returns, financial or otherwise.
75 Years Ago
"The people of Britain are beginning to take it a growing interest in the personality of their future Queen—only beginning, because so far Princess Elizabeth's life has most rightly been spent in her home rather than in the public eye, and her future subjects know relatively little of her, apart from the admirable broadcast talk she gave some three years ago to the children of the Empire, at home and overseas, when she was only fourteen. Now that the Princess stands on the threshold of public life, both they and persons in other lands who watch the fortunes of the British Royal House may feel some natural desire to know how she is being prepared for the high office that will one day be hers."  — Wilson Harris, December 1943
Items this week by Ena Alvarado, Andrew Henry, Matt Peterson, and Karen Yuan. Illustrations by Matt Chinworth.
What's New
Updates on your Masthead membership
One thing you should know: Out: Facebook-official. In: Man Crush Monday and Woman Crush Wednesday. Teenagers are building their own culture of dating on social media, Karen Yuan reports in our multipart guide to the questions that the Atlantic editor Kate Julian raised in her cover story on young people's sex lives. [Read the stories.]
Where you can dive in: We're discussing the bruising political battles in the British Parliament over Brexit in the forums, under the world-news category. [Join in, or start a new conversation.]
What's coming: "I got on my knees and thanked God I wasn't flying and crashing like Uncle Jimmy, or crying and scratching crusted scabs out of my head like Grandmama, or moping and regretting all the money I lost in a casino like you," Kiese Laymon writes in Heavy, his memoir addressed to his mother and our December Book Club pick. [Read and discuss the excerpts.]
We want to hear what you think about this article. Submit a letter to the editor or write to letters@theatlantic.com.