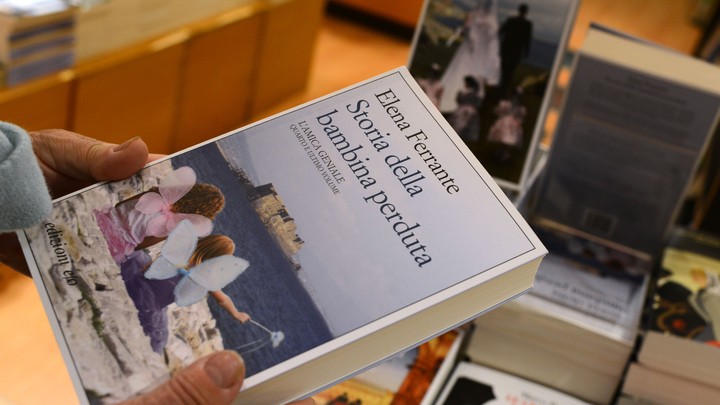 Rachel Donadio came to her conclusion reluctantly. She is a fan of Elena Ferrante's novels, and also a close reader. When she believed that she had the answer to the mystery of Ferrante's identity, she had to share it. In today's issue, Rachel unravels Ferrante's story.  — Matt Peterson
What to Know: The Neapolitan Novels
By Rachel Donadio
The Literary Mystery We're Obsessed With: For years, I and other readers have wondered about the identity of Elena Ferrante, the pseudonymous Italian author best known for her internationally best-selling series of four Neapolitan novels. Now the subject of a miniseries on HBO and RAI, the Italian state broadcaster, her novels trace the life of two girls from their childhood in Naples to the present day. They are unsparing in their portraits of women in all stages of their life and are seen as modern feminist classics. After years of close reading, mostly in Italian, I believe I've cracked the mystery of Ferrante's identity—and what I've found is not so simple.  
To explain, let's back up to 2016, when the Italian investigative journalist Claudio Gatti posited that Ferrante was actually Anita Raja, an Italian literary translator and consultant to Ferrante's Rome-based publisher. Gatti's story, based on financial and real-estate records, prompted a huge outcry among Ferrante's dedicated readers. They were protective of the author and believed that Gatti had overstepped in "outing" her, as well as in violating Raja's privacy. I understood and to some extent shared the outrage, but I also believed that Gatti was onto something.
Spoiler Alert: My reading has actually taken me in an even more surprising direction. I'm convinced that Ferrante isn't a single woman writing under a pseudonym. In fact, I believe she's a collaborative metafictional project, an author invented as a character by other authors. With no ill will toward Ferrante, whose books I love, I've come to the possibly heretical conclusion that one of Italy's best-known male novelists, Domenico Starnone, is involved in writing Ferrante's books. He also happens to be Raja's husband. I came to this conclusion reluctantly, after reading many of Starnone's novels, only three of which have been translated into English.
Why did no one discover this earlier? Italian literary critics have made the case for years that Starnone is Ferrante, and Starnone has always denied that. (He also denied it to me, in an interview in 2014.) But I'd argue that's the wrong way to think about Starnone's role. He may not "be" Ferrante, but I do think he's involved in the creation of Ferrante.
Why does this matter? Well, it's fascinating! It upends traditional notions of authorship and scrambles assumptions about autobiographical fiction, especially the idea that if a woman writes close to the bone, then she must be writing autobiographical fiction.
What happens now? I hope my piece starts a conversation among readers. In the December issue of The Atlantic, I've written an open letter to Ferrante in which I explain my thinking.
Frankly, I doubt Ferrante will write back. She's spent decades investing in her anonymity. But you never know. I could always be wrong. She knows how to reach me.  
What to Expect
Notes on the news to come
Religion and Values
The conflict between Ukraine and Russia has spilled over into the world of Eastern Orthodox Christianity. In a December 15 gathering, Ukrainian Orthodox leaders are expected to form a new independent church, severing centuries-old ties with the Russian Orthodox Church. The Eastern Orthodox Church is composed of several self-governing patriarchates, and 12,000 of Ukraine's parishes have historically fallen under the Moscow Patriarchate. But that came to an end in October, when the Istanbul-based archbishop of Constantinople, considered the "first among equals" of Orthodox leaders, officially recognized the Ukrainian Orthodox Church's bid for independence. The Russian Patriarch Kirill decried the decision as "catastrophic" for the world of Eastern Orthodoxy, but Ukrainian President Petro Poroshenko hailed it as a victory. Poroshenko has made the formation of an independent Ukrainian Orthodox Church a central issue of his presidency, framing it in a recent speech as a matter of resisting Russian influence in the country.
National
Starting next Friday, tens of thousands of people throughout the Western Hemisphere will participate in the 119th annual Christmas Bird Count, the longest-running citizen science project in the world. They will gather in hundreds of "count circles," groups of at least 10 volunteers who scour a designated area (which remains roughly the same every year) searching for birds. The data they collect—a list of all the birds they identify and how many they spot of each species—are added to an international database, providing insight into changing bird patterns and the impact of climate change. "If we didn't have Christmas Count from the early years, we would have no firm grasp on what's happened to all the bird populations over the years, because all the changes take place gradually," said the 94-year-old Chandler Robbins, who has participated in at least 412 Christmas Bird Counts. (Many devoted birders will join more than one count circle each year.) The tradition, Robbins says, also helps foster an appreciation for the birds that surround the counters every day. "You can't help but develop some feeling for the wildlife you're observing," he said.
Global
On Tuesday, if all goes well for Prime Minister Theresa May, the British Parliament will vote to ratify her deal to take the country out of the European Union. Britons looking for assurance that their prime minister is capable of negotiating with 27 countries simultaneously might be discouraged to hear that she failed to reach an agreement with the opposition and a television channel on the terms of a potential debate ahead of the vote. But a debate may not have been clarifying for voters. When given the opportunity to ask questions of the prime minister Wednesday, the Labour leader, Jeremy Corbyn, demurred, choosing instead to focus on poverty. His party has preferred a policy of "strategic ambiguity," leaving the anti-Brexit camp without a voice in the country's two largest parties. If the Conservatives' Brexit plan collapses, it will be on their own terms.
Business
On Wednesday, shares of the Chinese music-streaming giant Tencent Music will begin trading on the New York Stock Exchange. The company's goal of raising up to $1.2 billion makes it one of the largest initial public offerings in the United States by a Chinese company this year. According to a Reuters source, the firm is targeting a valuation between $22 billion and $25 billion, putting it in the same ballpark as Sweden's Spotify, which went public in April. Big December IPOs are risky and rare: According to The New York Times, only three companies have launched December NYSE offerings of more than $1 billion in the past decade. Tencent reportedly rushed to take advantage of the hiatus called by Donald Trump and Chinese President Xi Jinping in their trade war.
125 Years Ago
"Men are not content with the mere blessings of political liberty; they demand wealth wherewith to enjoy the blessings. In a democracy Nemesis is active. The privileges of democracy breed discontent. Whatever the form or the idea of the state, man cannot get rid of himself. His philosophy, his vagaries, his stomach, are always with him. Democracy is not an insurance against the consequences of being born into the world. It is no panacea. It has been quite a fashion, in this country, to maintain that our political institutions are a providential device for 'redressing the wrongs of the Old World.' There can be no such device. The state is no better than the men and women in it; it can do no more than they."  — Francis Newton Thorpe, December 1893
Items this week by Andrew Henry, Caroline Kitchener, Matt Peterson, and Karen Yuan. What do you think of these mini-previews? We want to know. Tell us in 10 seconds.
What's New
Updates on your Masthead membership
One thing you should know: In 1997, George Soros set the benchmark for his ideal world in a cover story for The Atlantic. Two decades later, "the area where Soros's analysis resonates the loudest," Matt Peterson writes, "is his diagnosis of unmoored capitalism." [Listen to a historian's analysis of the force of Soros's ideas.]
Where you can dive in: "I do think we're so used to the idea that [libraries] exist that we do take them for granted," Susan Orlean, the author of The Library Book, wrote in our forums. We're discussing the future of libraries. [Where do you think libraries will be in 20 years?]
What's coming: We're reading Heavy, by Kiese Laymon, for our December Book Club. The memoir, written as a letter to the author's mother, traces Laymon's struggles growing up black in Jackson, Mississippi. [Read excerpts here, and also here.]
We want to hear what you think about this article. Submit a letter to the editor or write to letters@theatlantic.com.
Rachel Donadio
is a Paris-based contributing writer at
The Atlantic
, covering politics and culture across Europe.