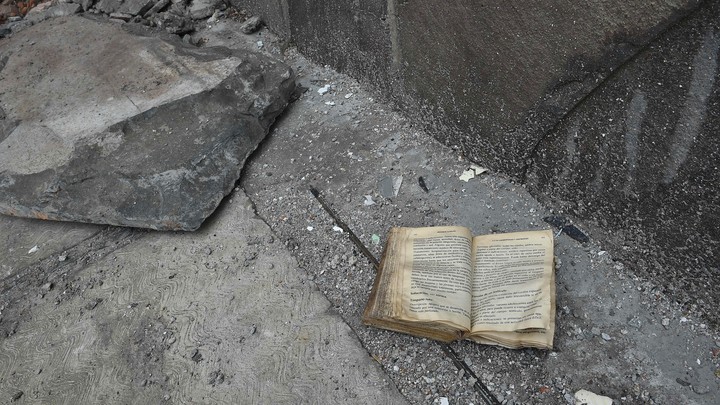 Today's Issue:
The Carnegie Library theft is one of the most expensive book heists in history. But for rare-book lovers, not only money was lost. When you steal books, one librarian said, "you're robbing the culture."
This issue of The Masthead brings you a story of trust and betrayal in the world of rare books.
---
Send Us Your Questions for Kiese Laymon
The memoirist will join us for a Q&A to discuss Heavy, one of The New York Times' top books of 2018 and this month's Masthead Book Club pick. Post your questions for him in the forums, or email them to us at themasthead@theatlantic.com.
---
The $8 Million Betrayal
By Karen Yuan
In the tiny world of rare books, the librarian Gregory Priore's relationship with the bookseller John Schulman was something of an oddity. Librarians and book dealers tend to be natural adversaries—placing a book in a library takes it off the market, usually permanently. Priore's novel idea for his role would lead to both men's downfall: Instead of the books' guardian, the librarian could be their liberator. For the right price.
Schulman and Priore face charges for stealing books and other rare items, worth more than $8 million, from the Carnegie Library of Pittsburgh. According to the affidavit, Priore took the items from the library's Oliver Room, which he'd been in charge of since 1992, and sold them to Schulman. Prosecutors say Schulman perused "a shopping list" of books and requested that Priore take specific items. The book dealer, prosecutors allege, then sold them through his bookshop. Their illicit partnership spanned more than two decades and resulted in one of the biggest rare-book heists in history.
In an industry that deals in such lucrative items, thefts are rare. Deals are built on trust. Most rare-book dealers aren't vastly wealthy, but they have built a culture around the exchange of items worth a small fortune. The Carnegie heist suggests that some of the friendships sellers believe they've built in their dealings may just be convenient fictions that keep the business going. The betrayal of the community raises questions about the way the entire business is run.
"I don't know of any set up like this team," Travis McDade, a historian who studies book crimes, told me. "It's as rare as they come." Past famous heists have involved librarians stealing from their own collections, but not those working in tandem with an outside book dealer. The Antiquarian Booksellers' Association of America (ABAA) updates a blog with listings of missing items so that dealers don't accidentally fence a colleague's stuff.
Schulman is well known in the community: He and his wife have run Caliban Book Shop in Pittsburgh for nearly three decades. He appraised books on Antiques Roadshow and helped organize industry events. He had served on the ABAA's board of governors. He had led its ethics committee.
Priore was behind on tuition payments for his four children—three in college, one in private school. He was paying rent late as well. (To explain one late payment, he said he'd been busy helping his wife recover from a heart attack—a lie.) Detectives found that Priore had received checks totalling $117,700 from Caliban Book Shop, which he told investigators were used to just stay "afloat." His and Schulman's attorneys did not respond to a request for comment.
The British book dealer Pom Harrington isn't fully convinced Schulman did what he's accused of. Along with another dealer, Harrington purchased from Schulman a first edition of Isaac Newton's Philosophiae Naturalis Principia Mathematica for $95,000 that turned out to be stolen from the Carnegie Library. That's a lot of money, but a bargain compared to the $3.7 million paid in 2016 for another copy of Newton's work, making it one of the most expensive books ever sold then. The two men grew friendly over a 15-year business relationship. "If he's found guilty of actually knowingly being involved with having these books stolen, I'm shocked. And I find that hard to believe, I really do," Harrington told me. "That's a terrible breach of trust." Schulman has denied the charges.
Like librarians, many book sellers enter the profession not for cash but for a community of fellow book lovers. In fact, a number are former librarians. A rare-books dealer travels to many industry conventions and book fairs in a given year, where he meets familiar faces and discusses trade stories. "We hand books over worth over hundreds of thousands of dollars over a handshake," Harrington said. "And we'll do paperwork later, say, 'Payment will come later.'"
Members of the community share a common passion for literature and its preservation. Susan Benne, the executive director of the ABAA, has spent nearly 20 years in the trade. Many booksellers are "pretty erudite" former academics who are "enthralled" by working with books, she said. "The rare-book trade is not just a job for most people. It's a culture," she added. "Cars are replaceable, but books have certain significance attached to them—the history of people who read them, handled them, wrote them." Hence the high prices for rare books.
To choose the almighty dollar over the values of that community means "stabbing fellow booksellers in the back," as McDade put it. After all, book dealers, just like libraries, stand for something. That's what makes this crime so upsetting to members of the community. "When you steal from libraries, you take things that belong to the people," McDade said. "You're betraying students of rare books, students of history, students of culture. You're robbing the culture."
Schulman and Priore betrayed their friends, risked their careers, and stole from a protected institution—for what? Is there any reason to steal and sell books aside from cash? "There's no higher purpose," McDade said. "Only the most base motivation, which is greed."
The theft has widened fissures between librarians and sellers. Harrington said he holds the Carnegie Library responsible for its own ransacking. He questioned the security of the Oliver Room, where visitors were left unsupervised among millions of dollars of books. If Schulman is found guilty of the charges, he would have a "fair share" of the blame, Harrington said. But "there's an institutional failure of the library itself as well, I believe," he added.
"The Library and the Pittsburgh community are the victims of this egregious theft," Suzanne Thinnes, the Carnegie Library's communications manager, wrote in an email. "It's difficult to comprehend how trusted individuals in the rare-book industry could harm and destroy historical items and sell them for their own financial gain."
Criticism of the library is "absurd and sort of scapegoating," said McDade, who is also a former head of the University of Illinois's Rare Book and Manuscript Library. McDade claimed that dealers, coming across a rare book at a very low price, should have done more due diligence before reselling it for an eye-popping profit. "The discrepancy in the buying versus selling price should set alarms off in sellers' minds," McDade said. "You don't just trust that something was withdrawn from [a] library. That's the oldest game in [the] book."
Priore and Schulman used an official library stamp to mark books as "withdrawn"—legitimately taken from the collection and cleared for sale. Schulman allegedly forged a withdrawal confirmation letter using Carnegie Library letterhead provided to him by Priore. Other books they "cannibalized," or cut out valuable parts to sell, with Priore stowing the leftover bindings on high shelves, where they were apparently safe from detection. Their actions weren't discovered until April 2017, when the library conducted an audit of the Oliver Room's collection and discovered missing items. Before that, the collection hadn't been audited since 1991, a year before Priore became responsible for it.
Book thieves get caught when they try to sell what they stole, McDade has found over years of research on book crimes. People who steal books in order to own them, on the other hand, rarely get caught, since no one would know who's squirreled them away in their private home. For those people, "you could make the argument that he or she wanted that book because he or she loved that book," McDade said. But the attempt to sell a stolen book is a graver transgression.
"I should have never done this. I loved that room my whole working life," Priore said to investigators. He admitted that he knew there would be "fallout down the line" from his actions. "Greed overcame me."
In 2016, when Priore learned of the upcoming audit, he allegedly spoke with Schulman about the possibility of getting caught. He said he told Schulman that "I'll take the blame." According to Priore, Schulman replied, "No, I was in on it too." But after being charged, a Caliban Book Shop customer who claims to have overheard Schulman speaking on the phone about the case told investigators that Schulman sounded dismissive of "the librarian" and said Priore would be the one to take the fall.
Nearly four decades ago, Robert Kindred, an antique-print dealer, was caught pillaging rare illustrations from university libraries. He was prosecuted in federal court and sentenced to five years in prison. While Kindred eventually returned to his field and opened his own store again, "that was the pre-internet era," McDade said. "Now Schulman's name is so known that I can't imagine he gets back in the profession in any way." Caliban is currently operating to pay off rent and utilities, but a judge has ruled that it cannot make a profit.
I asked Harrington if he would deal books with Schulman again. He gave a long pause, and then said, "I don't know. It really depends on the outcome of the trial."
The rare-books community is tight-knit, I heard again and again from people I spoke with. But no one talked about Priore's money troubles. For all the rare-book lovers' high-minded ideals, the heist has probed the limits of bonding over principles. The culture of preserving literature and slivers of written heritage only matter so much when someone is desperate to make sure his children can go to school. Relationships built on transactions may, no matter how long or how close, at the end of the day, not be about anything more than that.
---
Today's Wrap-Up
Today's Question: What's the biggest story in your niche that people outside of your community don't—but should—know about? Post on the forums or write to themasthead@theatlantic.com.
What's Coming: On Friday, the politics writer Elaine Godfrey writes about the incoming freshmen group of House Democrats and their plans.
Your Feedback: Tell us what you thought of this email by hitting the button.
We want to hear what you think about this article. Submit a letter to the editor or write to letters@theatlantic.com.
Karen Yuan
is a former assistant editor at
The Atlantic
.