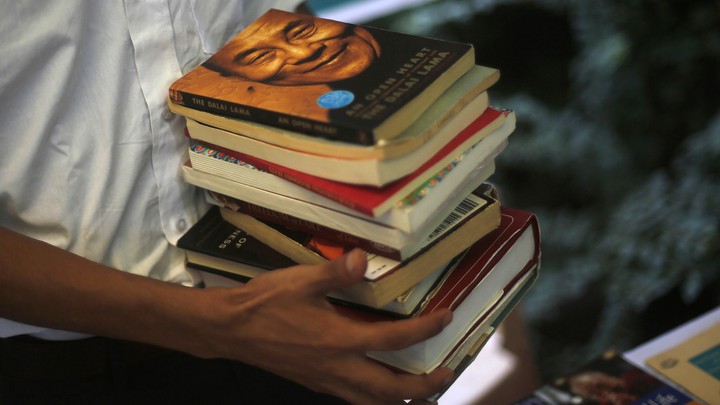 Today's Issue
"When space is scarce, and editing time horizons are comparatively long, the way we treat books better be ambitious," writes Ann Hulbert, who has led The Atlantic's books coverage for five years.

From the hundreds of books she receives every month, Ann can select only a handful to feature in the magazine. Today, she explains how she does it.
---
How to Write About Books
By Ann Hulbert
Most days, three or four (or more) bins of books—newly published ones and uncorrected galleys of forthcoming titles—arrive outside my office door. I'm excited, and also daunted, as I dig in. What a lot of junk! Yet also what an enticing array of books that look like serious contenders for inclusion in the print magazine—far, far too many, in fact, for the 12 or so pages that are usually available. That sounds like a problem. But the constraints are also an advantage in disguise, especially in an era when plenty of online book coverage feels hurriedly curated. Add in the deliberate pace of a monthly, and the result is an enviable challenge: When space is scarce, and editing time horizons are comparatively long, the way we treat books better be ambitious.
I tell myself what I tell my writers, whom I urge to be mini-essayists, making the most of their distinctive voices: Mere coverage and thumbs-up/thumbs-down verdicts aren't the point. The goal isn't just to assess the book at hand, but to seize the occasion to pursue a particular argument or theme, to delve into an author's career, to join an ongoing cultural conversation. That's what I have in mind as I mull over which books to assign and which writers to turn to. That's what I want those writers to have in mind, too, as they make the most of the roughly 2,000 words they're given.
That's another way of saying that there is no tidy formula for Atlantic books pieces. And I would be lying if I said that these general principles translate into a systematic process from issue to issue. Impressionistic matchmaking is more like it.
Here is a step-by-step look at how I shaped the books coverage in our September issue.
1. Picking the Books
This month, two books caught my eye as occasions to revisit classics in a fresh way:
Sarah Weinman's The Real Lolita: The Kidnapping of Sally Horner and the Novel That Scandalized the World; and
Anne Boyd Rioux's Meg, Jo, Beth, Amy: The Story of Little Women and Why It Still Matters.
I'm an admirer of both Vladimir Nabokov's and Louisa May Alcott's novels (and Alcott contributed to The Atlantic in its early years). Each had obvious relevance: Lolita for the #MeToo moment, Little Women thanks to a BBC/PBS miniseries in the spring and a Greta Gerwig film adaptation in the works. And—more on this below—I had the perfect writers in mind to cover them. For greater variety, I would have preferred to run the pieces in separate issues. But the books were coming out soon, and we're eager to be timely.
Once we were going for an emphasis on the afterlives of literary works, Benjamin Balint's Kafka's Last Trial: The Case of a Literary Legacy played into the mix. Here, too, a contemporary catalyst prompted a reassessment of a writer's career and influence: Balint explored an Israeli court battle over ownership of some surviving manuscripts of Kafka's.
As for Spying on Whales: The Past, Present, and Future of Earth's Most Awesome Creatures, by Nick Pyenson, I'd been fascinated when I dipped in, and I hadn't published a science-related piece in too long. Not least—more on this below, too—I knew the writer I wanted to ask.
Finally, in the September issue, books also took center stage in what we editors call the "back-of-the-book essay." That's the roughly 4,000-word piece that comes at the end of each issue of the magazine, which more broadly pursues cultural issues and debates (often, though not always, sparked by books). "How Poetry Came to Matter Again" was not my idea at all. But when a writer I didn't know, Jesse Lichtenstein, pitched it, his plan to explore a new generation of young poets and their influential debut collections struck me as an undertaking tailor-made for The Atlantic. After all, since its founding, the magazine has been a force in shaping America's literary canon. What better place to introduce readers to an important poetic turning point?
2. Choosing the Writers
My selection of which books to write about in an issue is strongly guided by an idea of whom I'd like to get to write about them. Sometimes it's a hunch, as was the case with the Atlantic writer Caitlin Flanagan—a regular contributor who I was ready to bet was a fan of Lolita, which (whatever the virtues of Weinman's book) struck me as ripe for reconsideration right now. What revisionism might be in store?
I didn't have to guess about Sophie Gilbert's interest in Little Women, or its various screen adaptations. A regular culture writer on our website, she'd told me early this year that she'd grown up reading Little Women in England, and was planning to write about the new TV miniseries. That meant she'd have time to mull, read more, watch other versions, and let things marinate for a broader piece.
For Spying on Whales, I was very eager to welcome back a writer, Rebecca Giggs, whose debut piece (on jellyfish) had been a stylistic tour de force, exploring the animal's place in our apocalyptic imaginings of environmental change. I'd been drawn to her in the first place by an unforgettable piece she'd written for Granta Magazine about … a beached whale.
And the literary critic Adam Kirsch, always interested in putting writers in broader historical contexts and well versed in Jewish literary traditions, seemed just right to draw out the larger implications of a court case adjudicating claims to Kafka's legacy.
3. Editing the Pieces
Drafts are delivered, and revisions get made—the basic dynamic is always the same. But every experience with a writer is different. Suggest little changes to Caitlin Flanagan, and she'll likely as not respond with a bigger overhaul—hardly a typical writerly response (and I'll often beg her to restore some choice bit)! Obsessed with Lolita for decades, she had next to no reworking to do as she evoked Lolita's deeply discomfiting—and enduring—allure.
I conferred with both Sophie Gilbert and Rebecca Giggs before the first draft was under way, emailing about the perspective they planned to pursue: Thinking out loud before diving in can prove very helpful in the mini-essay mission. Sophie saw that Alcott's own radical life supplied grist to adapters of the novel down the decades, so we then proceeded to sharpen that idea in revising. Rebecca wanted to explore the core role of technology in whale discoveries.
Eager for a Kafka-in-our-time piece, I'd had the idea that Balint's book might make an incongruous but fruitful pairing with another new book, a graphic novelist's retelling and updating of various Kafka stories. But Adam Kirsch had to be intrigued, too. Instead, he had a better idea: to probe Kafka's life and art and offer a compelling answer to the question, Is Kafka a Jewish writer?
Jesse Lichtenstein and I worked together for a long time on his back-of-the-book essay, figuring out how to frame the poetic moment and trace its emergence. The real challenge was choosing which poets to focus on, and capturing, in a limited space, their distinctive visions and voices for readers unfamiliar with a diverse, dynamic new literary scene. We talked, sent edits back and forth, engaged in what felt like an ongoing conversation. Out of it emerged a piece that both of us hoped would get Atlantic subscribers thinking and talking about a new kind of lyric "I," helping to galvanize a poetic renaissance.
Helping writers convey their distinctive visions and voices is every editor's exhilarating reward. So, for me, was finding that a theme—literary renewal—almost serendipitously emerged in the September book coverage, and was explored in such diverse, smart, and thought-provoking ways.
---
Today's Wrap-up
Today's Question: We're deciding which book to read for our December book club. Any suggestions? Reply to this email.

What's Coming: Caroline Kitchener has been talking to the journalists who have been covering Xinjiang's reeducation camps. She'll explain why that story is so hard to report.

Your Feedback: Did you enjoy today's issue? Write to us at themasthead@theatlantic.com or click on the button below to share your thoughts.
We want to hear what you think about this article. Submit a letter to the editor or write to letters@theatlantic.com.