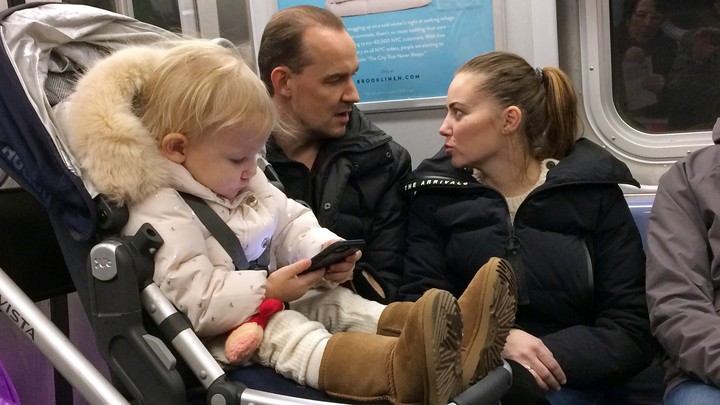 "There is compelling evidence that the devices we've placed in young people's hands are having profound effects on their lives—and making them seriously unhappy," wrote the psychologist Jean Twenge last year. That story struck a nerve with a lot of readers, and this week, we asked the staff writer Joe Pinsker to update the Masthead community with the latest chapter in the saga about kids and phones. He'll let us know what to watch in this slow-moving but essential story. — Matt Peterson
What to Know: Kids' Fears About Phones
By Joe Pinsker
The story we're watching: Like just about every parent and educator in the country, I'm closely following the story of kids and smartphones. It's not a story that develops on a timescale of days, as most others do, but rather churns along in the background of everyday life.
That said, the past couple of months have yielded research that might mark a turning point in attitudes toward kids' usage of phones. In August, the Pew Research Center released survey data indicating that parents were not alone in worrying that their teens spend too much time staring at phones—a majority of teens ages 13 to 17 worry about that, too. And this week, a new study detailed the ubiquity of ads appearing in apps that are targeted to children ages 5 and under. Mara Einstein, a media scholar who used to work as a marketer, called this "abominable," seeing as young children have trouble understanding advertisers' motives. These two findings probably won't change the way people interact with their phones, but together they capture a part of how Americans currently feel about the devices in their pockets, as well as their children's.
What's next: Well, what's next is that kids—young ones and teenagers alike—will continue using phones. And many of them, along with their parents, will feel conflicted about that. Sometimes there are concrete developments—for instance, Apple recently gave parents the ability to track and limit their kids' usage. But for the most part, the story of kids and smartphones plays out within each individual household, as different families establish their own norms and rules.
Many children take their cues about phone usage from their parents, the researcher and consultant Vicky Rideout told me in an interview. They notice, say, if Dad is absorbed in his screen up until the moment he heads to bed. So one big question I have is this: Can parents be strict enough about their own phone usage to model healthy habits for their kids? Or is the pull of online programming and work-related pings too strong to overcome?
What to watch for: I'll be interested to see if federal regulators eventually get involved. There are broad concerns about the tech industry's use of manipulative product-design strategies with children (and with adults, too, for that matter), but those seem hard to target with regulation. It's possible that regulators would want to set standards for the ads that young children may encounter on the internet, given that such standards exist for ads on children's television—but there are no real indications that this will happen soon either.
What to Expect
Notes on the news to come
Religion and Values
On Wednesday, a court in India will rule on whether to grant the prosecution's request to consider the death of Kevin Joseph an honor killing. Joseph, a Christian from the southwestern state of Kerala, was found dead in a canal three days after his marriage to Neenu Chacko. Members of Chacko's family have been accused of abducting and drowning him. Joseph's family alleges that the family of his new bride disapproved of the marriage, and called the police on the day of the wedding claiming that Joseph had abducted her. Although both families are Christian, Joseph was from a lower caste than his wife's affluent family, and the prosecution has argued that this motivated the family's actions. The case has challenged Kerala's reputation as being at lower risk for the kind of sectarian violence that has gripped other states.
Business
Next week, thousands of diplomats and businesspeople from around the world will converge on Shanghai for the China International Import Expo, a showcase of foreign products sold in China— and an opportunity to discuss the future of trade relationships. The big news out of the U.S. embassy in Beijing last week: No high-ranking American officials will attend. It's unlikely that the absence of a senior U.S. diplomat will drastically alter the event, though. (American companies will still do business at the Expo.) The announcement is probably best understood as a potshot—an opportunity for the Trump administration to send a message to the Chinese government. "We encourage China to level the playing field for U.S. goods and services," an official from the U.S. embassy in Beijing said to AP.
Global
When the U.S. imposes new sanctions on Iran on Monday, the European Union says it will be ready. To show support for the nuclear agreement, which President Donald Trump has renounced, the EU plans to create a pathway for companies to do business with Iran without using American dollars, while remaining technically compliant with U.S. sanctions. Though the EU says the plan will be "legally" ready by the time the new sanctions are imposed, it won't actually be able to help any businesses on day one. The fear of offending America has prevented European governments from even devoting office space to this effort. (The U.S. secretary of state Mike Pompeo calls the EU plan "one of the most counterproductive measures imaginable.") The plan amounts to a kind of dare: Just how much is Washington willing to punish its allies over what is essentially a rhetorical gesture?
Arts and Culture
On November 10, the National Theater's stage version of the 1975 film Network will begin previews on Broadway. The production tells the story of a a TV news anchor in the midst of a meltdown who gets manipulated by executives for ratings. The actor Bryan Cranston, who starred in the National Theater production, will reprise his role as Howard Beale, the "mad as hell" anchorman whose rants and raves deliver, as some critics have written, more passion than fact. Cranston said in a statement that the film, released in the anxious post-Nixon era, "shines a spotlight on today's society with prescient clarity." The new play may help reveal what's changed since then—and what hasn't.
100 Years Ago
"Nitric acid is involved in the manufacture of nearly all materials used as explosives, whether as propellants in guns, as bursting charges in shells, or as dynamite, or other like substances, used in mining operations … Without nitric acid, then, there could be no explosives, and the nation would be at the mercy of its enemies; a paralysis of both defense and offense would inevitably follow. But there has been no scarcity of nitric acid evident in the past; why is it to be feared now? The danger lies in the remoteness of the supply of raw material from which the nitric acid is manufactured. This material is known as saltpetre (sodium nitrate), and the only available natural deposit in quantity is located in Chile."  — Henry Talbot, November 1918
Items this week by Andrew Henry, Caroline Kitchener, Matt Peterson, and Karen Yuan. What do you think of these mini-previews? We want to know. Tell us in 10 seconds.
What's New
Updates on your Masthead membership
One thing you should know: "Women's anger is not taken seriously as politically consequential and valid, in part because women are sucked back into a maternal or wifely aesthetic framework," Rebecca Traister said in a conversation with Masthead members. Traister's book Good and Mad: The Revolutionary Power of Women's Anger was the pick of our October Book Club. [Watch the video of the talk.]
Where you can dive in: "What do our daily lives look like in a carbon-neutral society?" the Masthead member Nels asked in the forums. "It will involve sacrifice. What I am most skeptical about is how much sacrifice Americans are willing to endure." In the forums, various members who work in the energy industry are discussing the best policies to address climate change.  [Read the conversation.]
What's coming: For our November Book Club, The Masthead is reading The Library Book by Susan Orlean, which studies the little-known story of the 1986 fire that engulfed downtown Los Angeles's Central Library. Want to read along and participate? [Sign up for book-club updates.]
We want to hear what you think about this article. Submit a letter to the editor or write to letters@theatlantic.com.