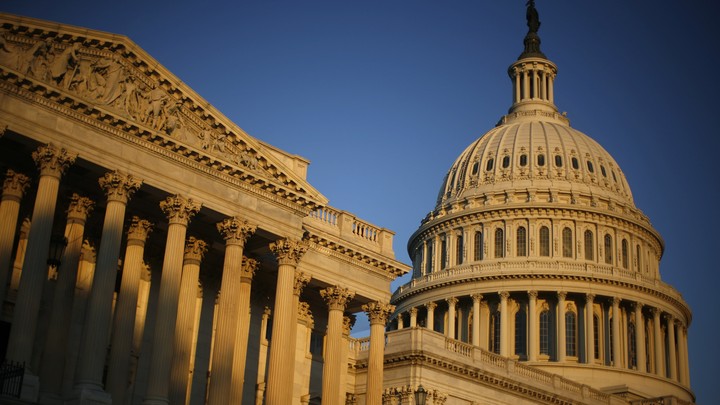 Now that the midterms are done, American politics will slow down for a while, right? Don't get your hopes up, says Vernon Loeb, The Atlantic's politics editor. He checks in on the state of the nation—and our coverage of it—in this latest edition of The Masthead Weekly. And if reading it leaves you fired up, take a moment to take the Hidden Tribes quiz, a new exercise in assessing American division, and report back with your experience. — Matt Peterson
What to Know: American Politics' Wild Week
By Vernon Loeb
What we're watching: In a word, everything. The midterm elections had barely just ended on Wednesday morning when President Donald Trump held a stem-winding—I might even say jaw-dropping—press conference in which he threatened House Democrats who might investigate him, averred that he could fire Special Counsel Robert Mueller anytime he wanted, and clashed with CNN's Jim Acosta, later revoking his press credentials.
Then, just as The Atlantic commenced multiple pieces on the press conference, the White House announced that Attorney General Jeff Sessions had resigned (or, more precisely, had been fired) and been replaced by Matthew Whitaker, Sessions's chief of staff and a vocal critic of the Mueller probe. By Thursday, we had the inevitable headline up on our website—"It Wouldn't Be Easy for Whitaker to Shut Down the Trump Investigations"—as rumors swept Washington that Donald Trump Jr. or Roger Stone, or both of them, could be indicted by the week's end.
The politics team has been working flat-out, reporting from California, Arizona, Wisconsin, Michigan, Iowa, Kansas, Florida, Georgia, Texas, Tennessee, and Pennsylvania, before we surged to cover the horrific synagogue shootings in Pittsburgh less than two weeks before the midterms. But it's clear that the news cycle will only accelerate further, with a lame-duck Republican House that presents the president with certain opportunities he won't have come January, as well as the special counsel's investigation, which is still hanging fire.
The cycle isn't slowing: The super heated news cycle has been a feature of Trump's presidency from the moment he took office. The start of the 2020 presidential campaign (which has already begun), coupled with an activist Democratic House, promises even more news at an even faster clip. A big part of our post-midterms mission at The Atlantic is to help orient readers to what's important by going deeper on stories about politics, policy, government, and national security that merit greater attention.
What's the effect of getting rid of all those regulations the president boasts of having gotten rid of? Why aren't there more moderate Republicans who are breaking ranks with the president? How is Senate Majority Leader Mitch McConnell continuing his crusade to install conservatives at all levels of the federal judiciary? And who are the front-running Democrats capable of taking on Trump? As we blanketed the midterms, a terrific new reporter on our team who  covers 2020 Democrats, Isaac Dovere, has already spent time in Iowa, Ohio, Wisconsin, Michigan, and South Carolina with Elizabeth Warren, Cory Booker, Deval Patrick, Joe Biden, Tom Steyer, and Kamala Harris.
Sooner or later, the other shoe will drop: Out of the corner of our eye, we're watching Mueller and trying to figure out when he will issue his final report on possible collusion between the Trump campaign and Russia. We'll be ready when it comes.
Finding the story is more art than science. It involves keeping abreast of massive amounts of information, cultivating sources, following our gut, zigging while everybody else zags, and listening to our readers. I do that religiously throughout the day through a tool we have called Chartbeat, which shows us how many people are reading the stories on our website. But I truly value the opportunity to speak directly to readers through The Masthead, and never a day goes by that I'm not grateful, here at The Atlantic, for having the best readers anywhere. You have a standing invitation to tell us what matters to you. Take us up on it anytime.
What to Expect
Notes on the news to come
Global
Next week kicks off a series of annual political summits in Asia, starting in Singapore with the meeting of the Association of Southeast Asian Nations and wrapping up with the Asia-Pacific Economic Cooperation meeting, which will take place on a cruise liner docked outside Port Moresby, Papua New Guinea. If the cruise ship was intended to appeal to the luxury-loving germophobe in the White House—"You don't even need to set foot in Papua New Guinea," one could imagine an aide saying—it failed. President Trump won't be attending either summit, even after Australian Prime Minister Scott Morrison personally asked for a meeting. (A possible side trip to Cairns, Australia, was also nixed.) Vice President Mike Pence will head east in Trump's absence, but that probably won't tamp down the grumbling from politicians in attendance about their erstwhile ally's disinterest in their region.
Arts and Culture
Dog videos have become an essential part of the Millennial internet diet. Millions of netizens agree that a short clip of a dog playing hide and seek or bonding with a possum or singing jazz music is the perfect antidote to a stressful day at the office or an overwhelming news cycle. As of next Friday, dog lovers will no longer have to settle for the fleeting pleasures of YouTube: Dogs, a six-part documentary all about man's best friend, is coming to Netflix. The show follows six dogs in different countries, including Costa Rica, Syria, Italy, and the United States, highlighting the bond between the dogs and their humans. "In the world we live in today," the show's creator, Glen Zipper, told Variety, "no matter how divided we are, we should take care to realize how much dogs mean to all of us, and how our bond with them can help bring us together."
Business
All eyes will be on Macy's and JCPenney next week, when the big-name chains release their third-quarter earnings results on November 14 and 15, respectively. Both department stores saw significant downturns in stock value last month following the news that the industry mainstay Sears had filed for bankruptcy. E-commerce growth has delivered sometimes fatal blows to established retail chains of all sorts, but the decline of the great American department store has been evaluated with a particular cultural nostalgia. Though JCPenney recently hired a new CEO and Macy's is investing in upgrades for at least 50 key locations, many analysts are predicting dismal news.
Transportation
In Kenya, matatus—privately operated minibus taxis—have until Monday to comply with new government regulations aimed at reestablishing control over a sector overrun by extortionary criminals. (Some of the rules: Drivers are required to display their photo prominently in them to ward away "squad" drivers, or unlicensed drivers who take over a licensed vehicle; vehicles must also be painted with a yellow stripe on the outside.) In the meantime, a preemptive police crackdown on rogue matatus has left scores of commuters stranded, as the vehicles they rely on have kept off the roads or limited their routes in order to avoid run-ins with the authorities. The remaining matatus have hiked up their fares. Drivers and riders are expecting more growing pains as next week's planned crackdown nears.
50 Years Ago
"An area like Brittany, once healthy and prosperous in simpler economic times and still at least as independent and nationalistically prideful as, say, Quebec, watches its farms turn to grass, its fishing fleet rusting away, and its small local industries closing down for lack of business or capital. The roads are poor, and it takes six or seven hours for trucks to drive to the capital, which means that Brittany farmers cannot even compete with Dutch ones in Paris shops, now that the Common Market is beginning to have its full effect. It is an example of a region which once contributed to France's greatness and now contributes to its problems."  — Don Cook, November 1968
Items this week by Andrew Henry, Caroline Kitchener, Haley Weiss, and Karen Yuan. What do you think of these mini-previews? We want to know. Tell us in 10 seconds.
What's New
Updates on your Masthead membership
One thing you should know: In California's Fiftieth District, the Republican incumbent Duncan Hunter trounced his Democratic challenger, Ammar Campa-Najjar. Hunter's campaign against Campa-Najjar was "one of the most brazenly anti-Muslim smear campaigns" that the staff writer McKay Coppins had seen. "What struck me was the degree to which these campaign attacks, felt here in full force in 2016, reverberate in the community well after the election is over," wrote McKay for The Masthead. "In a lot of ways, I think this race is a microcosm of the Trump-era politics we've seen wreak havoc across the country this year." [Read his analysis.]
Where you can dive in: Days after the election results came in, members are conducting a midterms postmortem in the forums. One topic of conversation: the Republican Paul Gosar in Arizona, whose retention of his seat, even after six of his siblings ran a highly publicized attack ad against him, is "especially mind-boggling" to one Arizonan member. [Join the discussion.]
What's coming: As part of a not-so-scientific experiment, we want to know what "political tribe" our members belong to. The research group More in Common has put together a quiz that you can take to find out which of seven tribes you fall into. [Take the quiz, and then share your results.]
We want to hear what you think about this article. Submit a letter to the editor or write to letters@theatlantic.com.