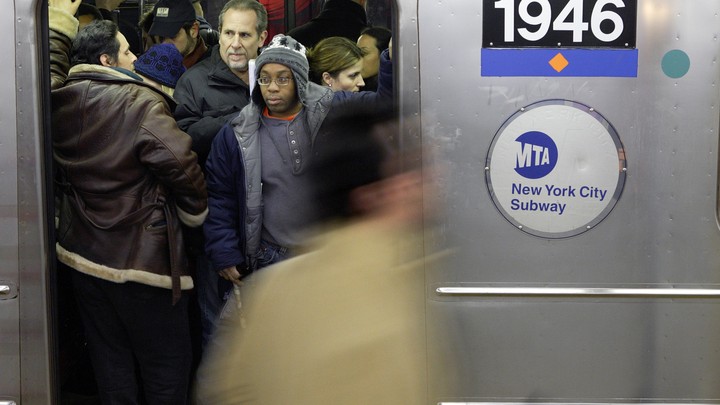 Today's Issue:
Can Americans fix their public-transit problems? Nationally, reforms seem far off. But locally, both cities and private companies are innovating.

In this email, The Masthead looks at the diagnosis and the prescription—what's right and wrong with mass transit, and with the efforts to fix it.

And in a special audio briefing, the transit reporter Aaron Gordon joins us to share lessons from America's biggest transit agency. Listen here.
Why does expensive new transit infrastructure often seem to make barely a dent in commuters' lives? In Honolulu, for example, a planned 20-mile elevated electric train would become the nation's most expensive transit project per capita, but would reduce traffic congestion by as little as 1 percent, according to CityLab. Masthead members have been discussing what ails American transit and how to fix those problems. In today's issue, we dive in. Read on for a look at the causes of turmoil in American public transit, and listen to an exclusive conversation with a man who sees America's transit dysfunction up close: the New York City transit reporter Aaron Gordon.
---
Our November Book-Club Selection: The Library Book
"I grew up in libraries, or at least it feels that way," Susan Orlean wrote in The New Yorker. "I loved wandering around the shelves, scanning the spines of the books until something happened to catch my eye." At a moment when the public library is supposedly "dying," Orlean has written an ode to her beloved institution. The Library Book, our November book-club selection, tells the story of the 1986 fire that destroyed the Los Angeles Public Library and documents the evolution of the library in modern America. Read along with us. Discussion will begin on our forums November 26. Orlean will join us to answer your questions later this month.
---
America's Transit Woes Are Bigger Than Any One Politician—Or Company
By Matt Peterson
American public transit is caught in a vicious cycle. "Transit providers in the U.S. have continually cut basic local service in a vain effort to improve their finances. But they only succeeded in driving riders and revenue away," Jonathan English writes. In New York City, subway ridership peaked more than 70 years ago. On the flip side, cities and regions that invest in transit have seen riders come back. From 2015 to 2016, only three cities saw more than a 1 percent increase in ridership. Two of those cities—Seattle and Houston—had overhauled their bus networks.
When every week is "infrastructure week," none is. Donald Trump has frequently promised a national plan to fund infrastructure renewal, including that of mass transit. But a big federal infrastructure push is, as Russell Berman points out, "always-promised, about to happen, just around the corner." Meanwhile, the federal government has failed to pay out more than $1.4 billion in transit funds that Congress set aside earlier this year.
Private companies are filling the vacuum. In Boston, the shoe company New Balance opted to build a commuter-rail station alongside its new headquarters. The company says it's just good business—after all, it needs employees to get to work, and the city's transit agency is deep in debt. "I couldn't imagine having a better multinational corporation to be in your backyard," said the head of a local neighborhood association. But when New Balance said the project would come in two years behind schedule, Boston discovered the potential pitfalls of corporate control, as The Boston Globe reported: "When private companies foot the bill for major infrastructure projects, the state may find itself beholden to their timeline."  
But private firms can't achieve public ambitions. The private-van service Chariot is popular among its users. Local governments could hand out vouchers that allow poorer residents to access it, as well. There are two reasons not to, Alana Semuels argues. First, public-transit agencies use popular routes to subsidize service for routes that have fewer riders, which tend to be the ones used by poorer residents. Allowing private services to compete on those popular routes would weaken the subsidy. Second, handing services over to private firms diminishes democratic control over them. And, Alana writes, "when there are private options, the citizens that use them can check out of the democratic process."
Politicians rarely run on transit. In New York, Cynthia Nixon's heavily transit-focused primary campaign attempted to tar Governor Andrew Cuomo with the failures of the New York City subway, which his office controls. She lost that race, badly, and Cuomo sailed to reelection this month. Most politicians prefer to separate transit proposals from their candidacies by putting their ideas directly to voters in referendums, Gordon reports. That tends to leave other transit policies in the hands of relatively undemocratic regional transit agencies, which make day-to-day policy, and out of the hands of the less-white, less-affluent population that heavily uses transit but doesn't reliably show up at the polls.
---
Dive In to a Special Audio Briefing With the Transit Reporter Aaron Gordon
The solutions to public transit's problems aren't primarily in the shiny new apps and dockless options showing up in cities. They're more likely in some of the tried-and-true transit solutions of the past. Hear more of that argument—why public-transit innovation is about scaling 20th-century lessons—in a Masthead-exclusive interview.
You can listen to the audio in your podcast app of choice via our exclusive RSS link:
http://feeds.soundcloud.com/users/soundcloud:users:396633834/sounds.rss
To activate that link, follow the instructions for your podcast app here.
---
Today's Wrap-Up
Today's Question: How's the transit system where you live? We'd particularly like to hear from members who love their local trains and buses. Gripes are welcome, too. Email us or reply in the forums.

What's Coming: We're reviewing the results you've shared from the Hidden Tribes quiz. If you haven't taken it, there's still time. Take the quiz and share your results.

Your Feedback: Hit the button and share how you enjoyed this issue.
We want to hear what you think about this article. Submit a letter to the editor or write to letters@theatlantic.com.
Matt Peterson
is the editor of The Masthead, the membership program at
The Atlantic
.