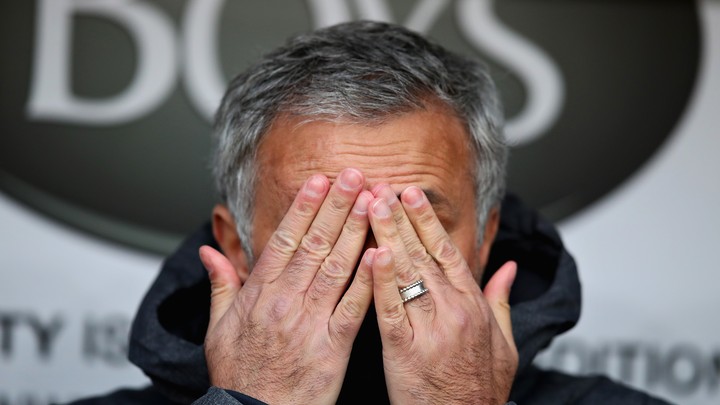 The Masthead Weekly 11.30.18
When the news distresses you, do you look closer, or do you look away? In this edition, the Atlantic culture writer Megan Garber worries about the consequences for the national psyche when a country's leaders actively encourage the second option.  — Matt Peterson
What to Know: The Attention Wars
By Megan Garber
What we're watching: The broad battle for attention playing out at the intersection of culture and politics. What do Americans, as consumers of news and entertainment, choose to give their attention to—every day, and over time? What do they, purposely or subconsciously, ignore? How are those questions shaped by an American media system that has so much power over the national attention span? And how are they shaped by an American president who is so uniquely skilled at strategic distraction?
These questions have been especially evident in two of this week's (other) big stories.
1. The border and the information environment: On Sunday, protests broke out among a group of the people who recently arrived in Tijuana in the hope of claiming asylum in the United States. As tensions escalated, American immigration officers, in an effort to force the protestors to disperse, threw canisters of tear gas at them. A Reuters photographer captured a moment in the chaos: a woman and two children, running to evade the stinging smoke. The image—she wearing a Frozen T-shirt, the kids wearing diapers, all three frantic—quickly went viral. In response, something intensely predictable happened. People who didn't want to look at what the picture revealed began arguing that the photo was a hoax: the whole thing staged for the cameras, in order to evoke sympathy. A lie, presented as journalism.
The objection was a repeat of those offered in response to the Trump administration's separation of migrant families who had sought similar refuge in the United States this summer. Some, particularly among the administration's allies in the media, dismissed the children who were caught on tape sobbing for their missing parents as nothing more than "crisis actors." They tried to argue that the plaintive wails of toddlers—"[children crying]," as ProPublica's stark caption summed it up in a video—were things that didn't demand your attention or your outrage. Because those cries, the explanation went, were merely performances.
This week, shockingly and also unsurprisingly, the crisis-actor accusations were replicated, as people who didn't want to believe their own eyes found new ways to insist that the documented suffering was irrelevant—on the grounds that it wasn't, in fact, suffering at all.
2. The government and the physical environment: A similar moral evasion is at play in another recent story. The day after Thanksgiving, the Trump administration published the latest version of the National Climate Assessment, the work of 13 federal agencies, including NASA, NOAA, and the Department of Defense. The major report shared dire warnings about the impact of climate change on America's future. The timing of the rollout was a blatant attempt at weaponized distraction: a thorough report contradicting President Donald Trump's own refusal to acknowledge the truth of climate change ("I don't believe it," he later said of its findings), buried in the news on a day that many Americans reserve for shopping and eating leftovers. (My colleague Rob Meyer, in his excellent piece on the report, spoke with one of its authors, who had learned of her work's imminent publication only a few days earlier, on Tuesday, while she had been baking Thanksgiving pies.)
Climate change, a slow-moving tragedy, is its own battle for attention. Here, during the holiday meant in part to celebrate the bounty of the Earth, was an American president actively trying to get people to ignore its plight.
Why it matters: There are so many big stories that get buried in a hectic news cycle. (The Friday that the climate assessment came out, one report notes, Fox News spent less time talking about its findings than it did talking about Alexandria Ocasio-Cortez's shoes.) What is getting lost in all the haze? What's getting drowned out in all the noise? I worry that, in all the rattle and hum, Americans might be slowly losing the capacity to discern the news that is truly important from the news that is merely there—the bright, shiny things that demand attention, winning out over the stuff that, though duller, is more deserving of one's gaze. There's a line that keeps bouncing around in my head, from William James: "My experience is what I agree to attend to." The psychologist, himself a writer for The Atlantic, was talking about the workings of the individual mind; he might as well, though, have been talking about the truths of the national psyche.
What to Expect
Notes on the news to come
Arts and Culture
Fifteen years after they faced off in the series finale of American Idol, inspiring viewers to cast 24 million votes, Ruben Studdard and Clay Aiken are reuniting in a Broadway Christmas special. Ruben & Clay's First Annual Christmas Carol Family Fun Pageant Spectacular Reunion Show is a reminder of the 178 Idol finalists, churned out over the course of 16 seasons, who have captivated a national audience from winter to spring, then retreated to lower-wattage pursuits like staging bridal fashion shows or traveling the world on Mormon missions. Aiken and Studdard are two of only a handful of finalists who have found relative success in the music industry, though they've each also occasionally pursued other interests. (Most notably, Aiken ran for Congress in North Carolina, that time winning just 85,000 votes.) "There are really only two things that could get me back [on] stage after taking a break for over five years," Aiken told People—"my buddy, Ruben, and Christmas!" The show begins its three-week run on December 7.
National
Thirty-two thousand students will return to school on Monday in Butte County, California, for the first time since the Camp Fire forced mass evacuations beginning on November 8. But with many school buildings destroyed and the displaced families numbering more than 5,000, many students will find themselves returning to class under very different circumstances. Paradise Unified School District, where only one of the nine public schools escaped destruction, will teach middle- and high-school students via a distance-learning program for the time being. Other students will be sent to neighboring counties. Still others will attend classes in portable buildings or local churches and gymnasiums. Although several nearby school districts have stepped up to help, many Butte County students are likely to go a full school year before their academic lives get back to normal.
The Skies
If all goes well, a Russian, a Canadian, and an American will head to the International Space Station on Monday on a Russian-built rocket. In October, a similar mission was aborted mid-flight due to a malfunction, sending the crew tumbling toward the Kazakh Steppe, where they were recovered safely. Despite that incident—and the high-level tensions between the U.S. and Russia—the two countries' space agencies are working together smoothly. That's good news for NASA, which will need outside help to get Americans into orbit until commercial ventures from the likes of Elon Musk and Boeing become viable. But the astronomical cost of using Russia's rockets—NASA has paid at least $70 million per passenger—is only going up. After the October incident, the insurance premium on a Russian rocket launch increased by 116 percent.
Global
Next Monday, representatives from nearly 200 countries will gather in Katowice, Poland, to commence the Conference of the Parties to the United Nations Framework Convention on Climate Change, or COP24. They'll spend two weeks figuring out how to implement 2015's Paris Agreement, which set a goal of limiting global warming to under 2 degrees Celsius by the end of the century. The meeting is more timely than ever: Just months ago, the UN released a dire report warning that the world does not have the rest of the century but instead less than two decades, to mitigate climate change. Governments won't be able to achieve that goal under current Paris Agreement commitments—and it doesn't help that President Trump intends to withdraw from the agreement. Expect these events to impact conversations in no small way at the conference.
100 Years Ago
"It is quite evident that imperialist and militarist Germany, which assumes to impose her domination upon Europe and to hold the civilization of the twentieth century under the perpetual menace of her big guns, could find no place in a league of nations destined to establish and maintain respect for the Law. But we should commit a serious mistake if we imagined that Germany forms a single mass, inspired solely by the ideal of its General Staff, and sharing all its aspirations. However feeble the reaction in Germany may be, it exists; numerous strikes offer to the observer unmistakable signs of internal disturbances, and presage, if not a revolution, at least an evolution. It is this evolution which the world awaits."  — Albert Thomas, November 1918
Items this week by Caroline Kitchener, Andrew Henry, Matt Peterson, and Karen Yuan. What do you think of these mini-previews? We want to know. Tell us in 10 seconds.
What's New
Updates on your Masthead membership
One thing you should know: The Atlantic's literary editor, Ann Hulbert, usually receives three to four bins of books per day. Narrowing that pile down to the handful that are featured in pages of the magazine is the fun part, she writes. [Go inside our literary coverage with Ann.]
Where you can dive in: Do you have a library story? The author Susan Orlean has a big one in The Library Book—our November Book Club pick—and members discussed their own stories with her in our forums this week. [Read Susan Orlean's comments in our forums.]
What's coming: George Soros is in the news for all the wrong reasons. On Monday, we go back to a seminal Atlantic article by Soros to find out what the man actually believes.
We want to hear what you think about this article. Submit a letter to the editor or write to letters@theatlantic.com.