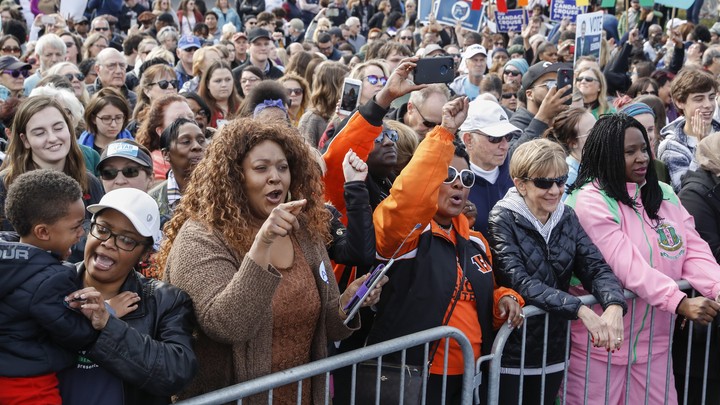 Today's Issue:
Our reporters are spread across the country, writing on some of the midterms' biggest races. We've compiled a breakdown of the ones we're watching most closely.
Then we zoom in. Elaine Godfrey has been reporting from Iowa; McKay Coppins from San Diego. They'll share what they've learned on the ground.
Join us on the forums at forums.theatlantic.com to share your reactions as the news unfolds.   
---
A Guide to the Races We're Watching
By Caroline Kitchener
Tomorrow, Americans will vote on 435 voting members of the House, 35 senators, and 36 governors. Leading up to the midterms, The Atlantic has zeroed in on a few races that stand out. Here's what's caught our writers' attention, and why.
House Races
Senate Races
Texas: Ted Cruz (R) vs. Beto O'Rourke (D).The race for Cruz's Senate seat has broken all kinds of records. More Texans have voted early in this election than voted altogether in 2014, and O'Rourke has raised more money than any Senate candidate in U.S. history. Whether he wins or loses, Adam Serwer writes, O'Rourke's candidacy has revealed a deep "liberal culture"—tofu, dyed hair, and progressive politics—that many assumed did not exist in Texas.
Tennessee: Marsha Blackburn (R) vs. Phil Bredesen (D). Throughout the campaign, Blackburn has been an outspoken Trump supporter. But Bredesen, a rare moderate, seems determined to avoid talking about the president altogether. Instead of national politics, he concentrates on hyperlocal issues, such as the Asian carp invading the waters of West Tennessee. His campaign, Elaina says, "has sold 'hundreds' of hats that say 'Cut the carp.'"
Montana: Matt Rosendale (R) vs. Jon Tester (D). Tester, the Montana incumbent, is a devoted farmer. He flies home from Washington almost every weekend to raise wheat, barley, and peas on the land that's been in his family for generations. This connection to the farm—and to the white working class—could keep Tester in office in a state that voted decisively for Trump, Sarah Yager writes.
Governors' Races
Georgia: Stacey Abrams (D) vs. Brian Kemp (R). The Georgia governor's race has become one of the most closely watched races in the 2018 election. Much of the discussion has revolved around voter suppression: In his current role as Georgia's secretary of state, Kemp "has purged hundreds of thousands of voters from rolls," writes Vann Newkirk. Abrams—who, if elected, would become the country's first black female governor—has pushed back against Kemp's efforts, making the disenfranchisement of minority voters a key issue of her campaign.  
Florida: Ron DeSantis (R) vs. Andrew Gillum (D). Throughout his campaign, Gillum has strived to expand Florida's electorate, bringing the state's black and Latino populations to the ballot box. Gillum is black, grew up in a low-income, working-class family in Miami, and regularly invokes his background on the campaign trail. "His success could mean the realization of a major political shift in Florida," Vann writes, "one that will most certainly have major repercussions nationally in 2020 and beyond."
Iowa: Fred Hubbell (D) vs. Kim Reynolds (R). Iowa, the first stop for presidential hopefuls, where 40 percent of the state's voters are unaffiliated with any party, is a key political battleground. The governor's race, Elaine writes, will be an important indicator of just how unhappy Iowans are with President Trump. "An avenging wave of indignation," she says, "could turn Iowa blue again—very blue—in 2018."
---
Taking the Nation's Temperature in Iowa
By Elaine Godfrey
Iowa, the home of straw polls, fried butter, and 20 million pigs, is also widely recognized as a purple state. But in the past few years, its politics has taken a sharp turn to the right.
In 2016, Trump won the state by almost 10 points. Both of Iowa's U.S. senators—and three of its four U.S. House members—are Republicans. The GOP is currently in control of the state Senate, House, and governor's mansion. State legislators recently passed some of the most conservative reforms Iowa has seen in decades: Medicaid privatization, an end to collective bargaining, and the total defunding of Planned Parenthood.
Tuesday's election, for Iowans, will be seen as a referendum on Republican leadership at all levels. Based on my reporting from two big Iowa races, a wave of frustration over that leadership could turn the state blue in 2018.
Democrats currently have more candidates running for the state legislature than at any point in the past three decades, and Iowa's three Republican representatives are being given a run for their money. In June, I wrote about one of those races: Abby Finkenauer, a 29-year-old, is challenging the Tea Party conservative Rod Blum in Iowa's First District.
Finkenauer's district, which has a high concentration of working-class voters, elected Obama in 2008 and 2012 but swung to Trump (like the rest of Iowa) in 2016. Blum has campaigned on the GOP tax cuts and on his own success as a small-business owner, while Finkenauer has positioned herself as the candidate who can best win over blue-collar voters: She's criticized the legislature for eliminating collective-bargaining rights for almost 200,000 public employees, and she's championed infrastructure reform and raising the minimum wage. Recent polls show Finkenauer with a small lead.
At the top of the Democratic ticket in Iowa is Fred Hubbell, the 67-year-old businessman challenging the Republican incumbent, Kim Reynolds, for the governorship. I joined Hubbell on the campaign trail in October, and my reporting from the trip helped me understand that the race is really about one thing: Medicaid.
Back in 2016, former Iowa Governor Terry Branstad, with Reynolds as his lieutenant, privatized the state's $5 billion program. It has since faced rising costs and complaints from patients and providers who have been denied medical care or reimbursement. Polls show that Iowans are generally critical of the move toward privatization, and every person I spoke with on the ground—regardless of political party—was frustrated with how the change was handled. Still, Reynolds contends that privatization will save the state money in the long run. Hubbell, on the other hand, has promised to return Medicaid to state ownership. So far, polls show Hubbell has the support of a majority of Democrats and independents, a key voting group in the state.
I'll be watching both of these races on Tuesday, as the nation attempts to gauge whether it has been hit by a blue wave. And, of course, the results will also offer a particularly useful temperature test in a state that, in just a little more than a year, will be kicking off the 2020 primary elections.
---
A California Campaign Turns Neighbors on One Another
By McKay Coppins
I'm following the U.S. House race for California's Fiftieth District, between Representative Duncan Hunter and Ammar Campa-Najjar.
Hunter, the Republican incumbent, was indicted in August, along with his wife, for allegedly using campaign funds to take family vacations, pay for booze and golf outings, and buy groceries, among other charges. (Even more shocking, the couple's accused of trying to falsely pass off some of their purchases as contributions to charities such as the Wounded Warrior Project, which helps injured veterans.)
Any time an indicted politician is on the ballot, I'm interested. But what makes this race important, I think, is the way Hunter has tried to distract from the charges against him by waging one of the most brazenly anti-Muslim smear campaigns I've ever seen in politics. When I saw Hunter's efforts to link his Democratic challenger (who isn't Muslim) to Islamic terrorism, I felt like there had to be a story on the ground.
Spending a couple of days in the district, which sits in Southern California's San Diego and Riverside Counties, I was able to interview a number of local Muslims about what it's like when your congressman (or your president, for that matter) tries to get reelected by vilifying your faith. What struck me was the degree to which these campaign attacks, felt here in full force in 2016, reverberate in the community well after the election is over—turning neighbors against one another, spreading suspicion, and seeding fear. In a lot of ways, I think this race is a microcosm of the Trump-era politics we've seen wreak havoc across the country this year.
---
Today's Wrap-Up
Today's Question: Which midterm race are you watching most closely? Tell us why it's piqued your interest.
What's Coming: As the election nears, we've been thinking deeply about the forces dividing America. On Wednesday, we'll kick off a new discussion on political tribalism.
Your Feedback: How are you enjoying The Masthead? Tell us by clicking the button below.
We want to hear what you think about this article. Submit a letter to the editor or write to letters@theatlantic.com.