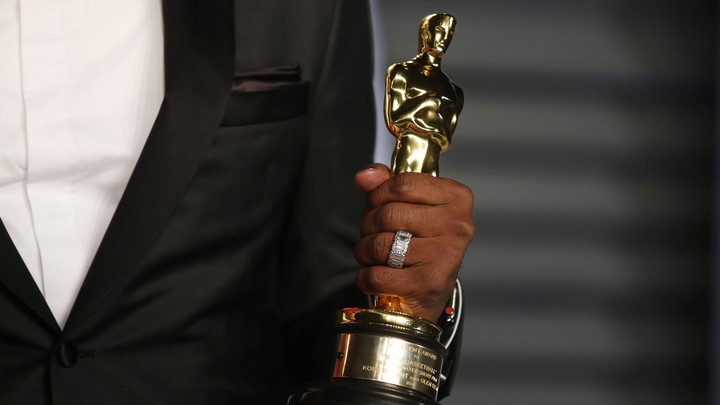 To lead off the latest Masthead Weekly, we've asked the culture writer David Sims for a briefing on yet another wobbling American institution, the Oscars. David's take: Despite the awards' glitzy elitism, you'd miss 'em if they disappeared. Read through to find the latest on online marijuana sales, Microsoft's open-source takeover, the state of female anger, and more. — Matt Peterson
What to Know: How the Oscars Keep Hollywood Relevant
By David Sims
The Oscar race always kicks off in earnest in October, after the fall's film festivals conclude and the "prestige movie" season begins. Though Hollywood's obsession with awards shows can smack of egotism, the shows are a crucial part of the industry's ecosystem, as much as superhero franchises and horror remakes. Depressing as it might sound, having a chance at an Oscar is the primary reason major studios still fund movies aimed at grown-ups.
But recent Best Picture winners such as The Shape of Water, Moonlight, and Birdman have had more of a niche feel than Oscar winners past, and Oscar viewership has slipped as a result. This year's show, though, should see the nomination of a number of critically respected films that appeal to a wide audience, with the Lady Gaga–starring A Star Is Born selling out theaters and poised to dominate the cultural discourse all month. It could be enough to save the film world from self-sabotage.
Here's why the film industry still needs the Oscars: In recent years, major movie studios have invested most of their resources in films they expect to be worldwide hits. That means lots of action, horror, and children's animation, as well as anything with a recognizable brand name (so, lots of sequels). It makes for a lot of homogenous, big-budget storytelling on the grandest canvas possible, and smaller-scale stuff is now being shunted to television or to the world of indie films. Money is still being made, but anyone with a fondness for the medium of cinema should be worried. The similarity across films is the biggest reason for shows like the Academy Awards and Golden Globes to exist: They encourage movies that aren't geared toward just the highest box-office grosses.
There are hints of panic as Oscar season gets underway. In August, Academy President John Bailey floated a series of wide-ranging changes to the show that would include a "popular film" award as a way of combatting declining ratings. This idea was eventually quashed, but it hinted at the growing schism between art and commerce in Hollywood, and the horror at the idea that the Oscars might honor the former without acknowledging the latter. The Academy needs good ratings to fund its future, such as a major museum currently under construction in L.A. But beyond that, the Oscars (and the industry the awards represent) need to demonstrate that they're still culturally relevant.
Black Panther, the biggest hit of the year, was a superhero movie that managed to feel trenchant and bold, winning major critical acclaim. Crazy Rich Asians took a near-dead Hollywood genre (the romantic comedy) and zapped it alive, telling a story focused on an Asian American woman on the big screen for the first time in a generation. A Star Is Born, which debuted last week to rapturous reviews, seems guaranteed to be one of 2018's biggest hits. These are the kinds of films that straddle that line between art and commerce, and that have real global appeal; if they're recognized at the Oscars and ratings go up, that should send a message to the industry about supporting more such stories.
What happens now? Over the next three months, serious-minded dramas such as First Man, Vice, Widows, and Green Book will enter wide release, looking for box-office success to go with warm reviews. If some of them hit, Hollywood will breathe a sigh of relief; if not, watch for studios such as Disney (which just acquired one of its rivals, 20th Century Fox), Universal, Sony, Paramount, and Warner Bros. to make fewer and fewer small-scale stories, leaving that to indie studios and streaming companies such as Netflix and Amazon. Meanwhile, the Academy will choose a producer and host for its show, perhaps trying to shake things up with a big name in an attempt to juice viewership. But that matters far less than the movies being recognized. If voters choose wisely, the Academy Awards might regain the cultural currency they're so desperately seeking.
What to Expect
Notes on the news to come
Arts and Culture
Five months after ABC's Roseanne reboot was canceled following a racist tweet from the show's titular star, Roseanne Barr, a new spin-off show from the network will premiere—without Barr. Next Tuesday, The Conners will follow the same family, played by largely the same cast, but the comedy will be tasked with explaining the disappearance of its matriarch. (Barr has said that her character dies of an opiod overdose, but ABC has not confirmed the details of the character's absence). Still, the executive producer Bruce Rasmussen told Variety that the spin-off will "honor" Barr's character. "A lot of people cared about that character and it's separate from whatever feelings they had about the person and her political views and the things she said," he said.
Global
On Wednesday, Canada will become the second country in the world, after Uruguay, to legalize marijuana nationwide, fulfilling a campaign promise Prime Minister Justin Trudeau made to voters. Legalization will proceed in stages. First, dried cannabis, plants, and seeds will be available for purchase. Edibles and other configurations of the drug will come later. "Canada's progress will galvanize support for drug-policy reforms around the world," Hannah Hetzer, the senior international policy manager for the Drug Policy Alliance, told Rolling Stone. One area other countries will be watching: online sales. "We see online purchasing in other jurisdictions like California, but it usually leads to a delivery service like a Uber Eats version of cannabis," the analyst Jay Rosenthal told the CBC. Canada's attempt to centralize the marijuana business, if successful, could become a model for other countries looking toward legalization.
Technology
By October 19, regulators from the European Union will decide whether to approve Microsoft's acquisition of GitHub, a platform for software developers that has been, for the past decade, one of the engines of the open-source-software movement. For the millions of coders who use GitHub, the acquisition marks a dramatic evolution in Microsoft's once-hostile relationship with the open-source community. Many programmers believe the arsenal of anticompetitive tactics that was essential to Microsoft's rise to power is the antithesis of the open-source ethos. In 2001, when he was Microsoft's CEO, Steve Ballmer notoriously called Linux—the most popular open-source project in the world—"a cancer." But in the intervening years, the project has worked to cultivate a very different reputation. In fact, earlier this year, the head of the Linux Foundation, Linux's nonprofit organization, gave the GitHub acquisition his blessing. And earlier this week, Reuters reported that the EU will likely do the same.
Religion and Values
Good news for Siouxland Hindus: This Sunday, the first Hindu temple in the Dakotas will open in Tea, a town southwest of Sioux Falls, South Dakota. The small but growing number of Hindus living in the state will no longer need to travel 200 miles to temples in Minnesota, as many do, for religious holidays or special events. The wait has been long: Plans for the temple began in 2009. It was set to open in August, but water damage to the site caused a delay. The temple will welcome the community just in time for Diwali, the festival of lights, early next month.
150 Years Ago
"Perhaps they are the only persons in all the world who are in any degree justified in passing their lives in a state of suspended intelligence; those of them at least whose duty it is to get inside of enormous beer-barrels, and there, in darkness and solitude, in an atmosphere reeking and heavy with stale ale, scrape and mop them out, before they are refilled. When you see their dirty, pale faces at the 'man-hole' of the barrel, down in the rumbling bowels of the earth, in one of those vast caves of beer in Cincinnati, you catch yourself saying, "Drink, poor devils, drink! Soak what brains you have in beer!" What can a man want with brains in a beer-barrel? But, then, you think again, even these poor men need their brains when they get home; and we need that they should have brains on the first Tuesday in November."  — James Parton, October 1868
Items this week by Clara Chan, Caroline Kitchener, Matt Thompson, and Karen Yuan. What do you think of these mini-previews? We want to know. Tell us in 10 seconds.
What's New
Updates on your Masthead membership
One thing you should know: "Virtually no one, including President Trump, was willing to say they didn't find [Christine Blasey Ford] credible," Vernon Loeb, The Atlantic's politics editor, wrote this week on our forums. Vernon shared his takeaways from the Ford-Kavanaugh hearings with our membership, contributing to one of our most lively (and long!) forum discussions yet. [Read his comments in context on the forums.]
Where you can dive in: Female anger has historically been taken less seriously than male anger, Rebecca Traister writes, when, in fact, it can change society. Our October book-club pick is Traister's best-selling Good and Mad: The Revolutionary Power of Women's Anger. On our forums, members are debating whether female anger is really taken less seriously than male anger. What do you think? [Join the book discussion.]
What's coming: By 2021, there will be almost as many personal-assistant bots on the planet as people. In our November print issue's cover story, Judith Shulevitz looks into what smart speakers like Alexa mean for the future of how we interact with one another. On Monday, we'll share a conversation between Judith and Matt Peterson about the story. Do you have questions about smart speakers? [Write in, or send us an email.]
We want to hear what you think about this article. Submit a letter to the editor or write to letters@theatlantic.com.
David Sims
is a staff writer at
The Atlantic
, where he covers culture.