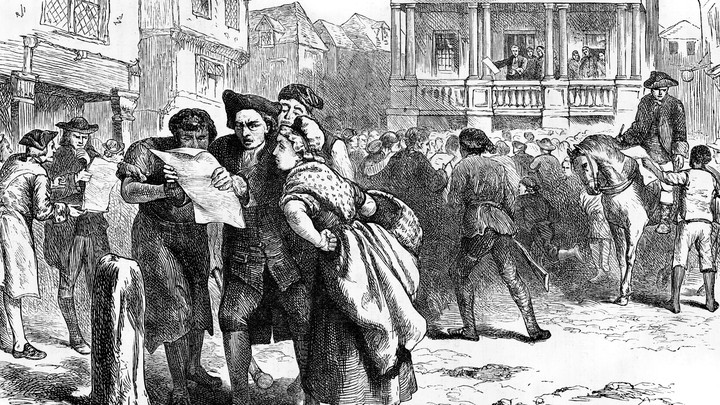 Today's Issue:
"For women, deploying anger has historically undercut their seriousness, their believability," the feminist writer Rebecca Traister said. "For powerful white men, amplifying anger amplifies their seriousness."

This month, The Masthead is reading Traister's new book, Good and Mad: The Revolutionary Power of Women's Anger.

Meanwhile, we've counted the votes in our Longreads Bracket. The next story everyone should read is: "War Without End" by C. J. Chivers of The New York Times Magazine—the magazine article is actually an excerpt from his book, The Fighters. Writing it did not, he told us, ease his own anger about the war in Afghanistan.
---
Women Are Angry: Introducing Our October Book-Club Pick
Rebecca Traister's Good and Mad: The Revolutionary Power of Women's Anger might be the best-timed book of the year. It was published on October 2, five days after Christine Blasey Ford testified before the Senate Judiciary Committee, and four days before Brett Kavanaugh was confirmed to the Supreme Court.
The hearings, Traister said at an event last week in Washington, D.C., affirm a key element of the book's thesis: When men are angry, they're taken seriously. When women are angry, they're not. For many women, Traister said, it was difficult to watch Kavanaugh "come out and deploy a weapon that [Christine Blasey Ford] did not have in her arsenal. She could not have been angry on her own behalf and had it work."
Earlier in her career, Traister said, she tried to "pretty up" her anger, making it "more approachable." Others did the same. To some extent, she said, it worked. "We succeeded in making the conversation [around the feminist movement] more broadly appealing, avoiding these caricatures of the angry feminist that would delegitimize it." The events since the 2016 election now call for a different degree of emotion, Traister said. "We're in a moment that's like, 'Okay, thanks for coming to the party, everyone. Now we're going to talk about how we're fucking livid and how we're actually not that amused anymore.'"
Traister will be joining The Masthead at the end of October to answer your questions. In the meantime, pick up a copy and start talking. (Anger encouraged.)  
— Caroline Kitchener
---
Introducing Our August Longreads Finalists
The results are in. Here are our judges on why these stories won out.
The winner: "War Without End" by C. J. Chivers, The New York Times Magazine
Chivers manages to write about a subject that everyone knows about on some level (wow, this war has lasted a long time!) in a way that vests it with urgency and conveys its tremendous import. And his own military experience shines through in the depth with which he writes.  — Conor Friedersdorf, Atlantic staff writer
The runner-up: "We Saw Nuns Kill Children: The Ghosts of St. Joseph's Catholic Orphanage" by Christine Kenneally, BuzzFeed News
Kenneally's retelling of the haunting story of St. Joseph's Orphanage is deeply researched and well reported, drawing directly on the voices of people who witnessed it firsthand. A difficult read for its heavy topic—the violent, sexual, and psychological abuse of children by their caretakers—Kenneally's compelling narrative leaves you wanting to learn more about the under-told history of the American orphanage system.  — Abdallah Fayyad, Atlantic researcher
---
The Long Road to the Longread
We asked Kenneally and Chivers to tell us about their writing process. Here's Chivers, the author of "War Without End":
What made you want to write this story? "War Without End" is an adaptation of a chapter from The Fighters: Americans in Combat in Afghanistan and Iraq, a book released in August. I wanted to write this book to present the long arc of the wars in Afghanistan and Iraq from the perspective of the lower and middle ranks, with the idea that public understanding of these wars is either limited or too informed by airbrushed official narratives.

What was the most difficult part of writing the piece? The main difficulties were rooted in the reporting (which included extensive time in the field) and in gaining people's trust so that they would share their most personal feelings and memories from extraordinarily difficult experiences. This took many, many years, and equal doses of empathy and patience.

What was the most interesting thing you learned while reporting that didn't make it into the final piece? I was fortunate that this was a book-length undertaking, so I did not have to omit anything important from the writing. What I learned personally, however, surprised me. I had expected that researching and writing the chapters, including the chapter that would become the basis for "War Without End," would somehow be cathartic and that engaging so closely with the sources would help ease some of my own anger about the wars and how poorly they had been conceived, organized, and led. This was a foolish hope. It made it all worse.
Here's Kenneally, the author of "We Saw Nuns Kill Children: The Ghosts of St. Joseph's Catholic Orphanage":
What made you want to write this story? Years ago I went to an archivists' conference, trawling for stories about history and records, and I ended up in a session about the plight of a group who called themselves "homies." They were Australian adults who had grown up in orphanages across the country. I was astonished. I didn't know that orphanages had operated in the 20th century, and I was outraged by their plight. So much had been stripped from them. Many did not know their own birth names, and some had been addressed by a number, not by name. Some were at an orphanage with their siblings, but they didn't know they were related until the day they all left. I started to meet homies, and they told me about their lives and the extraordinary experiences they had had. It made me curious to discover the orphanage story in the U.S. I knew it had to be a big one, but it seemed for a while like the whole country had forgotten. It took a long time to find, but eventually, sure enough, I started to talk to the former residents of American orphanages. Their lives had been every bit as incredible.

What was the most difficult part of writing the piece? There was so much that was difficult! Confronting the pain these folks had been through was hard. For some, I was one of the first people they had told anything [to]. Piecing together a history that had been smashed and scattered by time, and stigma, and by the hostile legal process of the 1990s, was difficult, as was building the big picture—how many orphanages were there? How many Americans had lived in an orphanage in the 20th century?—and connecting the pieces of a single orphanage story and an individual life. Shaping the article was complicated, too. The editors and I had to think a lot about how to tell the full story, while considering how much horror a reader could take.

What was the most interesting thing you learned while reporting that you weren't able to fit into the final product? There were a million crazy, amazing stories that didn't make it into the piece. I want to try and find a place for them in a book now, so I'm not going to tell you!
---
Thanks for joining us for this round of our Masthead Longreads Bracket. Is there any way we can make the Longreads Bracket a better experience for you? Fill out this 10-second survey here.
---
Today's Wrap-Up
Today's Question: What's the book that you've been waiting to get your hands on?  Recommend it to us.

What's Coming: Friday, we'll hear from our culture critic David Sims on the fall movie season.

Your Feedback: Click the button.
We want to hear what you think about this article. Submit a letter to the editor or write to letters@theatlantic.com.
Karen Yuan
is a former assistant editor at
The Atlantic
.