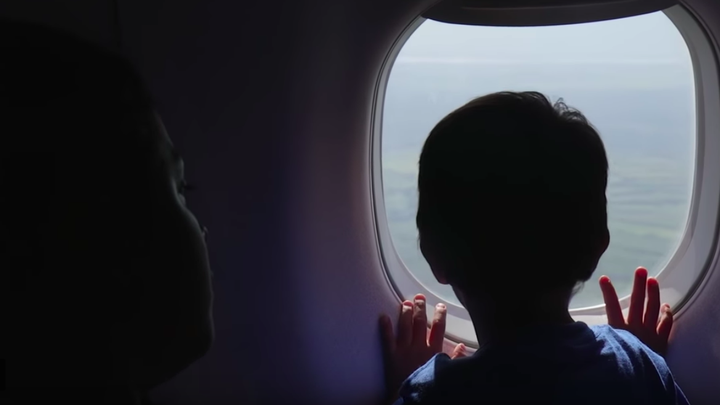 Today's Issue:
The Separated, an Atlantic documentary, follows Anita and her son Jenri, who were separated at the U.S.-Mexico border this summer. The documentary's producer, Jeremy Raff, says he wanted to capture a story that went deeper than "the viral video clips of teary reunions."

In today's issue, Jeremy reveals how the documentary came together. He also produced a Masthead-exclusive video supplement that shares the family's life a few weeks after the documentary. It's available here.
---
A Separated Family Tells Their Story
By Jeremy Raff
Amid the uproar over family separations at the border this summer, first-person accounts were scarce. The government did not make parents or children in its custody available for interviews, and later, when court-ordered family reunification began, viral video clips of teary reunions told only a partial story. What is it really like to come back together after forcible separation—and what is it like in the hours and days that follow that first moment of reconnection? I wanted to hear a separated family tell the story in their own words, as they experienced it. So I packed my camera and flew to Harlingen, Texas.
The result is The Separated, a documentary that follows a mother and son named Anita and Jenri for 36 hours as they reunite after a month-long separation. Six-year-old Jenri seemed fine at first, until a gentle reprimand from one of the Catholic sisters at the migrant shelter where the two were staying triggered his memories of government detention. While I filmed, he threw himself on the bed, wailing. "I want to go back to the jail," he cried. "You're not my mom anymore." Later, in the darkness outside, Anita told me,"The separation was so long. My son has changed so much."
It was an intense and intimate moment that I could only film with Anita's consent, a process that had begun weeks earlier, when we discussed the documentary over scratchy jail phone lines while she was still in ICE detention. By chance, Anita had met a pro bono lawyer, Jodi Goodwin, who put me in touch with her. Because it was difficult to predict when the government would reunite families, my editors had agreed to let me stay indefinitely in Texas, staking out until it was the right moment to film.
While we waited, Goodwin allowed me to film her as she argued with ICE to win Anita's release. When that day finally came, I went along to pick Anita up from detention. She emerged with a small plastic bag of belongings, wearing a plain white T-shirt, a ponytail, and an inscrutable expression.
The next day, I met her at a migrant shelter, and though I had been waiting to interview her, I didn't film much at all. Instead, we spent a couple of hours under a mesquite tree, talking. She showed me pictures of her hometown in Honduras, and I told her that I grew up only 40 minutes from the shelter in McAllen, Texas. We talked about Jenri, and about the documentary. She said she wanted to participate both to inform the public and in hopes that telling her story would somehow help the other separated mothers she met in detention. When it came time to pick Jenri up from the government shelter, Anita was much more comfortable with the camera.
Officials did not allow me inside to film the reunion, but Goodwin described a fraught moment in which Jenri hardly seemed to recognize his mom.
Back at the migrant shelter, what I saw was a regular, cute, chirping 6-year-old. Jenri warmed up to me when I showed him how to snap a photo of his mom on my camera. (He got fingerprints all over the lens.) I filmed him playing outside and brushing his teeth before bed.
Later, I had a brief moment of forewarning that his mood was darkening. He started saying, "No touch! No touching!" again and again. Anita didn't know what to make of the phrase, but I had read recent reports that children are not allowed to touch each other in government shelters—even though touch can be soothing in a time of trauma. With my camera pressed to my eye, I asked Jenri, "Where did you learn to say that?" He replied, "Over there, where I was."
I might have asked more questions, but Jenri quickly became inconsolable. I took a step back, but kept filming. In that moment, my ordinary human instinct was to give them privacy, but I also felt a responsibility to document the event—that's why Anita had invited me there in the first place. In the documentary, the footage of Jenri crying lingers for several minutes. Then I left the room and stood outside among the deafening cicadas, nauseated by Jenri's evident pain.
In the documentary, we tried to convey the conflicting emotions Anita and Jenri now grapple with. The morning after his outburst, aboard a plane heading to their new home in North Carolina, Anita looked out the window and took note of the Rio Grande. She asked Jenri in a matter-of-fact tone, "Remember when we crossed the river?" Yet they also seemed delighted by their first plane ride, and by being back together. It struck me that their typical, happy relationship could coexist with exceptional trauma.
I visited Anita and Jenri in North Carolina about two weeks later. Anita had clearly taken pains to present a fresh start: She had cut Jenri's hair, and straightened her own to a high gloss. She said she is making an effort to move on. Still, the journey had taken a toll. Jenri's disturbing new outbursts had only gotten worse, and Anita spends most days in a cramped rented room feeling "locked up." She faces difficult odds of winning her asylum case in immigration court. Despite the relative safety of their new home, she said, "we are still afraid."
---
Life After Family Separation
In a film exclusive to Masthead members, Jeremy checked in on Anita and Jenri at their new home in Charlotte, North Carolina. Life seems more peaceful for the two: The house is on a quiet street; Jenri zooms past the camera on a bicycle. Anita told Jeremy that she sleeps better now with Jenri by her side. But, as Jeremy wrote, she still struggles with the effects of their separation. "It's something I don't think I'll ever be able to forget," she says in the film.
Watch the interview Jeremy conducted with her—available to members only:
---
Today's Wrap-Up
Today's Question: There has been a lot of coverage of the family-separation crisis. What's the most impactful piece of journalism that you have watched/read/heard about the separations on the U.S.-Mexico border? What made it so powerful?

What's Coming: On Friday, the staff writer Alia Wong updates us on the legal challenge to Harvard University's admissions policies.

Your Feedback: Let us know what you thought of today's email. Email us at themasthead@theatlantic.com, or click the button below.
We want to hear what you think about this article. Submit a letter to the editor or write to letters@theatlantic.com.
Jeremy Raff
is a former video producer at
The Atlantic
.