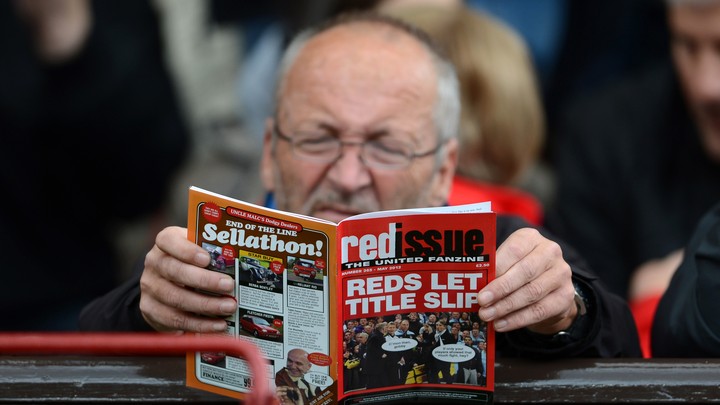 Today's Issue:
"Print is dead" has become a common 21st-century refrain. At The Atlantic, that couldn't be further from the truth. The Atlantic's print magazine reaches more than 400,000 subscribers every month.

Today, in a Masthead-exclusive video, we take you inside the upstate New York plant where the magazine is printed.

Why read in print? "It's a complete statement," said John Kefferstan, our director of production. It's a picture of what the editors think is important this month. And you don't need to worry about dropping it in the bathtub.  
---
A note on the video: It was filmed at 2 a.m. on an iPhone, so the footage is a little choppy.
---
Why Is a Printed Magazine Important?
A conversation with The Atlantic's production team: John Kefferstan and Jen Adams, our associate director of production.
"Increasingly, the longtime core of the [magazine] business—the print product—is an afterthought," Sydney Ember and Michael M. Grynbaum wrote in The New York Times last year, after a series of top editors at American magazines stepped down in quick succession. The "longstanding predictions about the collapse of magazines," they wrote, seemed to finally be happening. I spoke with John Kefferstan and Jen Adams, who have overseen the process of printing The Atlantic for 23 and 14 years, respectively. They disagree with Ember and Grynbaum's assessment: Print, they told me, is still thriving in many places—and for good reason.
Caroline Kitchener: What do you get from reading a full magazine, in print, that you don't get from reading individual articles online?
John Kefferstan: I would say it's the tactile experience of holding a magazine and turning the pages—of having it there as a constant, continuous single entity. The articles were put in that order for a reason. The editors had an idea of how you would read this magazine from the beginning to the end.
Caroline: It's like a music album.
John: It's a complete statement. The reading of stuff on the web is a little bit more like a sound bite. It's still important editorial content, but it's not the entire picture of, this is what we think is important this month.
Caroline: What is it about the physicality of the magazine that makes it so meaningful?
John: It's a tactile piece of product that you can hold. You can leave it behind at the dentist's office. You can pass it on to friends. You're not really worried if you decide to read it in the bathtub.
Jen Adams: You can curl up with it. It won't keep you up at night by shining blue light in your face. It never runs out of a battery.
John: You don't have to turn it on to look at it.
Jen: It's also a beautiful object. Our art department works so hard to make things beautiful across a 16-inch canvas.
John: Canvas is a good word.
Caroline: What's it like to translate magazine articles from print to the internet?
Jen: It's actually really hard. I work on both the print and digital sides. But I also think the metaphor of the album is an apt one. The way we talk about releasing the articles online is very much talking about singles. In the print magazine, we want to see someone's overall vision. Online, you have to think: How do we release things so that they have enough space to kind of float on their own?
Caroline: What's challenging about optimizing the magazine experience for the cellphone?
Jen: Reading on your phone is a very vertical experience. Reading in a magazine is a much more spread out … Even if you tend to fold it in half and carry it on the subway, or however you personally like to fold up your magazine, it's kind of a personal ... There's a physicality and an intimacy to it.
---
Today's Wrap Up
Today's Question: If you prefer reading a hard copy of The Atlantic to reading our articles online, we'd love to hear from you. Why do you value your printed magazine?
What's Coming: On Wednesday, we'll hear from Rebecca Traister, the author of Good and Mad, this month's Masthead Book Club pick.
Your Feedback: How did you like today's issue of The Masthead? Click the button below to let us know.
We want to hear what you think about this article. Submit a letter to the editor or write to letters@theatlantic.com.