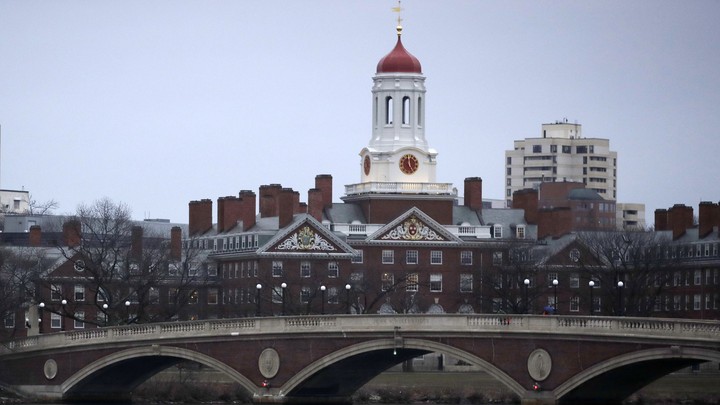 One issue that may soon come before the Supreme Court—whoever is confirmed to it—is affirmative action. That's because of a legal challenge to Harvard University's admissions process, as our education writer Alia Wong explains in this Masthead Weekly update. And scroll on for a highlight from this week's Atlantic Festival in Washington. It was lively.  — Matt Peterson
What to Know: Affirmative Action at Harvard
By Alia Wong
The story we're watching: In a little more than a week, a federal lawsuit contending that Harvard's admissions office discriminates against Asian American applicants will go to trial. That moment will mark the beginning of a process that could result in the U.S. Supreme Court taking another look at affirmative action.
The lawsuit was filed in 2014 by Students for Fair Admissions, an organization run by the conservative legal strategist Edward Blum that represents Asian Americans who were rejected by Harvard. And while it was initially overshadowed by another affirmative-action suit spearheaded by Blum—the ultimately unsuccessful Fisher v. University of Texas—the Harvard case has since come to represent a new kind of crusade against affirmative action: one that leverages the experiences of a particular minority group to make a politically palatable case against race-based admissions.
The lawsuit alleges that Harvard is effectively using racial quotas, a tactic the Supreme Court has previously ruled unconstitutional. The plaintiffs cite a pattern they describe as an "Asian American penalty." Citing data from more than 160,000 student records, Students for Fair Admissions argues that Asian American applicants boast higher test scores, better grades, and stronger extracurricular resumes than applicants of any other racial group. But plaintiffs allege that Asian American applicants routinely receive low marks on the suite of personality traits Harvard admissions officers use to assess applicants. According to the lawsuit, the admissions officers utilize this category to limit the number of Asian Americans they admit, as part of their effort to assemble a racially balanced freshman class.
What's next: The trial begins on October 15 in U.S. district court in Massachusetts. (While Harvard has repeatedly tried to settle the case, the presiding judge ruled late last month that it must go to trial.) It's hard to predict how the case will unfold, but the bench trial in Boston is likely just the beginning of the process, affirmative-action experts told me. The judge's prospective ruling will likely incite an appeal from the losing party, setting the case up to advance to the Supreme Court.
What to watch for: If the case does make it to the highest court, it will reopen a debate that proponents of race-based affirmative action had assumed was settled by Fisher in 2016. Regardless of the outcome, this lawsuit will have ramifications for affirmative-action programs in colleges across the country. As the U.S. minority population grows, elite-college admissions offices are facing increased scrutiny for policies that seek to increase the representation on campus of disadvantaged groups, like black and Latino students. Even if this lawsuit doesn't hold up in trial, there will be more high-profile challenges to admissions policies at schools like Harvard. A few weeks ago, the federal Justice and Education Departments announced their decision to investigate Yale for discriminating against Asian American applicants, echoing a series of earlier efforts by the Trump administration to crack down on the use of race in admissions. More challenges to prominent affirmative-action admissions policies are likely on the way.  
What to Expect
Notes on the news to come
National
"Women have been talking about Harvey amongst ourselves for a long time," the actress Ashley Judd told The New York Times in the article that helped launch the #MeToo movement, going on to describe in explicit detail the sexual assault and harassment perpetrated by the Hollywood producer Harvey Weinstein. Three days later, one year ago on Monday, Weinstein was fired from the Weinstein Company. Over the next few weeks and months, scores of women came forward with their own stories, implicating Weinstein as well as hundreds of other powerful men. In the coming week,  feminist activists reenergized by Brett Kavanaugh's nomination are likely to invoke this anniversary to take stock of what's changed—and what hasn't. "We've seen the power of women and some men naming their experiences," Emily Martin of the National Women's Law Center told ABC News. But one year in, Martin says, the movement is far from over. "We still have a lot of work to do."
Global
On Wednesday, according to the Syrian government, for the first time in three years commercial trucks will have access to the Nassib border crossing when traveling into Jordan and back. With its bloody military conquest of the country nearly complete, the Syrian government is now attempting to win back the economic ties and diplomatic standing it lost when it went to war with its own people. The Nassib crossing has been closed since 2015 after rebels took over the area, but earlier this year, the Syrian government and its allies won back the territory. Before the war, the crossing was a node for regional trade, allowing shipments from Lebanon to pass through Syria to Jordan; reopening it will encourage business to return.
Nature
If you've ever wanted to consume 67,000 calories in a three-hour window but have been deterred by a lack of awards-season attention, Katmai National Park and Preserve in Alaska has good news for you. The catch? You've got to be a brown bear to be eligible to win what may be the world's most high-stakes eating competition. Each fall, the park hosts "Fat Bear Week," a competition pitting the 12 chubbiest ursines against each other in a series of online polls to determine who is best equipped to face the coming subarctic winter. Don't worry — "There's no fat shaming here," a spokesperson noted in a Facebook post. It's all about "celebrating the survival of Katmai's most successful bears." Those that have bulked up over the summer, gorging on salmon and other foodstuffs, will likely make it through the winter, which can drop into the negative-40s in Fahrenheit. The winner will be announced on the park's Facebook page on Tuesday.
Local
Oklahoma City will observe its first Indigenous People's Day on Monday. It joins a growing number of localities—including all of Oklahoma's other major cities—in substituting Columbus Day for a celebration of Native Americans. Although the city is home to 39 Native tribes, the city council previously rejected proposals to make the change. Columbus Day wasn't formally observed in Oklahoma City, and council members claimed that the issue was a federal decision. Some even cited concerns that the move would offend the Italian Americans who make up about 1.7 percent of the city's population. This April, however, David Holt, the city's first mayor of Native American heritage, took office. Holt's desire for change was evident from the start, mused one local reporter, when he renewed the mayor's-office decor by hanging a painting of a buffalo by a Native American artist on the wall behind his desk.
25 Years Ago
"Let's pause for a moment to ask ourselves, what in reality is the 'middle class'? Ask any American if he or she is 'middle class,' and the answer will almost always be yes. The truly poor will admit to being 'lower middle class,' and the rich will go along with 'upper middle class,' but few will forthrightly call themselves 'poor' or 'rich.' This is a characteristically American self-perception, and it reflects our desire to live in a basically egalitarian society. But in recent years it has allowed nonpoor Americans to believe that they deserve universal federal entitlements—much of them windfalls—such as Social Security and Medicare, which are often disingenuously called 'insurance,' and which people mistakenly think of as the payback on their contributions to 'their accounts.'"  — Peter Peterson, 1993
Items this week by Caroline Kitchener, Matt Peterson, Parker Richards, and Karen Yuan. What do you think of these mini-previews? We want to know. Tell us in 10 seconds.
What's New
Updates on your Masthead membership
One thing you should know: The former House speaker Nancy Pelosi "very intentionally" used the word "hysterical" to describe the Supreme Court nominee Brett Kavanaugh over the weekend. She explained the remark at The Atlantic Festival this week, amid discussions with leaders including Hillary Clinton and Jeff Flake. Pelosi's purpose was to raise the question: What would the confirmation process be like if Kavanaugh were a woman? [Read the recap and join the discussion here.]
Where you can dive in: In the forums, members have been talking about Kavanaugh from every angle: his chances of confirmation, his hearing's effect on sexual-assault survivors, Democratic political strategy ... Want to participate but don't know where to start? We've put together a handy roundup of all the ongoing threads with summaries of members' main conversations. [Check it out.]
What's coming: We won't email you on Monday—it's a holiday! When we're back, we'll share a literary-themed email that will kick off our October book club with a dispatch from a talk with Rebecca Traister on her new book, Good and Mad: The Revolutionary Power of Women's Anger. And we'll wrap up our Longreads Bracket with the winning article of the past month.
We want to hear what you think about this article. Submit a letter to the editor or write to letters@theatlantic.com.
Alia Wong
is a former staff writer at
The Atlantic,
where she covers education and families.