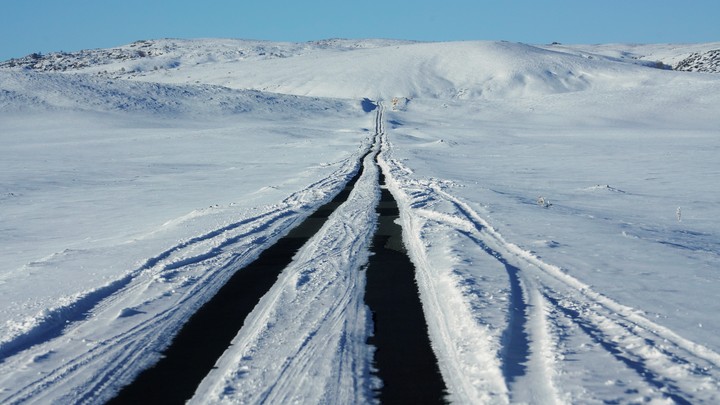 We asked Sigal Samuel, The Atlantic's global religion editor, if there was one big story on her beat these days. Her answer was unequivocal: Yes, and it's in China. In today's Masthead Weekly, Sigal sums up the latest on the mass detention of Muslims in western China. And read through for details on how you can participate in the next installment of the Masthead Book Club.  — Matt Peterson
What to Know: China's About-Face on Xinjiang
By Sigal Samuel
What we're watching: China's decision to put an estimated 1 million Muslims in internment camps is this year's biggest religion story. In terms of numbers of people affected, it's arguably one of the year's biggest stories, period. "It is the largest internment of civilians in the world today," U.S. Ambassador to the United Nations Nikki Haley said this month. "It may be the largest since World War II."
What you should know: In China's northwestern Xinjiang province, Uighurs and other Muslim ethnic minorities are being detained without trial, many of them for several months. Former inmates have told reporters that camp administrators use force to persuade the detainees to renounce Islam and embrace Communist Party ideology. Some have described being tortured or forced to eat pork and drink alcohol, which are forbidden in Islam.  
China claims the camps are necessary to stamp out Islamic extremism and separatism. As I reported in August, the Communist Party is pathologizing Islam, calling it a "tumor" or a "virus" in the brain—essentially, a mental illness. One 2017 government document published in Hotan Prefecture described forced indoctrination as "a free hospital treatment for the masses with sick thinking."
But the internment system has itself been causing real psychological damage—and not only for those incarcerated. When parents are sent to the camps, many of their children are sent away to state-run orphanages. This amounts to a jaw-dropping family-separation policy that affects hundreds of thousands of people, including inmates' relatives around the world. The strain of not knowing whether their family members are alive or dead has led some Uighurs outside of China to experience depression, anxiety, and paranoia. In the United States, some Uighurs also face threats and intimidation by Chinese officials.
What's new here: For months, China denied the existence of indoctrination camps. But increased international scrutiny led Beijing to change tack. The government revised its legislation in an effort to retroactively legalize the camps. Now it's trying to depict them as fun, resortlike places of learning, complete with hat-making classes and ping-pong games.
Many American politicians aren't buying China's defense. Senator Marco Rubio is preparing to introduce a new bill in Congress, the Xinjiang Uighur Human Rights Act. The Trump administration is weighing targeted sanctions against high-level Chinese officials involved in the camps. There's also been a noticeable uptick in administration officials criticizing China on human-rights grounds.
Perhaps not coincidentally, all this comes at a moment when the United States is getting tough on China on everything from trade to cybertheft to the country's alleged meddling in the midterm elections. The fight has spilled over onto so many fronts and is escalating so fast that some say we're entering a new era of U.S.-China rivalry. One big question arising from this: Would Donald Trump's administration-wide critique of China for human-rights abuses be happening if the president weren't in a trade war with Beijing?
What's next: Trump used to have a friendly relationship with Chinese President Xi Jinping, and despite the recent acrimony between their two countries, the bromance could still return. The leaders will meet in late November at an international summit in Buenos Aires. It's worth watching to see what emerges from that meeting. If, say, they strike a deal on trade, will the Trump administration soften its human-rights criticisms of Beijing? Observing how the two governments' rhetoric changes over the coming weeks will shed some light on their true priorities.
What to Expect
Notes on the news to come
Global
Brazilians go to the polls on Sunday in the second and final round of voting after a heated presidential campaign. Barring any enormous developments, the results won't be a surprise: The front-runner, the military officer turned self-proclaimed populist and far-right politician Jair Bolsonaro, holds a 14-point lead over his rival, former São Paulo Mayor Fernando Haddad. Bolsonaro has captured his supporters' imagination with promises to stem corruption and usher in prosperity. But he's also gained notoriety due to his harsh rhetoric that dates back decades—pledging to expel political rivals from the country, vilifying people of color and the LGBTQ community, and demeaning women, to name a few examples. Look for whether Bolsonaro softens his tone after his expected win—and if not, look for whom his first official target will be.
The Skies
The Chinese commercial aerospace start-up Spacety will launch four satellites next week. If successful, the launch would be the latest in a string of accomplishments for the fledgling company. Founded only two years ago by the engineer Yang Feng, Spacety has launched a handful of privately owned satellites designed for scientific research in microgravity. Investors have taken notice. The company recently secured 150 million yuan (equivalent to $22 million) in series-B funding, joining a crowded field of commercial space start-ups in China. According to Feng, more than 20 Chinese companies specializing in microsatellites have been started in recent years. Expect more launches—of the rocket variety—in the months to come.
Arts and Culture
"'Wicked' does not, alas, speak hopefully for the future of the Broadway musical," Ben Brantley wrote in The New York Times when the musical debuted 15 years ago Tuesday. Critics called the show "overblown" and "overproduced," mocking its penchant for propelling things into dramatic, cross-stage flight: broomsticks, witches, winged monkeys. And yet, since then, more than 38 million people have seen the show live, making Wicked one of the most popular Broadway musicals of all time. With catchy songs and a moving message—even the green witches of the world aren't that different from the rest of us—Wicked introduced a whole new generation (especially middle-school girls) to theater. Did Wicked change Broadway for good? Monday's TV special, reuniting the show's original co-stars, Idina Menzel and Kristin Chenoweth, might help you make up your mind.
Business
On November 1, residents of Palmyra, Missouri, will continue to get the local news. Whether they would was not always assured. In mid-October, the owners of the 179-year-old Palmyra Spectator announced that rising costs and declining ad revenue meant they would have to cease publication at the end of the month, barring unforeseen developments. Then the unforeseen came to pass: The Spectator's owners wrote Wednesday that the paper will keep publishing. Mark Cheffey, who publishes the paper along with his wife, Patty, was circumspect about the details, saying only, "If there is a lesson to be learned from this most difficult of weeks, it is that both we and the Spectator's readers and advertisers, have maybe taken each other for granted of late." In a relationship that long, a little mutual neglect might be expected.
Technology
Looking for Israeli settlements in the West Bank? There's an app for that. The activist organization Americans for Peace Now is launching a map app, out next Thursday, that shows Israeli settlements in occupied Palestinian territories. Each settlement will be marked with a symbol of a small blue house, and clicking on any one of them will reveal its name, population, and time of establishment. One pro-Israel critic called it a "snitch app," but its creators see it as adding context to a tense issue: About 420,000 Israelis live in settlements within recognized Palestinian territory in the West Bank, and their numbers are growing fast.
125 Years Ago
"We see how absurd has been the statement that there was fraud in the [electoral] count, that somebody was cheated by the manner in which it was conducted. The simple narrative of facts which has now been given refutes such a charge. If anybody was cheated, who was it? Certainly not the Republicans; for their candidate was made President. Nor was it the Democrats; for the bill in accordance with which the electoral votes were ascertained and declared was specially their measure … If there was fraud anywhere in the measure, it was the work of an immense majority of the Democrats in both Houses of Congress."  — James Monroe, October 1893
Items this week by Gabby Deutch, Andrew Henry, Caroline Kitchener, Matt Peterson, and Karen Yuan. What do you think of these mini-previews? We want to know. Tell us in 10 seconds.
What's New
Updates on your Masthead membership
One thing you should know: "The administration can roll out extreme policies with the intent of deterring migrants," the politics reporter Priscilla Alvarez writes of the caravan of immigrants heading toward the U.S.-Mexico border. "But the reality is that the problems they're fleeing—economic distress and violence—will persist." Priscilla joined members in the forums to discuss the American response to the caravan. [Read her comment.]
Where you can dive in: "What do our daily lives look like in a carbon-neutral society?" the Masthead member Nels asked in the forums. "It will involve sacrifice. What I am most skeptical about is how much sacrifice Americans are willing to endure." Nels, a natural-gas worker, is worried that attempts to fix climate change will debilitate the economy. We asked experts to try to convince him otherwise. [Read his response.]
What's coming: Next week, we wrap up our October book club. We've been reading Good and Mad: The Revolutionary Power of Women's Anger, by Rebecca Traister—join the discussion! In the meantime, we invite your recommendations for our November book-club pick. What new book have you been eyeing? [Email us.]
We want to hear what you think about this article. Submit a letter to the editor or write to letters@theatlantic.com.