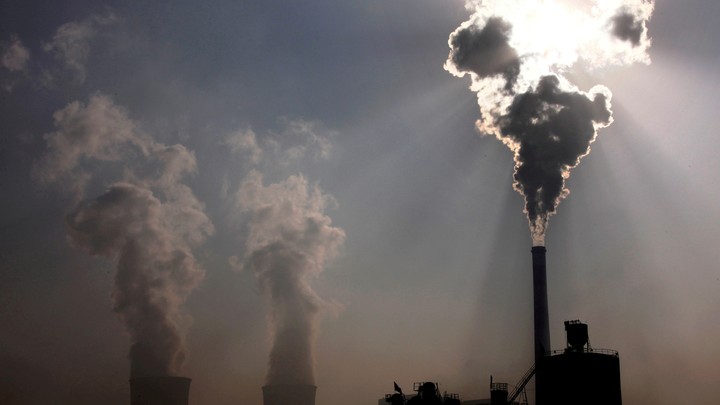 A question I often hear from members: In the fire hose of news from the Trump administration, how can you tell what actually matters? One good answer is to watch the agencies. Changes to regulation don't frequently come with the media fireworks associated with this presidency, but they can have a big impact on people's lives. Today we've got one such story, from the environment reporter Robinson Meyer. In this issue of The Masthead Weekly, he writes about an upcoming rule change at the Environmental Protection Agency that could have big consequences for air pollution in America.  — Matt Peterson
What to Know: The War on Behalf of Particulate Matter
By Robinson Meyer
What we're watching: One of the most important environmental stories coming out of the Trump administration is not getting much attention. The White House has worked to systematically dismantle the EPA's ability to regulate the amount of microscopic soot—which scientists call particulate matter—in the air. Earlier this month, the EPA disbanded a 20-person scientific board of experts meant to review the latest science and advise the agency on how much particulate matter in the air is safe. In addition to the many medical consequences of letting more particulate matter into the air, its high economic cost has justified several major air-pollution rules in recent years, including landmark Obama-era climate policies. In other words, this effort may be a stealthy attempt to undermine the basis for a major swath of modern environmental regulations.
What you should know: Whenever a vehicle or factory burns gas, oil, or coal, it releases microscopic pieces of soot into the air. These tiny pieces can cause devastating health effects when inhaled: Public-health research going back to the 1990s has shown that they increase early mortality. In a now-famous study, Harvard researchers found that American adults living in cities with higher levels of particulate matter were more likely to die of lung cancer, heart failure, and other cardiopulmonary diseases. More recent research has shown that these pieces of soot cause more than 150,000 cases of diabetes a year in the United States. The scientists behind that study told my colleague Olga Khazan that the EPA's current limits on particulate matter may need to be cut in half to protect Americans' safety.
This form of air pollution also causes huge, measurable declines in intelligence, according to another recent study. The Yale researcher who led that work said inhaling too much soot is akin to losing a year of education.
Particulate matter is so dangerous because it's so tiny. Once inhaled, particulate matter can seep into lung tissue. The smallest pieces can then enter the bloodstream, circulating throughout the body, triggering inflammation in organs and tissue, and possibly wreaking havoc in other ways. It's hard to express just how small each shred of soot is: The most dangerous type of of particulate matter is a mere two and a half micrometers across. By comparison, a human hair is 70 micrometers across.
Particulate matter can come from many sources—really, whenever something is burning, it's releasing particulate matter. In the United States, some of the largest sources of particulate matter are coal-burning power plants, large industrial factories, and cars and trucks. From a distance, particulate matter looks like a haze or smog in the air, but it's invisible when you're close to it. The public-health consequences of particulate matter tend to be even worse in China and India than they are in America.
What's new here: Under Donald Trump, the EPA has also tried to ban the use of public-health research when crafting new clean-air or clean-water rules, claiming that any research that uses private medical records is insufficiently open to public critique. The ban's supporters say the new policy is specifically meant to target the EPA's ability to regulate particulate matter, and they have long asserted the public-health research on particulate matter's dangers is "secret science." (Medical professionals say using private medical records in human-health research is perfectly normal. Major studies on the dangers of particulate matter have been replicated several times.) The ban's opponents—including scientists at the Department of Defense— say the agency is violating its mission and ignoring good science.  
Particulate-matter rules have been particularly costly for the coal industry. The EPA appears to be dismantling air-pollution protections to make life easier for the industry, which is already suffering from the profusion of cheaper and less-polluting natural gas. Andrew Wheeler, the EPA's acting administrator, is a former coal lobbyist.
Regulating particulate matter hasn't historically been a partisan issue. President George H. W. Bush—working with a Democratic Congress—first ordered the EPA to regulate particulate matter when Congress passed and signed the 1990 Clean Air Act into law.
What's next: The administration is moving forward with its regulatory plans. In the near term, the EPA is expected to release its final version of the "secret science" rule in the next few months. In the longer run, how the public—and Congress—reacts to the new rule will play a big role in determining whether this war on behalf of particulate matter will survive the Trump administration.
What to Expect
Notes on the news to come
Religion and Values
Voters in Ireland will soon decide whether to remove a prohibition against blasphemy from the country's constitution. The controversial Article 40.6.1.i reads, in part, that "the publication or utterance of blasphemous" material is punishable by law. Although rarely a factor in criminal prosecutions, the clause gained notoriety in 2017 when police launched an investigation against the comedian Stephen Fry after he referred to God as "capricious, mean-minded, and stupid" during a nationally broadcasted interview with the radio and television host Gay Byrne. Critics of this clause argue that it violates rights to freedoms of speech and religion ratified by the European Convention on Human Rights. The government has agreed to hold a referendum on the same day as the presidential elections on October 26.
Environment
The Philippine island of Boracay opens to the public this week for the first time in six months. Boracay, long known as a white-sand paradise, drawing tourists from around the world, had become a "cesspool," Philippine President Rodrigo Duterte announced earlier this year. To clean up the garbage-strewn beaches, rehabilitate marine life, and curb overpopulation, Duterte completely shut the island down. Tourists will now be invited back—on the condition that they follow the island's rules. On the new and improved Boracay, the integrity of the beach is paramount: There will be no more beach parties, no scuba diving, no single-use plastics, and no oceanfront beach chairs. Even sandcastles will be regulated: If they grow too large or unwieldy, the government has reserved the right to knock them down.
Global
When the cricket star turned politician Imran Khan travels to Saudi Arabia next week, it will already be his second trip to the kingdom as Pakistan's prime minister—impressive for a leader who has only been in office for two months. Khan's willingness to visit Saudi Arabia stands out amid the flurry of trip cancellations from Western politicians and CEOs who don't want to be seen at an investment conference in the country shortly after the Saudis allegedly murdered the Washington Post journalist Jamal Khashoggi. One possible explanation: Pakistan needs cash, and the Saudis have been willing to provide it. More often than not these days, when the West tries to slam a door shut, a window just pops open elsewhere. This time, Khan is happy to climb through.
National
Do you have unused medicine in your bathroom cabinet? Next Saturday, the U.S. Drug Enforcement Administration is hosting National Prescription Drug Take Back Day to encourage people to dispose of extra medicine at pharmacies like CVS and Walgreens. The DEA sees unused medicine as a public-health issue—according to the agency, 6.2 million Americans a year misuse prescriptions obtained from family and friends. One-third of Americans haven't cleaned out their medicine cabinet in the past year, according to a Consumer Reports survey published in 2017. One-fifth haven't done so in the past three. Pharmacies weren't allowed to take back prescriptions until 2014, but since then, thousands of "disposal units" have sprouted up at pharmacies around the country. The last Take Back Day, in April, collected 474.5 tons of drugs, according to the DEA.
50 Years Ago
"The men of '43 had had no proper Commencement. Their Harvard baccalaureates had been conferred by mail at Marine boot camps and infantry training schools. Some of them had accelerated and gotten their degrees ahead of time, so they could volunteer; others didn't graduate until after the war. They thought they had no future. They had not planned what they were going to do with their lives, they had only hoped for life. 'I didn't think more than a quarter of us would come back,' one of them said. 'We thought it would be like World War I ... you know, 90 percent casualties.' Thirty-three of them died, while the rest scratched the words 'Kilroy was here' on the flat surfaces of the world and came back ultimately to shake hands with the Old Campaigner, the reunion chairman."  — Nicholas von Hoffman, October 1968
Items this week by Andrew Henry, Caroline Kitchener, Matt Peterson, and Karen Yuan. What do you think of these mini-previews? We want to know. Tell us in 10 seconds.
What's New
Updates on your Masthead membership
One person you should know: Introducing our new community manager, Andrew Henry! Andrew will use his skills running a hugely popular YouTube channel on religion to lead conversations for Masthead members. [Say hi to him on the forums.]
Where you can dive in: "I'm afraid it's going to be a really noisy world," the writer Judith Shulevitz says of our Alexa-filled future. By the end of this year, more than 100 million Alexas will be installed in homes. Judith spoke with Matt Peterson about how voice-based artificial-intelligence assistants will change our daily lives. [Listen to the podcast.]
Why are people so drawn to the language of tribalism? Lawrence Rosen, a professor emeritus of anthropology at Princeton, and Miriam Juan-Torres, a co-author of the report "Hidden Tribes: A Study of America's Polarized Landscape," joined us in the forums to explain why the concept of tribalism has taken root in American politics—and why it's misleading. [Read the conversation.]
What's coming: Puzzles! In case you missed it, The Atlantic launched a new crossword puzzle earlier this month. Next week, we'll talk to the puzzle master Caleb Madison about his plans to reinvent a newspaper stalwart.
We want to hear what you think about this article. Submit a letter to the editor or write to letters@theatlantic.com.