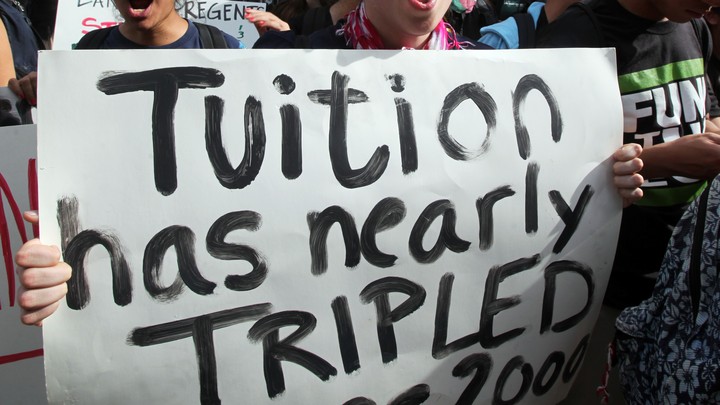 Today's Issue
College is more expensive in America than in almost any other country in the world. In this issue, we discuss why.

One answer, from the journalist Amanda Ripley: "We're the only country other than Luxembourg that spends more on nonteaching staff than on teaching staff at the college level."  (We'll get to the Luxembourg question later.)

Amanda Ripley is the author of a story in the new Atlantic series, "The Great College Rip-Off." We spoke with Ripley about what she learned from writing the piece.  
---
Want to read even more great journalism?
We're looking for judges to participate in the second round of our Masthead Longreads Bracket. You'll read a selection of our favorite pieces of longform journalism from August to help us decide on the best one. Want to participate? Email us at themasthead@theatlantic.com.
---
The Tuition Arms Race, Explained
By Caroline Kitchener and Karen Yuan
Why is the cost of a college education in America at an all-time high?  We asked Masthead members what education issue they'd like to know more about, and they zeroed in on the question of cost. Here's what our writers have to say.
---
The Sky-High Cost of College
Amanda Ripley is a regular Atlantic contributor and a senior fellow at the Emerson Collective, which owns a majority stake in The Atlantic. She wrote about the rising cost of American college as part of The Atlantic's recent package, "The Great College Rip-Off." Ripley talked to Caroline Kitchener about her research. (Caroline's questions are in bold.)
You attribute ballooning U.S. college costs to rising salaries for faculty and staff. But salaries for highly skilled workers have been rising around the world. Why has that rise in salary ratcheted up the cost of college in the U.S., but not in other countries?
Amanda Ripley: Exactly, that was my question. I think the difference is that we have more high-skilled laborers doing other things unrelated to teaching in our schools. We're the only country other than Luxembourg that spends more on nonteaching staff than on teaching staff at the college level. Many people feel that's wasteful, and yields "administrative bloat." Certainly it's also true that high-skilled labor is more expensive in the U.S. than in other countries.
This group of nonacademic staff is interesting. What exactly do these employees do?
Ripley: Each big college can be like its own little city. They're investing in everything you would need for a city—all the infrastructure, all the people. There are benefits to that for the students. If a college feels like its own universe, it can be a much more exciting, satisfying, holistic experience. But it is expensive. For example, the number of legal staff, development officers, fund-raisers, and PR people—marketing, communications—all these kinds of things you probably won't find in lots of universities in other countries. And certainly athletic staff. Some colleges are just obscene in this regard—while others, like community colleges, are not.
Many people think that loans are what make college so expensive. If students couldn't get loans, the theory goes, they wouldn't be able to pay for college, and colleges would have to adjust their pricing. What do you make of that idea?
Ripley: I think this is definitely part of the equation, especially with regard to for-profit colleges, which are voracious in extracting money from students, especially vulnerable students. But for most colleges in America, there isn't convincing evidence that loans are what is driving up the price of college. Now, you might think: If all student loans instantly vanish tomorrow, it would put pressure on colleges. Yes, it would. But I don't think the high costs would all come tumbling down.
Other countries have student loans. There are countries that have far more students getting loans than the U.S.—Norway, Australia, et cetera. But college in those countries is still far less expensive. In other countries, student loans are only repaid based on a student's income, limiting the risk to the individual. Loans should also be more contingent on colleges improving the quality of their performance. The U.K. has a limit for tuition; if you want to go above it, you have to prove to the government that you're providing something extra special with performance metrics. Every country has struggled with the rising cost of providing higher education to its people. But it's often a question of who's going to assume the risk. And in the U.S., it's the individual.
What surprised you during the process of researching and writing this piece?
Ripley: I was surprised by how few researchers have looked at the cost of college from an international point of view. There's a huge amount of research done on higher education in the U.S. and there's some research on higher education in Europe and other countries, but nobody is really looking at where the money's going in the U.S. compared to other countries, which was shocking.
Why has this not been reported on more?
Ripley: In the U.S., we know we have some of the best universities in the world. And therefore, while we're critical of the price of college, we are not often quick to compare ourselves to other places. It's funny because we don't do that in other industries as much. We have some of the best hospitals in the world, but we don't therefore decide our health-care system is crushing it. We have some of the finest restaurants in the world, but we don't therefore decide that Vietnam and France have nothing to teach us. Having a few of the best, when 99 percent of people don't ever see those places, is cold comfort. Weird, right?
Read the full transcript of our conversation with Amanda Ripley here.
---
Today's Wrap-Up
Today's Question: How should Americans try to solve the issue of overpriced college tuition? What do you suggest as a solution? Tell us.

What's Coming: In the forums, we've been debating when it's appropriate to use the word "coup" in American politics. On Wednesday, we'll share arguments from both sides, and members will be able to vote on the most convincing one.

Your Feedback: See that button? Hit it.
We want to hear what you think about this article. Submit a letter to the editor or write to letters@theatlantic.com.
Karen Yuan
is a former assistant editor at
The Atlantic
.