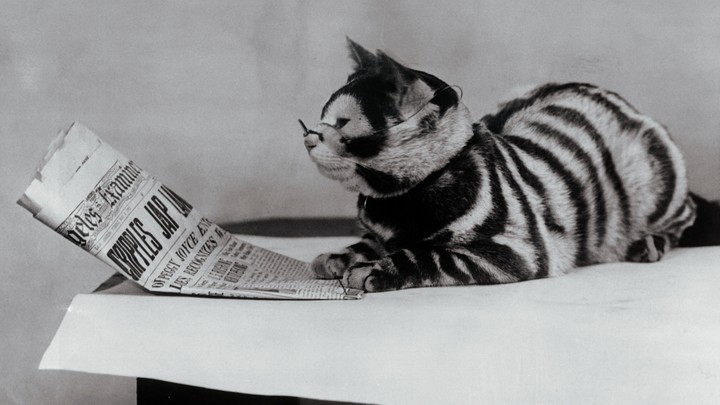 In Today's Issue:
The second round of our Longreads Bracket is here! Our judges read 16 of the most talked-about pieces of journalism published in August to find the one that's most worth your time.

Today you'll hear a little bit about the four semifinalists. Then we'll ask you to read them yourself, and vote for your favorite.

And while you're in the mood to read, check out something very special we just launched at The Atlantic: a new section of the site dedicated to our coverage of books!
---
Meet the Contenders
We started with 16 works of journalism published anywhere other than The Atlantic in August. Our panel of judges—a mix of Atlantic staffers and Masthead members—helped us narrow the field down to four gems. Here they are. (All images by Thanh Do)
---
Round-One Results
Sixteen contenders, four semifinalists
Group 1 Winner: "The Macho Sperm Myth," by Robert Martin (Aeon)
To the extent reproduction is considered at all, talk of the process often centers on a sperm. Not just any sperm—a "macho sperm," gallantly questing toward an egg. Robert Martin highlights the bad science behind this image, along with the sexist reasons humans believe it. The author achieves what Matt Peterson calls one of the "hallmark tasks of great journalism": taking on a prurient subject, forcing the reader to consider his thoughts about it, and, by the end, dismantling those assumptions. "Read this piece," Matt says, "and you'll be so entranced you'll barely notice that you've entered a digression about, say, chimpanzee ejaculate."
The other semifinalists:
"The Murder of Mill Town, USA," by Nick Martin (Splinter)

"How a Transplanted Face Transformed Katie Stubblefield's Life," by Joanna Connors (National Geographic)

"I Worked With Avital Ronell. I Believe Her Accuser," by Andrea Long Chu (The Chronicle of Higher Education)  
Judged by: Matt Peterson, Adrienne Green, Jill (member)
---
Group 2 Winner: "We Saw Nuns Kill Children: The Ghosts of St. Joseph's Catholic Orphanage," by Christine Kenneally (Buzzfeed News)
Orphanages house the ultra-vulnerable: children who have no one to look after them. In the four years she spent reporting this story, Christine Kenneally found dozens of deeply disturbing cases of orphanage abuse around the country, and the world. She focuses on St. Joseph's, an orphanage in Burlington, Vermont, where dozens of children were traumatized in numerous unimaginable ways: thrown out of windows, beaten with a razor strap, pricked with needles, forced to eat their own vomit. Some were murdered. The piece is difficult to read, but galvanizes the reader's interest rather than dulls it. "Kenneally's compelling narrative leaves you wanting to learn more about the undertold history of the American orphanage system," The Atlantic's Abdallah Fayyad writes. "And that's the point."
The other semifinalists:
Judged by: Caroline Kitchener, Abdallah Fayyad, Hannah (member)
---
Group 3 Winner: "War Without End," by C. J. Chivers (The New York Times Magazine)
In this epic story, C. J. Chivers follows a group of young American soldiers stationed in Afghanistan's Korengal Valley in 2009, the height of the U.S. war in Afghanistan. "He manages to write about a subject that everyone knows about on some level … in a way that vests it with urgency," Conor Friedersdorf writes. The memories of these men, recalled from almost a decade ago, are described in striking detail. Chivers bounces back and forth between fragments of dialogue, excerpts from diary entries, and each soldier's own internal dialogue. Recollections of crawling through underbrush in darkness or of hauling heavy gear across a river provide an ultra-intimate portrait of a war that has largely left the headlines. The piece "is so potent that it reads like a novel," Karen Yuan writes. At the same time, its sharp imagery reminds the reader that for many veterans, the war is still hauntingly real.
The other semifinalists:
Judged by: Karen Yuan, Conor Friedersdorf, Joe (member)
---
Group 4 Winner: "It Was Like There Was a Fog in the Sky Only I Could See," by Ashoka Mukpo (Popula)
"At a moment when the wave of stories on deportations and family separation can feel like an ocean," The Atlantic's executive editor, Matt Thompson, writes, "this piece felt fresh and distinctive, a reminder that there are many more stories to tell." In this powerful essay, Ashoka Mukpo intertwines the tales of several longtime U.S. residents who have been deported to the African countries where they were born, documenting what it's like for them to return to a "home" that is wholly unfamiliar. Our member Cindy found herself immersed in the compelling narratives of Mukpo's characters, and came away with a better understanding of the complexities of immigration policy and the criminal-justice system. "The author treats his subjects as people, with humanity," The Atlantic's Gabby Deutch writes, "and exposes the inhumanity in policies that can change their lives forever."
The other semifinalists:
Judged by: Matt Thompson, Gabby Deutch, Cindy (member)
---
Today's Wrap-Up
Today's Question: Vote now on which of the four semifinalists should move forward. Which piece is your favorite?

Next Week: We'll come back to you with our Longreads winner.

What's Coming: On Friday, the CityLab staff writer Tanvi Misra will update us on the implications of an important new "public charge" rule issued by the Department of Homeland Security.

Your Feedback: How are we doing? Click on the button below to tell us how you liked this email.
We want to hear what you think about this article. Submit a letter to the editor or write to letters@theatlantic.com.