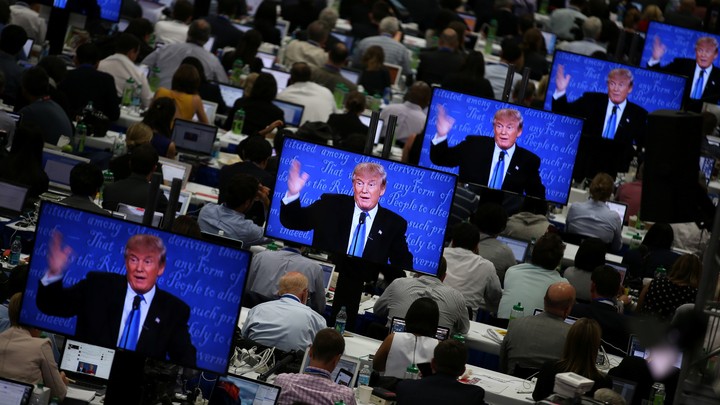 President Donald Trump tends to make all the big stories about him, which makes it hard to know which ones matter. This week, our politics writer David A. Graham provides a guide to the recent political-news deluge.  — Matt Peterson
What to Know: Discord in the President's Inner Circle
By David A. Graham
The one thread to follow: It's hard to pick out just one central story from the world of politics this month. There's Brett Kavanaugh's nomination to the Supreme Court, teetering between collapse and triumph; Hurricane Florence's strike on the Atlantic coast and the president's peculiar denial about the effects of Hurricane Maria one year ago; and the midterm elections coming up in just eight weeks. But I think the biggest story is the whirlwind around Bob Woodward's Fear and the anonymous op-ed by a senior administration official who professed to be sabotaging Trump.
In truth, all of these episodes are products of the president's chaotic, sloppy, and often lawless approach to the job. Kavanaugh's struggles are a symptom of the White House's inattention to vetting. The furor over Maria gets at Trump's decision to ignore Puerto Rico and then praise his own performance there. The midterms, meanwhile, will be a referendum on Trump. This is the totalizing logic of the Trump presidency: Every story is, or eventually becomes, a story about the president himself.
How to filter out the noise: One by-product of the totalizing logic of Trump is that one gets blasted with a constant stream of facts and factlets about the president. The problem is less about knowing enough and more about managing to pick out what actually matters. So here are a few points to remember:
Known unknowns: There are two big things I want to know, but sadly, I'm pretty confident I won't know them until at least November.
Will Washington get worse? If Democrats take over the House, as many analysts expect they will, an even more belligerent Washington could be a result, with Democrats investigating Trump furiously and perhaps launching an impeachment attempt. If Republicans somehow pull off a miraculous win, as Trump has projected, the paradox of this presidency will deepen: Trump is historically unpopular and yet impervious to political gravity.

What will Special Counsel Robert Mueller ultimately produce? There's near unanimity that he'll be silent until after the election.
The next big milestone will be the fate of the Kavanaugh nomination. Appointments of federal judges have been the brightest spots for Trump. If Kavanaugh is confirmed, his appointment will cap an unprecedented presidential run of success in changing the federal bench. If he's defeated over sexual-assault allegations, however, it will further deplete Trump's political muscle and show that even his biggest strength is fading.
What to Expect
Notes on the news to come
Transportation
On Sunday, Hong Kong and mainland China will get a little bit closer. A new branch of China's formidable high-speed-train network will connect the cities of Guangzhou, Shenzhen, and Hong Kong, cutting the current commute time in half. (The trip will now take less than 50 minutes.) In 1997, when Britain returned Hong Kong to China, Beijing implemented a "one country, two systems" policy: Hong Kong would once again become part of China, but it would maintain many of the economic and political freedoms it had under British rule. By collapsing the travel time between Hong Kong and the mainland, the new high-speed-rail network could bring forward the day when those two systems finally merge.
Global
Before the end of the month, Greek authorities have promised to move 2,000 people out of the overcrowded Moria migrant camp on the island of Lesbos. The facility, where conditions have been described as prisonlike, was meant to be part of the European Union's solution to the migrant crisis—a temporary stop where those with legitimate asylum claims could be processed and sent on their way. But aid workers in the camp have come to believe that the miserable conditions are a sign of a different kind of plan at work: By failing to provide humane treatment, Greek and European authorities can deter future migrants. It's not clear that this plan is working: Overcrowding has become a regular cycle on Lesbos. Greek authorities made an identical pledge to remove 2,000 people a year ago. There's no sign that 2019 will be any different.
Arts & Letters
The final season of Anthony Bourdain's travel show Parts Unknown will begin airing this Sunday on CNN. The show was in production when Bourdain took his life earlier this year, and only the new season's first episode, set in Kenya, will feature the chef and writer's signature narration. The rest will stitch together audio from prerecorded interviews, and the finale will memorialize Bourdain with friends' and fans' remembrances. In the season's trailer, which came out this week, the guest host, W. Kamau Bell, says, "The reality and fact that Tony's gone is like a punch to the gut." The trailer sets a elegiac tone for the season—a final farewell to the show and its beloved host.
Entertainment
Approximately 1 million people are playing Minecraft at this moment. Some of them will take a break from world-building next week for the über-popular game's second virtual fan convention. Minecon will broadcast a 90-minute show, live-streamed worldwide, that includes community panels, a costume contest, and new features that the community can vote on. To participate in the panel and the contest, fans can apply and submit photographs of themselves. Minecraft has held physical conventions with thousands of attendees in the past, but now fans will be able to watch the broadcast from home or in theaters across the globe.
50 Years Ago
"For most of us, most of the time, our world is a Darwinian environment. We must manipulate ourselves within it, or attempt to manipulate it in order to survive. These survival needs tend to color our appreciation of this world, and we are continually making judgments about it. Some of these judgments are based on prior personal experience, others are provided by the culture. This 'recognition system' is one of the elements disrupted by the psychedelic state. Normally we anticipate that water will feel wet. To the madman, or the person entranced by LSD, the wetness of water can come as an incredible surprise."  — John Bleibtreu, September 1968
Items this week by Gabby Fernandez, Caroline Kitchener, Matt Peterson, and Karen Yuan. What do you think of these mini-previews? We want to know. Tell us in 10 seconds.
*Update: If you're wondering why your phone didn't show the emergency alert we wrote about last week, it's because the government postponed it, citing a need to focus on Hurricane Florence recovery. Don't worry, though: A presidential alert will still find its way to your phone soon. The test was rescheduled for October 3.
What's New
Updates on your Masthead membership
One thing you should know: One big factor behind the rising cost of higher education, according to the journalist Amanda Ripley, is that the U.S. has "more high-skilled laborers doing other things unrelated to teaching in our schools." Ripley recently wrote a deep dive examining the issue. She discussed her findings with Caroline Kitchener this week. [Read the full Q-and-A.]
Where you can dive in: Coup or no coup? In the forums, Masthead members and a guest political scientist have been debating whether the White House discord David A. Graham described is a sign of something more nefarious at work. [Read the debate, and then cast your own vote.]
What's coming: The Atlantic Festival will run from October 2 to 4 in Washington, D.C. Masthead members are entitled to a 50 percent discount on tickets. We're hosting a reception just for Masthead members attending the festival—and we've invited a few special guests. There's still time to get festival tickets here (use code MASTHEAD) and to RSVP for the reception (you must have a festival ticket to RSVP). And if you can't make it, we'll send a report from the field.  
We want to hear what you think about this article. Submit a letter to the editor or write to letters@theatlantic.com.