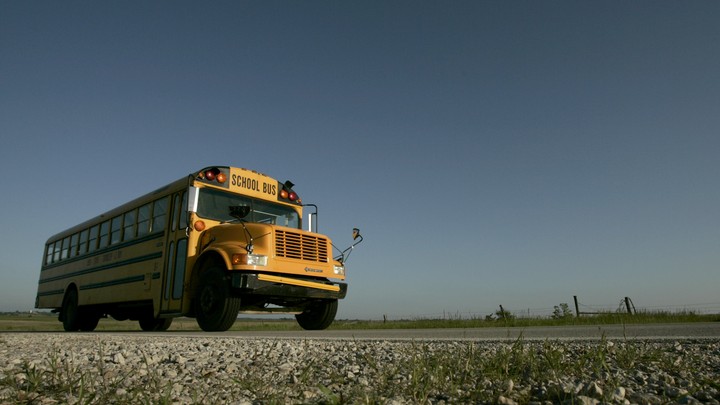 Today's Issue
Tara Westover is the author of the no. 1 New York Times best seller Educated. In this issue, we share highlights from her conversation with the members of the Masthead Book Club.

September's book-club picks are Florida by Lauren Groff and Political Tribes by Amy Chua. Our staffers tell you why you should read them.
---
Freedom from Isolation: Tara Westover's Story  
Writing the book Educated, says Tara Westover, "allowed me to reclaim some of my beautiful memories." She shared a few of those reflections with Masthead members recently in an exclusive conversation about her book, which was one of our picks for the Masthead Book Club. In this issue, we bring you the highlights of that conversation. [Read the full conversation on the forums.]
If you haven't read Educated, here's Ann Hulbert, The Atlantic's literary editor, with a summary:
Tara Westover's one-of-a-kind memoir is about the shaping of a mind, yet page after page describes the maiming of bodies—not just hers, but the heads, limbs, and torsos of her parents and six siblings, too. The youngest child in a fundamentalist Mormon family living in the foothills of Buck's Peak, in Idaho, she grew up with a father fanatically determined to protect his family against the "brainwashing" world. Defending his isolated tribe against the physical dangers—literally brain-crushing in some cases—of the survivalist life he imposed was another matter.

Westover, who didn't set foot in school until she left home in adolescence, toiled at salvaging scrap in his junkyard, awaiting the end days and/or the invading feds her father constantly warned of. Neither came. Nor, amazingly, did death or defeat, despite grisly accidents. Terrified, impaled, set on fire, smashed—the members of this clan learned that pain was the rule, not the exception. But succumbing was not an option, a lesson that ultimately proved liberating for Westover.

In briskly paced prose, she evokes a childhood that completely defined her. Yet it was also, she gradually sensed, deforming her. Baffled, inspired, tenaciously patient with her ignorance, she taught herself enough to take the ACT and enter Brigham Young University at 17. She went on to Cambridge University for a doctorate in history.
Masthead members spent the summer dissecting Westover's book. In August, she joined us in the forums for a conversation. In bold, we've presented the essential takeaways, drawing on members' comments and questions. Westover's responses have been edited for length and clarity.   
From the outside, it wasn't always easy to tell what was happening in the Westover home.
Westover: I think it's difficult for any community to know what goes on inside a household. Often, families have a peculiar culture that outsiders rarely get a glimpse of. I think that was true for my family. To many people in my town, I think we looked like a radical family, but they probably assumed we were being schooled. My older siblings were schooled, after all. It was only the younger four who were not. Essentially, I think people have their own lives and it's hard to know what is going on under someone else's roof. The important thing is to keep your eyes open and try to help kids you see who might need it. I am grateful to many people in my community for trying to reach out to me.
Westover's unique education and upbringing have pushed her to question what she knows.
Westover: It's a strange irony: The more I came to respect books and universities, the more I also became aware of their flaws. I developed a strong skepticism of any individual account of history, of "what actually happened." We are all of us flawed, even historians. But I also gained a great respect for the process and institutions of learning—for the collective "we" that documents and curates and argues over the past. There is a great power in that chorus of voices, especially in the disharmony. There is the potential for new voices and perspectives to come in at any point.
I believe that it's necessary to have access to a large number of perspectives and points of view before one decides what to think. This is, as near as I can tell, the closest anyone can get to participating in the making of their own mind, their own ideas.
Homeschooling isn't necessarily a bad thing.
Westover: My brother Tyler homeschools his children, and they are some of the most curious and well-adjusted kids I've ever seen. For parents considering homeschool, I would say it's important to ask yourself why. Education is about getting access to as many different ideas and perspectives as possible. If you want to homeschool your kids to deprive them of perspectives (because you don't want them to encounter ideas that you disagree with), then that's not really about education. That's about control.
As a child, Westover was taught that a woman should always prioritize her roles as wife and mother. When she left Buck's Peak, those ideas changed.
Westover: My mother's business was a contradiction; I think my father rationalized it because she was, technically, at home. But it was inspiring, watching her find her talents and carve out that space for herself.
I still always had a strong belief that my role was to be a wife and mother, and only those things. There were a few hobbies or jobs that I thought might be compatible with that (teaching music lessons, being a midwife), but only so long as they were secondary to that primary calling.
It's an odd thing, because now I value motherhood and marriage; I value family. But I feel strongly that people should be allowed to define themselves and prioritize their time in whatever way feels most natural to them. Some women will want to be with their children at home; some men may want that, too. No one should be made to assume a shape that isn't natural to them, just to conform to some narrow idea of "what is woman."
Writing Educated, Westover reckoned with lifetime of memories, good and bad.
Westover: Perhaps the most helpful thing about writing the book was that it gave me the opportunity to spend some time with my positive memories. For a long time after I lost my family, I was too angry with them to miss them. I wanted to remember them as wholly bad, because I wanted to convince myself that really the loss wasn't any loss at all. It protected me from feeling sad about it. The book allowed me to be more honest with myself. It allowed me to reclaim some of my beautiful memories. There was pain there, because I had to confront the loss, but there was also … I don't know … something like grace and redemption. Because I got to become someone who had beautiful memories, a beautiful childhood, despite any ugliness that came later, and despite the loss.
---
Next Up: Two New Book-Club Picks for September
Read along with us in our forums! Karen Yuan will lead the conversation about Florida, and Caroline Kitchener will lead the conversation about Political Tribes. Members have already started discussing both books. Jump in.
Here's why you should read them.
In Florida, Women's Resistance to Definition Makes Ripples
By Tanvi Misra
I tore through Florida over a weekend this summer. At the center of the 11 short stories in the book are women, imperfect ones who dodge and wrestle threats, some of which lurk in the lush, natural environment surrounding them; some, in the crevices of their minds. In "Ghosts and Empties," the first story in the book, an anxious protagonist walks around her Gainesville neighborhood at night, and watches as her "neighbors' lives reveal themselves, the lit windows domestic aquariums."
Domesticity is at the heart of Groff's latest work. Her characters create ripples when they resist being defined solely by their lives at home, as wives and mothers. At a reading recently, Groff told attendees that this interest comes from her own "perception of not wanting to be domesticated, and envying the snake-like qualities of men"—alluding, presumably, to the ability of men to slip between realms, unquestioned. Groff's language does something similar: Through the course of a sentence, she can bring the inside and outside worlds together in a delicious existential collapse.
Political Tribes Charts a Path Out of American Division
By Anna Marks
In her fifth book, the Yale law professor and erstwhile tiger mom Amy Chua offers an explanation for political polarization: "tribalism," or division based on group identities that "people will die for." Tracing American foreign policy through a half century of conflicts in Vietnam, Venezuela, and Afghanistan, Political Tribes presents a stark look at American political candidates' choice to use ethnic and religious tribalism as a path to electoral victory. That choice was doomed to failure, Chua argues. When groups stoke tribal tensions to win conflicts, they leave themselves vulnerable to insidious internal division along those same tribal lines.
The entire project hinges on one central question: How can America—or any nation, for that matter—cast off the weight of tribalism and reclaim a strong national identity? Chua offers a difficult path. Somehow, Americans must both believe in "the promise of freedom and hope for every individual" and reckon with "the myths … about what America has always been." This new form of the American dream—conscious of the past and hopeful for the future—would constitute a new national identity, one where inclusion and equality might finally be possible. That future can't come soon enough.
---
Today's Wrap-Up
Today's Question: What was the best new piece of journalism that you read in the month of August? We're compiling contenders for the next round of our Masthead Longreads Bracket. Submit your favorite longreads here.

What's Coming: Friday, Yasmeen Serhan writes about the rise of the far-right in Europe.

Your Feedback: The Masthead just had its first birthday! We want to make our second year even better than our first. Let us know how we're doing.
We want to hear what you think about this article. Submit a letter to the editor or write to letters@theatlantic.com.
Tara Westover
is an American historian and author, known for her book
Educated: A Memoir
.
Tanvi Misra
is a staff writer for CityLab covering immigrant communities, housing, economic inequality, and culture. She also authors Navigator, a weekly newsletter for urban explorers (
subscribe here
). Her work also appears in
The Atlantic
, NPR, and BBC.
Anna Marks
is an editorial assistant at AtlanticLIVE.