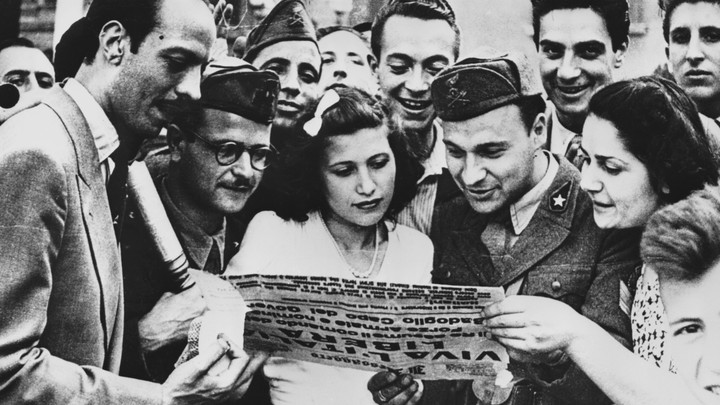 Today's Longreads Issue:
There was a lot of great journalism to read in July. We wanted to narrow down the many, many longreads published that month. And with your help, we did. The first winner of our Longreads Bracket is "Been Down So Long It Looks Like Debt to Me" by M. H. Miller.

The authors of our two highest-ranking pieces, M. H. Miller and Jiayang Fan, tell us what drew them to their stories and what they learned while writing them.
---
Announcing Our September Book Club

We've settled on two selections for the Masthead book club in September.
Nonfiction: Political Tribes by Amy Chua. In her newest book, Chua argues that tribalism—the fierce loyalty that individuals feel to their own party, religion, or ethnicity—is wreaking havoc on American policy, both foreign and domestic. "Through [the] book," The Atlantic's David Frum writes for The New York Times, "pulses an evident worry that tribal claims are now overpowering national ones within the United States." Join the conversation on Political Tribes here.

Fiction: Florida by Lauren Groff. After the best-selling Fates and Furies (a personal favorite of Barack Obama), Groff is back with a collection of short stories, most of which take place in the Sunshine State. In Florida, Lisa Zeidner writes for The Washington Post, "dangers lurk everywhere." Groff depicts a state overrun by panthers, snakes, sinkholes, and thieves. "With this collection she stakes her claim to being Florida's unofficial poet laureate," Zeidner writes, "as Joan Didion is for California." Join the conversation on Florida here.
---
The July Longreads the Judges Loved Most
1."Been Down So Long It Looks Like Debt to Me" by M. H. Miller, The Baffler
It can be difficult to make stories about money come alive; they're either too wonky or too abstract. So it's impressive how tangible debt feels in M. H. Miller's essay about his student-loan obligations. From the beginning of the piece, he brings the reader into the claustrophobic sensation of being indebted, the hopelessness of the burden, the ubiquity of it. —Matt Thompson, Executive Editor, The Atlantic
2."How E-Commerce Is Transforming Rural China" by Jiayang Fan, The New Yorker
Jiayang Fan makes the unwieldy economic and technological forces expanding the reach of JD.com feel human-sized—compact enough to grasp, even to empathize with. She constructs a grounded, engaging narrative that clarifies the connections between social, economic, and technological trends, between the broad and the specific, without ever feeling convoluted or esoteric. It's informative but never dry; substantial but not overwhelming. In other words, a wholly satisfying longread. —Annika Neklason, The Atlantic
3."The Obsessive Search for the Tasmanian Tiger" by Brooke Jarvis, The New Yorker
Before reading this piece, I had never thought to consider how human belief in the mythological affects our physical landscape. Now I'd love to look into it further. For example, what does it say about humanity that so many people believe in Bigfoot? This piece blended a very interesting story about modern "cryptid hunters" with a broader lesson about our environment and how we don't know what we have until it's gone. —Hannah, Member
4."The World's Most Peculiar Company" by Nick Greene, Chicago
Greene takes us on a delightful tour of the "bizarre gadgets, esoteric tchotchkes, and peculiar wellness treatments" at Hammacher Schlemmer's Wonka-factory-like headquarters, where employees in lab coats test an item such as the World's Best Pre-lit Fraser Fir to make sure it has the most plastic needles of any tree on the market. He writes with a flavor of fun and pomp befitting his subject. —Karen Yuan, The Atlantic
Honorable Mentions
Traister is especially skilled at using vivid and action-oriented language that mirrors Warren's energy and ferocity. This piece weaves Warren's backstory in with the politics of the moment, and includes some personal anecdotes that humanize a woman who elicits strong reactions from the public. I found the prose brisk and full of imagery that made it an easy read. —Barbara, Member
How do you profile the sun? It will burn your eyes if you look straight at it. Taffy Brodesser-Akner places herself next to Gwyneth Paltrow and allows the glow from that star—a great ball of gas if ever there was one—to reflect. Paltrow's feet have an arch, "just as the Romans intended." The author's are scuba flippers. Paltrow's daughter is as charming as a Wes Anderson character. The author has two children, "only one of whom might shake your hand while the other would sooner spit on it." That aching feeling of inferiority is Paltrow's grift, and her brand, Goop, has masterfully monetized it. Pity the author her sunburn, but thank her for allowing readers to see the subject clearly. —Matt Peterson, Senior Editor, The Atlantic
Doug Bock Clark has written a piece filled with tension and intrigue that was straight up about what he'd learned and what wasn't—and probably never would be—known. Clark makes you really care about Warmbier. His best guess at what left Warmbier brain-dead, and his theory for what might have happened, were captivating. —Vernon Loeb, Politics Editor, The Atlantic
Writing about identity politics is usually a thankless task. Writers who venture to tackle it usually deploy either jargon-filled commentary that's unintelligible to all but the initiated, or tropes like the romantic narrative of "remaining true to yourself" in an antagonistic environment. Parul Sehgal does a remarkable job of avoiding those pitfalls, while conveying the full complexity of Ms. Lee's art in clean, direct, and accessible prose. Her style and tone in writing about identity, art, and politics should appeal both to those in the "in" crowd, and to those finding their own. —Sergio Marxuach, Member
The Best of the Rest
---
Introducing … Our Longreads Finalists
We asked Jiayang Fan and M. H. Miller, the authors of our top two pieces, to tell us a little more about their writing process. Here's Jiayang, the author of "How E-Commerce Is Transforming Rural China":
What made you want to write this story? I travel to China multiple times a year to report. At one point, not too long ago, I noticed that whenever I asked locals where to find something—a packaged snack, say, or bathroom slippers, or an umbrella—they would invariably rattle off a website. When I asked why I couldn't just go to a brick-and-mortar store, acquaintances would smile politely while Chinese friends told me that I was being dense. The fact that the shift to e-commerce had happened in a mere five years astonished me. Its pervasiveness said something about China's malleability and adaptability. From the outset, I knew I didn't want to do a traditional company profile where you spend most of your time talking to financial officers. My favorite business stories tend to have a cultural and sociological dimension. One of the biggest draws of this story was that it would allow me to peek inside lives that are often obscured or ignored: in this case, the couriers who live in sleepy towns and villages in backwater provinces.

What was the most difficult part of writing the piece? In the span of five days, I traveled to three different provinces in three completely different parts of the country; the equivalent would have been going to Los Angeles, New York, and D.C., all by train! I fretted that I would be spending more time on the road than actually reporting. There was also a lot of luck involved. I had never met these couriers before interviewing them and had no idea how compelling their personal narratives would be. I never got as much time as I would have liked because they were working and I was rushing to my next appointment. And then there was the challenge of weaving the various stories of the people I met into a single, cohesive narrative that gives readers a coherent sense of how e-commerce developed in China.

What was the most interesting thing you learned while reporting that didn't make it into the final piece? I remembered, only after I completed a first draft of the piece, that in my teenage years, my mother actually helped open a small mom-and-pop-style grocery store in the Chinese hospital compound where I was born! If you read my piece, you'll see how oddly fitting this is. Every person I talked to in the piece had such interesting tidbits of life to share. This is the best and worst thing about reporting for an article. You know you are getting somewhere when you lose yourself in other people's stories, when it no longer feels like an interview but rather a conversation with a friend. But then you have to remember that you have been assigned to write on a particular subject and to manage your time accordingly. So I very much wish I had the space to include every twist and turn but alas, when you are writing a magazine piece, you are at the mercy of your allotted real estate on the page.
Here's M. H., the author of "Been Down So Long It Looks Like Debt to Me":
What made you want to write this story? Having been in debt from college for most of the last decade, and the fact that this debt contributed not only to my own financial ruin but to my family's, has been a source of great shame for me. I think a lot of this shame comes from the fact that the student-debt crisis—Americans owe a total of about $1.5 trillion, with millions of borrowers headed for default over the next few years—is predominantly discussed in abstract terms and statistics, often from the perspective of the companies that are profiting off of the debt itself. It's important for people to understand the extent to which student debt is both a systemic problem and a personal one. I think one way to make this clearer is to talk openly about the experience of having a frankly disgraceful level of debt from something as innocent as an undergraduate degree, and the unnecessary suffering that goes along with that.

What was the most difficult part of writing the piece? It was difficult revisiting the financial crisis in particular, and the misery that that event inflicted on my family, along with so many others. My parents lost their jobs, as well as their house, and, like millions of others, had no place to live and no prospects. As I write in the piece, I don't regret having gone to school to study English literature—I wanted to be a writer, and I do think my higher education started me on a path that led me to my current job at The New York Times, a place I've wanted to work at since I was a child. Still, at 21, with six figures of debt and a family experiencing previously unimaginable decline, the fact that I had memorized Chaucer in the original Middle English felt particularly useless in the face of all that loss.

What was the most interesting thing you learned while reporting that didn't make it into the final piece? This isn't something I learned over the course of reporting, and "interesting" maybe isn't the word I'd use to describe it, but directly after the piece was published, the network TruTV debuted a game show called Paid Off, in which graduates compete in trivia challenges to win money in order to help pay off their loans. (The Atlantic declared this "The Most American Television Show of 2018.") Each episode begins with the three contestants cringing as they say where they went to college, what they majored in, and how much debt they have as a result. A live audience coos pitifully as the numbers increase. The show is, according to its host, Michael Torpey, "the only game show working to end the student-loan crisis," and if that sounds like a ridiculous premise—well, it is, but it's better than what our federal government is doing, which is to say: nothing.
---
How Do You Bracket?
Thanks for joining us for our first-ever Masthead Longreads Bracket! We'll be doing more of these to surface the best stories of the month for members. In the meantime: What are your thoughts on this feature? Is there any way we can make the Longreads Bracket a better experience for you? Fill out this 10-second survey here.
---
Today's Wrap-Up
Today's Question: We compiled our favorite longreads from the month of July. What are your favorites from August? Reply to this email with your rec.

What's Coming: Tech and culture writer Taylor Lorenz will report on the tech industry's latest efforts to improve the culture of the internet.

Your Feedback: Take a few seconds and fill out our survey about our first-ever Masthead Longreads Bracket!
We want to hear what you think about this article. Submit a letter to the editor or write to letters@theatlantic.com.
M.H. Miller is the arts editor for The New York Times Style Magazine.