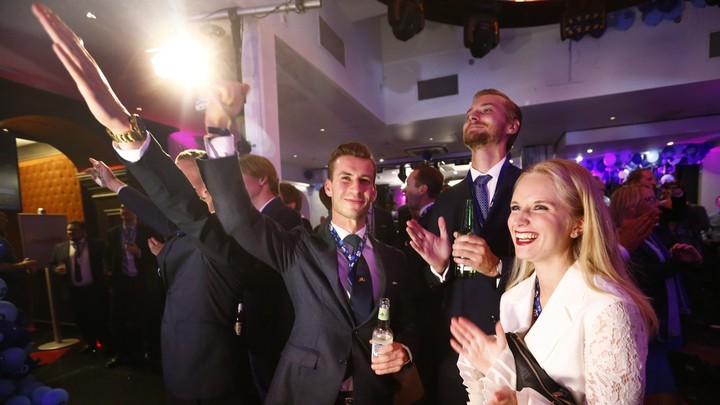 In a number of countries in Europe, the far right isn't winning, exactly. But it isn't going away either. The latest move on that front—in Sweden—is the lead story in today's Masthead Weekly. And here's a prediction for you: If you're in the United States, you'll probably look at your phone at precisely 2:18 p.m. Eastern on Thursday. Read on to find out why. —Matt Peterson
What to Know: The Rise of the Far Right in Europe
By Yasmeen Serhan
What's happening: The most important story unfolding here in Europe this month is a familiar one: the rise of the far right. Far-right parties have been serious contenders in several major recent European elections, including those in France, Germany, and Italy. This week, the far right was particularly visible in Sweden, where preelection polls indicated the populist-nationalist Sweden Democrats were on track to potentially become one of the largest parties in the country.
Ultimately, that didn't happen. Though the Sweden Democrats jumped nearly five points from the previous elections, they still trailed behind the country's main blocs, the center-left Social Democrats and the center-right Moderates. To some, this election was still seen as a far-right triumph: The Sweden Democrats' gains make them the new kingmakers. But as Benjamin R. Teitelbaum wrote, their success may have come at a price for the party. The Sweden Democrats succeeded in making their anti-immigration agenda a mainstream issue. But since other parties have adopted their position, "they lost their political cudgel."
What's next: A long and complicated process of coalition calculus. Neither of the two mainstream parties have enough seats to govern on their own. They must now consider either ruling together (which the Social Democrats say won't happen) or forming a government with the Sweden Democrats (which both parties have ruled out, too).
That outcome puts Sweden in a similar place as the Netherlands and Germany after their elections last year. Far-right parties became the second- and third-largest parties in their respective countries, leaving mainstream parties struggling to form governing coalitions that excluded the far right. Like the Swedish election, those earlier elections were also indicative of another trend: the fragmentation of European politics. The bigger political parties are shrinking while the smaller political parties, including the far right, are growing. "These changes are structural and German politics, as with most European countries, are going to be much more fragmented, which means that there will be broader coalitions," one analyst told me. "If we don't accept that as the new normal, we're going to be frustrated by it."
Why this is so important: Although many far-right parties have been excluded from joining their respective governments (with the notable exception of Italy), they haven't fallen into obscurity, either. In Germany, the AfD continues to push its anti-immigration agenda—which has culminated in recent violent far-right and neo-Nazi demonstrations. Though these demonstrations have been met with even larger counterprotests, they are only helping the AfD's overall credibility. A recent poll now shows them to be the second-strongest party in Germany.
What to Expect
Notes on the news to come
National
At exactly 2:18 p.m. EDT on September 20, millions of Americans will simultaneously find their eyes drawn to their phones. The federal government is scheduled to conduct the first nationwide test of the Wireless Emergency Alert system, intended to complement the traditional radio and TV-broadcast alert system that was set up during the Cold War. The system made news in 2016 when Stephen Colbert and other commentators joked that it allows the president of the United States to send Americans unblockable messages. (Fact-check: true.) While President Trump has so far resisted the temptation, other countries have already tried similar alert mechanisms—with mixed results. In May, during a glitchy test of a similar system, some Canadians were surprised to find a "presidential alert" on their phones. Canada does not have a president.
Global
Next Tuesday, Polish President Andrzej Duda will meet President Donald Trump at the White House for the first time. They'll talk trade, military, and security matters, according to a White House press release. They may or may not talk about the elephant that will be in the room—Poland's controversial Holocaust law, which imposed fines and prescribed a three-year sentence for anyone who suggested Poland was complicit in Nazi crimes. When that law went into effect in March, the State Department reportedly forbade Poland's leaders from meeting with Trump until its repeal. Other world leaders condemned the law as well, claiming that it violated freedom of expression. In June, the Polish parliament backtracked on it, removing the law's three-year sentence.
Sports
Next Thursday, Golden State residents will head to beaches all along the state for the first official California Surfing Day, which by legal decree will be commemorated every September 20, beginning this year. Surfing is enjoying a rising tide of recognition in California, boasting not only the freshly minted holiday, but also claiming a recent designation as the state's official sport. Given how closely identified California is with surfing, it may seem surprising that it's taken this long for the sport to make such an official splash. But there's a swell reason for Californians to cheer this growing tidal wave of surfing fandom: It will debut as an Olympic sport in Tokyo in 2020, and enthusiasts across the state are hoping it proves popular enough that when Los Angeles hosts the Games in 2028, surfing's still on board.
Criminal Justice
The show that "changed the podcast world" is back for its third season. The first two seasons of Serial, which have been downloaded more than 340 million times, interrogated the case of a single defendant. Next week, the show returns with a different structure: The producer Sarah Koenig and the reporter Emmanuel Dzotsi follow a series of cases as they make their way through the criminal-justice system in Cleveland. They're inspired by Steve Bogira's book, Courtroom 302, which documents a year inside one Chicago courtroom. In Serial, Koenig and Dzotsi say they aim to highlight ordinary criminal-justice stories, to show how the process works on a daily basis—and how it doesn't. "Every case Emmanuel and I followed, there came a point where we thought: 'No, this can't be how it works,'" Koenig said in a prepared statement. "For the past year I've had this urgent feeling of wanting to kind of hold open the courthouse door and wave people inside."
25 Years Ago
"At the center of all environmentalism lies a problem: whether to appeal to the heart or to the head—whether to urge people to make sacrifices in behalf of the planet or to accept that they will not, and instead rig the economic choices so that they find it rational to be environmentalist. It is a problem that most activists in the environmental movement barely pause to recognize. Good environmental practice is compatible with growth, they insist, so it is rational as well as moral. Yet if this were so, good environmental practice would pay for itself, and there would be no need to pass laws to deter polluters or regulate emissions." —Bobbi S. Low and Matt Ridley, September 1993
Items this week by Caroline Kitchener, Matt Peterson, Matt Thompson, and Karen Yuan.
What's New
Updates on your Masthead membership
One thing you should know: "Through the course of a sentence, [the author Lauren Groff] can bring the inside and outside worlds together in a delicious existential collapse," the CityLab staff writer Tanvi Misra wrote in her recommendation of Florida, one of our Masthead Book Club selections for September. Our Book Club this month is running on two tracks: fiction—Florida by Lauren Groff, and nonfiction—Political Tribes by Amy Chua. [Read our threads for Florida and Political Tribes.]
Where you can dive in: Does the anonymous New York Times op-ed, published last week by a "senior White House official," describe a coup? That's the question we've been debating in the Atlantic newsroom, and on our forums. David Frum says yes; Adam Serwer says no. Rather than trying to overthrow the president, the anonymous official, Adam says, is "doing what they can to keep Trump in office, even to the point of seeking to protect him from himself ..." Do you agree? [Tell us in our forums.]
What's coming: Our search for the best work of longform journalism continues. We're collecting the titles of your favorite pieces of writing from August in our Longreads Bracket. Tell us which ones you most enjoyed, or would most like to read. [Vote here.]
We want to hear what you think about this article. Submit a letter to the editor or write to letters@theatlantic.com.