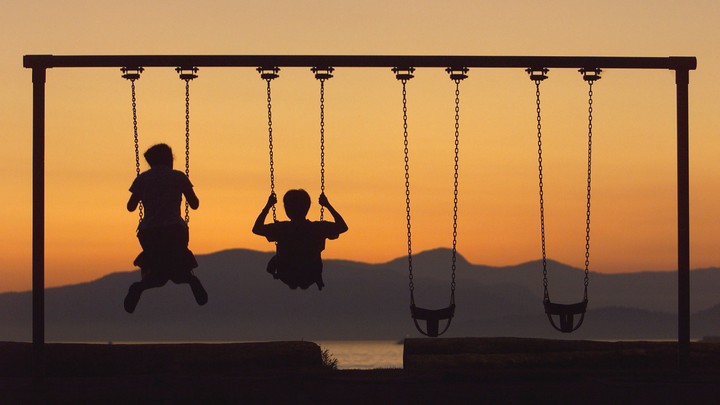 In today's edition of the Masthead Weekly, Atlantic tech writer Taylor Lorenz writes in from XOXO, a tech festival happening this weekend in Portland, Oregon, that aims to capture the culture of the early internet. It's a big week for us at The Masthead: We sent our first email exactly one year ago. Thanks for coming along for the ride. We're thrilled you're here. —Caroline Kitchener
What to Know: The Event That Wants to Make the Internet a Better Place
By Taylor Lorenz
What's Happening:
This weekend, more than 2,200 people will gather in Portland, Oregon, for XOXO, an internet-culture and technology festival founded in 2012 by Andy Baio and Andy McMillan. Some have called XOXO the new SXSW and "the most interesting weekend in tech." But unlike SXSW, which attracts a crowd of more than 70,000 to Austin, Texas, every year, the limited batch of tickets for this festival are distributed through a survey- and lottery-driven registration process.
The event lasts three and a half days, all of which are jam-packed with talks, programming, and showcases featuring new games, animations, films, and creative projects. Past speakers have included the MythBusters creator and host Adam Savage, the 4chan founder Chris Pool, the BoJack Horseman producer Lisa Hanawalt, the creators of Cards Against Humanity, and many more. This year, the comedians John Hodgman and Jean Grae will perform.
Why It's Important:
The talks aren't what have made XOXO such a phenom in internet culture. It's the discussions the event fosters between attendees, and the ideas that emerge from them. Attending XOXO can feel like a giant offsite for people who live and breathe the internet. CEOs of companies like Etsy and Kickstarter mingle with game designers, musicians, and coders. Independent creators discuss product ideas or features for the likes of Twitter or Facebook, often with designers at those very companies. But XOXO isn't about access. It's an attempt to revive the spirit of optimism and openness of the early web.
The Latest:
In the years since the last XOXO, which took place two years ago, the internet, for many, has become a very bad place. So that early-web spirit of optimism that XOXO hopes to foster is in question, especially as the festival seeks to scale. XOXO's organizers have bent over backwards trying to make it happen by being highly responsive and striving to accommodate people from all walks of life. After earlier criticism that the cost of the festival made it inaccessible to many of the independent creators it sought to elevate, the organizers began to offer subsidized passes. They also pay speakers, offer free on-site child care, and distribute gender-pronoun pins at registration so no one is misidentified.
This is also why tickets are limited. "A first-come, first-serve system typically favors those with time and money, which ends up benefiting predominantly white men with well-paying jobs and disposable income," the founders write. Those seeking to attend must complete an application by a predetermined deadline, then hope to win a spot via the lottery. "Our survey system allows us to factor diversity into admission, which helps to counteract systemic biases and prioritize access to the festival for underrepresented folx and independent artists," the founders say.
Past attendees say the festival is well worth it. "People leave #xoxofest inspired to make life-changing decisions," one former attendee tweeted. But can this year's festival rise above the salted landscape of the 2018 internet? That's the question I'm in Portland this weekend to answer.  
What to Expect
Notes on the news to come
Automotive
On Wednesday, the city of Pune, India, will be a little quieter than usual. Vehicles in Pune, a city of 3.4 million, honk an average of 10 million times a day, according to one study—that is, between five and 10 daily honks per driver. Citing hazardous levels of noise pollution, city officials have declared September 12, 2018, "No Honking Day." Horns should be used only if absolutely necessary. Similar initiatives have been attempted elsewhere in India—in Mumbai, for example, a decade ago—with little success. Officials, however, remain undeterred. "Nothing will change in one day," the deputy traffic chief Harish Baijal said after Mumbai's no-honking experiment. "But we need to reach out to people to make people aware that this noise is not normal."
Politics
Primary voters in New York State will head to the polls next week. Unusually, they'll vote on a Thursday. Americans have been voting on Tuesdays since 1872, when national politicians chose to put the raucous, drunken affair of elections in the middle of the week, rather than on Sunday, the Christian Sabbath. But New York legislators had another religion in mind when they switched voting days: Next Tuesday will conflict with Rosh Hashanah. The switch is good news for the state senator Simcha Felder. He has run as a Democrat but caucuses with Republicans, single-handedly swinging control of the evenly divided Senate. He faces a primary challenge, but the voting-day switch will help ensure that his base among Brooklyn's Orthodox Jewish community can vote, even at the risk of confusing other voters. That probably won't surprise Senator Felder: He was the sponsor of the legislation to change voting day.
National
The Miss America competition will return this Sunday, touting new leadership and—most notably—no swimsuit contest. Rebranded as "Miss America 2.0," the 97-year-old competition declares that, for the first time, "candidates will no longer be judged on outward appearance." It's a stark change for Miss America, which has been forced to confront its own history of harassment and objectification in the #MeToo era. But under its new chairwoman, Gretchen Carlson, and an all-female board, the Miss America Organization is trying to be the symbol of a new era of pageantry. No doubt organizers hope this will help distinguish the pageant from Miss USA and Miss Universe, both formerly owned by President Donald Trump.
Global
North Korea turns 70 this Sunday—and the birthday party in Pyongyang could be bigger than ever. For the first time in five years, the country is reviving its iconic "mass games," a massive choreographed performance in the central city square. Over 20,000 dancers have been practicing for the event every day since April, according to Asian Correspondent. Kim Jong Un also publically invited both Chinese President Xi Jinping and Russian President Vladimir Putin, although neither leader is likely to attend. Particularly after June's Trump-Kim summit, the spectacle may signal something important: North Korea wants to be watched.
Demographics
On Sunday, Swedish voters head to the polls to elect a new government. With populism on the rise in places like Italy, defenders of liberal democracy are carefully watching the performance of the far-right party, the Sweden Democrats. That staunchly anti-immigrant party has supporters in the country's white-supremacy movement; recently, more than 200 neo-Nazis staged a rally in Stockholm in anticipation of the election. So how will the Democrats fare? Right now, the sitting center-left government is leading polls, but just barely. Even in victory, the center-left will be reduced to a minority government, a rare event in Sweden that would necessitate support from opposition parties in order to govern. That's support the Sweden Democrats have sworn not to give. Win or lose, the far-right is upending Swedish politics.
150 Years Ago
Poisoning, as a rule, has been a crime of the intelligent classes, rather than of the poor, or of those whose passions, being under less certain government, are apt to seek gratification by the most direct means. Of late, however, it has become so well known to educated persons, that the more accessible poisons are sure to be detected by the chemist, that I have no doubt this alone has tended to lessen their fatal use. The question of the relative ease with which poisonous drugs may be obtained leads to some reflections which have especial application in our own country.
—Silas Weir Mitchell, September 1868
Items this week were contributed by Clara Chan, Caroline Kitchener, Matt Peterson, and Karen Yuan. How are you liking these previews of next week's news? We'd love to know. Tell us.
What's New
Updates on your Masthead membership
One thing you should know: We've chosen the winner for our first Masthead Longreads Bracket! Atlantic writers and Masthead members pitted 16 contenders against one another to surface their favorite (non-Atlantic) story published in July: "Been Down So Long It Looks Like Debt To Me," by M. H. Miller in The Baffler. [Check out our Q&A with him, and the ranked list of the top 16 stories.]
Where you can dive in: On Wednesday, The New York Times posted an op-ed by an anonymous senior White House official who claimed to be a part of "the resistance inside the Trump administration." In our forums, members are debating its source, as well as its ramifications for the president, the public, and the press. [Join in.]
What's coming: We're launching our September book-club discussions. We've got both a nonfiction and fiction pick: 1) Political Tribes by Amy Chua, an argument about how tribalism is shaping American foreign policy, and 2) Florida by Lauren Groff, a story collection about the darkness of life in the Sunshine State. [Two roads diverge: Discuss political tribes, or discuss Florida. Choose one … or maybe both.]
We want to hear what you think about this article. Submit a letter to the editor or write to letters@theatlantic.com.