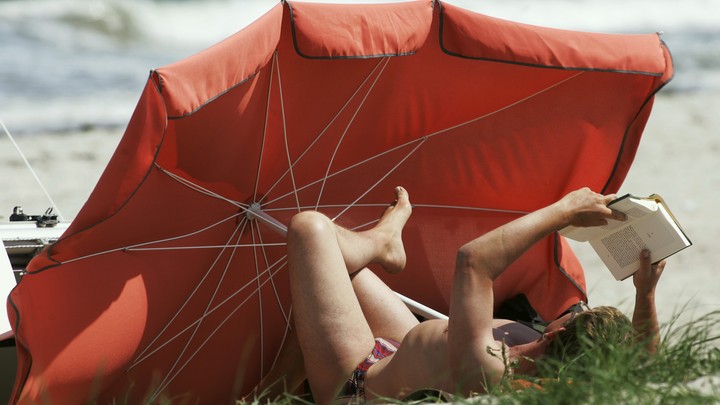 Today's Issue, In Three Points:
Atlantic staffers make the case for the two books we picked for The Masthead's summer book club.

Educated is Tara Westover's memoir about growing up in a Mormon survivalist family in rural Idaho. Read it for "storytelling that at every turn resists the allure of a formulaic survivor's tale."

The Road to Unfreedom by Timothy Snyder is a historical account of Russia's attempts to destabilize the modern Western world. One of our writers calls it a "deeply disturbing story of how Russia became the way it is (and how the rest of the world is becoming like Russia in the post-truth era)."
---
How to Join the Masthead Book Club
Pick up Educated or The Road to Unfreedom (or both!) from your local bookstore or library. Start reading.

Log on to the Masthead forums at forums.theatlantic.com.

Jump into this thread to discuss Educated, and this thread to discuss The Road to Unfreedom with Atlantic staffers and fellow members.

Join us on the forums at the end of August for conversations with both books' authors.
We'll send email updates like this one periodically, for members who are not forum inclined.
---
Why spend time with these books? We asked on The Atlantic's company Slack if anyone wanted to make a case for either of them. Several journalists put their hand up.
The Case for Educated
By Ann Hulbert, The Atlantic's literary editor
How on earth did Tara Westover master the art of the memoir on top of everything else she taught herself? That may sound like a meta question, but awe at how well she writes, not just at how much she weathered growing up as the youngest of seven children in a Mormon survivalist family in remote Idaho, is part of the utterly absorbing experience of reading Educated.
I was stunned by the grisly accidents that are commonplace on the scrap heap where her father puts his kids to work. I was slack jawed at the sway he exerts, in growing thrall, to an apocalyptic vision of the end of days. At the same time, I was struck by storytelling that at every turn resists the allure of a formulaic survivor's tale, facilely assigning blame and proclaiming release. Born into a narrow, paranoia-haunted world, Westover made her way out because her mind and heart were deeply attuned to the people in it, to the claims they had on her, and to the pressures, contradictions, and questions her life with them posed for her.
Perhaps I shouldn't have been surprised, though I was, to learn that listening to the New Yorker fiction podcast and obsessively reading short stories helped show Westover a way into memoir. To read her remarkably crafted yet vividly immediate chapters with that in mind is to appreciate her art—rooted in her aliveness to experience and ambivalence—all the more.
By Daniel Moynihan, a marketing coordinator at AtlanticLIVE
Educated, an intensely visual memoir, could easily double as a volume of poetry. The often violent images remain lodged in my head months after reading it—especially those depicting the unstable Westover patriarch, Gene, a compelling and fanatical man given to tyranny and dangerous schemes. The prose is evocative, drawing clear paths through complex physical action, and pinning Westover's moral-emotional wrangling to the page. Recounting deeply personal memories of her family, Westover finds fault without assigning undue blame, and reveals reasons for her relatives actions without making excuses. Reading Educated, you just might find out how to better unpack the family conflict in your own life.     
---
The Case for The Road to Unfreedom
By Anna Marks, an AtlanticLIVE editorial assistant
In an effort to better understand the impact of Russian involvement in U.S. politics, I'd been hunting for a book that would contextualize the recent renewal of Russian aggression against Western institutions. It was a long search, and I'll save you some trouble by jumping to the conclusion. Skip Vladimir Putin's uncomfortably indulgent autobiography, First Person, and go straight to The Road to Unfreedom by Timothy Snyder. Chronicling Russia's most strident geopolitical actions of the last half decade, including the country's invasion of Crimea in 2014 and its interference in Western elections in 2016, the book paints a damning picture.
Snyder suggests Putin's Russia is to blame for the weakening of America's democratic institutions. Ultimately, however, Snyder implicates all Americans, arguing that Russia's global influence could not have occurred without Westerners easy acceptance of half-truths that support their existing assumptions about the world. Occasionally dramatic and often unflinching, Snyder's prose maintains the declarative authority of a well-versed historian—unsurprising, given the book's (undeniably sexy) 50 pages of endnotes in multiple languages.
To stop the march down the "road to unfreedom," the West must reaffirm its commitment to resisting "the temptation to believe what feels right" and pursue the truth. That's no small feat in an age when the American president declares an independent press "the enemy of the people." Evidently, there's a lot of work to do.
By Gabby Deutch, The Atlantic's global fellow
If it's possible to be a fangirl of a historian—particularly, a historian whose work exclusively focuses on dark, terrible moments in history—then I am a fangirl of Snyder. The Road to Unfreedom did not disappoint. Somehow, while telling the deeply disturbing story of how Russia became the way it is (and how the rest of the world is becoming like Russia in the post-truth era), Snyder provides a clear lens into the importance of both history and journalism, and how those disciplines are intertwined.
At first glance, The Road to Unfreedom offers a modern history of Russia, with each chapter describing a year, starting in 2011. In reality, it's a reflection on the demise of facts in the Western world. Fluent in too many languages to name, Snyder conducted extensive research that connects the newsy figures of today (Paul Manafort, Marine Le Pen, Putin) to historical roots dating back five, 10, 50, or 1000 years. This is depressing stuff, but Snyder makes sure to point out (often!) that this history is still being written. In the era of fake news and incivility, he suggests, individuals can still choose to believe facts, and to believe that government can work to better people's lives. Snyder dedicates the book to journalists. But it is a book for everyone.
---
A Few Questions to Ponder While You Read
Educated
Toward the end of the book, Westover writes, "I had begun to conceive of what my education might cost me, and I had begun to resent it." Has education come at a cost for you? Education is generally understood to be a universal good, but are there also ways in which it can be divisive?

How would you describe the ideology of Westover's parents? Generally, what are the competing ideologies portrayed in the book?
The Road to Unfreedom
What makes America susceptible to going down "the road to unfreedom," from "politics of inevitability" to "politics of eternity"? Are there particular social or political institutions that are susceptible to the "politics of eternity"? Particular communities that are susceptible to the rhetoric of eternity politicians?

Is fascism, as Snyder argues, the ideological motive behind Putin's rise to power in Russia?
For a deeper dive into the books, a syllabus for each book is available in full on our forums.
---
Today's Wrap-Up
Today's Question: What book should we pick for September? We'll compile all of your suggestions and send them out for a vote later this month.

What's Coming: Friday, we'll check in on U.S. congressional midterms.  

Your Feedback: Hit the button below and let us know how we're doing.
We want to hear what you think about this article. Submit a letter to the editor or write to letters@theatlantic.com.
Anna Marks
is an editorial assistant at AtlanticLIVE.