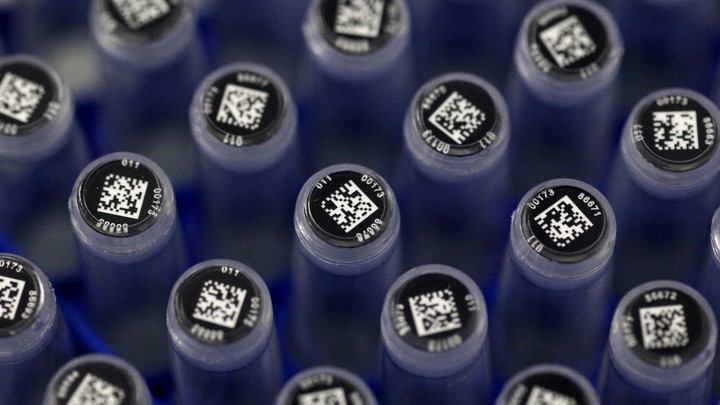 Is 23andMe for me? That's the question Sarah Zhang, a staff writer on the DNA beat, addresses in this edition of the Masthead weekly update. Read through for the pros and cons of selling your DNA to a start-up. You can also jump straight to the bottom of this note for the latest updates from your Masthead membership. Enjoy. —Matt Peterson
What to Know: The Downsides of DNA Testing
By Sarah Zhang
Over the past few years, DNA tests have exploded in popularity. For $99—or less, if you snag a kit during one of the frequent sales—companies like Ancestry and 23andMe offer a genetic snapshot of your ancestors. It's fun. It makes a neat holiday gift. More than 15 million people have exchanged their spit for genetic insights. But DNA can reveal far more than your origins.
Pharma companies want your DNA. In July, 23andMe signed a $300 million deal with GlaxoSmithKline, allowing the drug company to mine aggregate DNA from customers who have opted in to research. The founders of 23andMe have always been interested in using DNA for insight on disease. (For an extra $100, the company also offers insights into genes like BRCA1 and BRCA2, which are linked to breast cancer.) The company has been partnering with both other companies and academic scientists for years.
But the new announcement—and the eye-popping dollar amount—underscored 23andMe's fundamental business model: It may sell kits, but it's really here to sell access to data. The deal sparked backlash among people uneasy with the idea of paying a company to build a DNA database that is sold to drug companies, who then turn around and charge customers for their drugs.
Should you worry about being in a DNA database? One common concern relates to civil liberties. In April, police arrested the man alleged to be the infamous Golden State Killer. They found him by matching DNA left at a crime scene to that of distant family members who had taken DNA tests. Companies like Ancestry and 23andMe did not hand over customers' DNA directly to law enforcement, and they were quick to distance themselves. Instead, investigators used a small website called GEDmatch, where genealogy enthusiasts voluntarily upload their DNA to find more family members.
But the case illuminated a fundamental issue: The decisions you make about your DNA don't just affect you. They also affect your distant family members, your children, and your yet unborn great-great-grandchildren. Since the Golden State Killer case, police have used DNA and genealogy to arrest at least eight more alleged murderers and rapists. A nonprofit is using the same technique to identify John and Jane Does. But the methods that investigators use to conduct these searches are entirely unregulated and can easily cross national borders. In Canada, for example, immigration officials compelled a man to take a DNA test, uploaded the results to FamilyTreeDNA's website, and contacted some of his relatives in the U.K., looking for information to help deport him.
A DNA test can reveal life-shattering surprises. When the identity of the Golden State Killer became public, genealogists realized that investigators in the case had done what the genealogists had been doing for years to find family for adoptees, donor-conceived children, and foundlings. DNA tests have helped reunite a lot of families. Unfortunately, they have also broken some apart.
I recently profiled a secret Facebook support group for people whose DNA tests revealed that their fathers were not their biological fathers. Many of these people were hoping to learn something about their ancestry, only to find out that their mothers had affairs, were sexually assaulted, or that something went awry at the fertility clinic. "It's getting harder and harder to keep secrets in our society," one genealogist told me. "If people haven't come to that realization, they probably should." Birth parents and sperm donors are also having to adapt to this shifting new reality. Anonymity is no longer guaranteed.
Have you taken a DNA test and learned something unexpected? Are there questions about DNA testing you want answered? Write to us at themasthead@theatlantic.com, and we'll pass your note along to Sarah.
What to Expect
Notes on the news to come
Global
On Monday, a judge in Myanmar will rule on the case of Wa Lone and Kyaw Soe Oo. The Reuters journalists have been charged with "obtaining secret state documents" during their investigation into a massacre of Rohingya Muslims at the hands of their Buddhist neighbors and the state. The prosecution has failed to stop damaging details from being released. In a story published after the arrests, based on the two journalists' work, officials admitted to atrocities. A police officer explained that he was deliberately burning down Rohingya villages. "If they have a place to live, if they have food to eat, they can carry out more attacks," he said. The truth is already out. The only question left is whether those who told it can be free as well.
National
Next week, museum curators, archivists, writers, and even producers of the TV show Designated Survivor and the film White House Down will gather in Washington, D.C., for a four-day summit for White House history aficionados. Its whirlwind schedule: a tour of the White House, a panel with White House correspondents on the relationship between the presidency and the press, and roundtable discussions with descendants of Presidents Ford, Truman, and Johnson. And of course, presidential historians can't resist a discussion of the current president. The White House Historical Association, the summit's nonprofit host, has planned a reception—with the history-maker-in-chief himself in attendance.
Health & Safety
August 30 is the deadline for businesses to comply with the latest updates to a long-standing California law, Proposition 65. If you've ever wondered why certain household products carry a warning label with the curiously specific fact that "this product contains a chemical known to the State of California to cause cancer," you can thank Prop 65. By next week, those warnings about potentially carcinogenic ingredients must be even more specific, à la "WARNING: This product can expose you to chemicals including arsenic, which is known to the State of California to cause cancer." Since 1986, when Prop 65 was passed by a California ballot initiative, it's been challenged by businesses, who say the warnings are so excessive and ubiquitous that consumers grow inured to them. The latest of the near-constant, soap-operatic battles over the law concerns the fate of coffee, which, according to a judge's ruling in March, should have to carry the warning. But even the regulators fear that cautions about cancer-causing coffee are a brew too far.
Food
On Wednesday, tens of thousands of people will descend upon the small Spanish town of Buñol for an annual food fight—specifically, a tomato fight. During the La Tomatina festival, people are permitted to lob tomatoes at each other for an hour in the center of town, where trucks will have brought in some 100 tons of overripe ammunition. Traditionally, the food fight starts after someone performs a feat of strength—climbing a two-story-high greased pole to grab the chunk of ham stuck on top—but in practice, people are too impatient for that and begin throwing tomatoes the moment they hear the cannon shot. The event originated in the mid-1940s—no one knows for sure how—but the melee has become so popular that prospective participants have to purchase tickets in advance.
25 Years Ago
"Whenever Zaireans describe Mobutu's legendary "musical chairs" system of government—the perennial shuffling of his friends and enemies in and out of favor, in and out of money—the first case in point is Nguza Karl-i-Bond. Nguza was Mobutu's Foreign Minister in the early 1970s. He then became the political director of Zaire's sole political party, the Mouvement Populaire de la Révolution (MPR). In 1977 he was accused of treason and sentenced to death. He is said to have been tortured. But a year later he was freed, and a year after that he became Prime Minister. Two years after that he fled to exile in Belgium, where he wrote a book exposing Mobutu's corruption. He later testified before a congressional subcommittee in Washington about Mobutu's ill-gotten riches. Then, incredibly, he returned to Mobutu's fold, and in 1986 was sent back to Washington as Zaire's ambassador. Two years later he was the Foreign Minister again." —Bill Berkeley, August 1993
What's New
Updates on your Masthead membership
One thing you should know: "It's useful to look at the Jim Crow states as kind of mini mafia states," says Adam Serwer on a Masthead-exclusive extra segment of Radio Atlantic. He expanded on his recent article about the Trump administration's systemic corruption, and how it echoes the corruption of Jim Crow states. "These are organizations that work for the benefit of one class of people at the expense of another. They expropriate the wealth of particular citizens, namely black people, when they manage to acquire any. They prevent them from participating in the democratic process through force and intimidation. They force their labor through things like convict-leasing laws that only apply to them. These are organizations that are essentially run for the profit of very few. And that's why, throughout the South, Jim Crow never rendered a kind of broad-based prosperity to white people, despite the fact that it was stealing so much from black people ... White nationalism is a hustle, and you can look at Jim Crow and see that." [Listen to Adam's conversation on SoundCloud.]
Where you can dive in: our summer book club. For Timothy Snyder, the Yale historian and author of The Road to Unfreedom, it's a good thing for American politics that the Mueller investigation is moving slowly. He explained why in this week's conversation with members on the forums. "For me, the Mueller investigation is to be understood as a defense of factuality and of the contract that we are a nation of laws, not men." That kind of work can't be done quickly. Next week, Tara Westover, the author of the bestselling memoir Educated, will visit our forums as well. We're collecting questions for her. [Post your questions in the forums, or email them to Caroline Kitchener at ckitchener@theatlantic.com.]
What's coming: Love bracketology? This one's for you. We're kicking off our first-ever Masthead Longreads Bracket. We're starting with 16 of the best recent longreads, and pitting them head-to-head. On Monday, our judges—Masthead members, and Atlantic staffers—will report back on the pieces they read for the first round. The winner (aside from all of us, naturally) will be the one long story everyone should read.  
We want to hear what you think about this article. Submit a letter to the editor or write to letters@theatlantic.com.