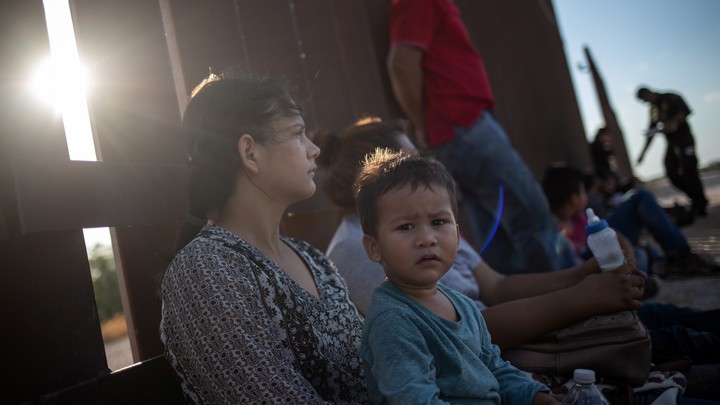 In this edition of the Masthead Weekly, we asked Ashley Fetters, a staff writer for our new Family team, to give us the latest report from her beat. And if you're looking for reading material for the holiday weekend, we've got you covered. Our Longreads Bracket is down to two contenders. Read 'em and vote! —Matt Peterson
What to Know: Family Separation  
By Ashley Fetters
The most important story unfolding on the Family beat is actually the most important story unfolding on a few other beats, as well: family separation, and the ongoing effort to reunite those separated at the U.S.–Mexico border. I've covered it for The Atlantic, as have Jeremy Raff and our video team, plus others such as Priscilla Alvarez, Russell Berman, and Krishnadev Calamur.
Here's where it stands: In June, the federal judge Dana Sabraw issued a nationwide injunction requiring that all children separated from their parents under the Trump administration's  "zero tolerance" immigration policy be reunited within 30 days. When the July deadline passed, federal authorities claimed that all "eligible" migrant families had been reunited,  which included more than 1,800 children. Approximately 700 children whose families were deemed "ineligible," however, remained separated. The government gave a variety of reasons: Some kids stayed separated because their parents were being detained for other crimes; others because officials suspected they did not cross the border as legitimate family units; and many because their parents had been released into the United States or deported to their home country and could not be located. Sabraw ordered the government to continue to work to reunite those families anyway: "The reality is that for every parent that is not located, there will be a permanently orphaned child and that is 100 percent the responsibility of the administration," he said.
According to a court filing last week, a month after the reunification deadline, 528 children are still in custody and separated from their families. This is partly because tracking down parents who have been released into the United States or deported is difficult. (In July, Jeremy Raff wrote about parents who were being "coerced or confused" by Immigration and Customs Enforcement into agreeing to deportation, because they were told it was the only way to get their kids back.)
Additionally, a change in processing protocol has affected some cases: When family separation at the border started becoming more common, some border agents began changing the status of parents and children in the agency's tracking system. Instead of tracking relationships, family members became "individual adults" and "unaccompanied minors."In the process, agents erased the data that would link children's files to their parents'. So to reunite the remainder of these kids with their families, identity and family relationship has to be proved—through interviews, background checks, and DNA testing, all of which takes time. (Border agencies denied this practice, while the Department of Health and Human Services confirmed it.)
A mystery: Was it intentional? As far as we know, the processing discrepancies resulted from a lack of guidance from the Department of Homeland Security. It's becoming clear that the federal government outlined no real plan for reuniting families, and did not give agencies enough guidance to prevent separations from becoming permanent. One thing I would love to know: To what extent did individual border agents know or suspect that this method of processing would cause problems down the line?
What we're watching: What happens to the remaining migrant kids whose parents have been deported without them? Once someone has been deported to another country, they become much harder to track down—they become harder to track down since young kids might not be able to tell authorities their parents' full name or phone number. (And even once a parent is found, reuniting parent and child can be a logistical challenge if they're physically far away from each other.) There's a risk that some of these children will stay in U.S. foster-care centers and foster homes indefinitely.

What to Expect
Notes on the news to come
Global
Banks in India will be open next week, officials were forced to clarify, correcting false reports of closures that spread virally on social media. Indians have reason to fear the specter of empty ATMs. The country has faced multiple widespread cash shortages since 2016, when Prime Minister Narendra Modi, in the name of fighting corruption, removed much of the country's paper currency from circulation. As a result, false messages about bank closures were primed to circulate on WhatsApp in recent days. The Facebook-owned messaging app has been widely criticized as a vehicle for damaging rumors in India, and as a catalyst for a series of lynchings in the country driven by false accusations of kidnapping. WhatsApp is running a nationwide campaign to educate users about the dangers of these hoaxes, but has resisted government pressure to trace the perpetrators.
National
One public high school in Newark, New Jersey, will try something new to combat school bullying when the school year starts next week:opening a laundromat that students can use for free. Teachers and administrators at West Side High School realized that many low-income students were being harassed, in person and on social media, because they weren't able to come to school regularly with clean clothes. As a result, they'd stay home. "These are kids, good kids who want to learn, that are missing three to five days a month because they were being bullied because they were dirty," the school's principal, Akbar Cook, told CNN. The appliance company Whirlpool has tested the program in 10 school districts—and it works. In the pilot districts, access to a laundromat measurably improved attendance.
Technology
Among the industry celebrities at next week's Artificial Intelligence Conference, which begins Wednesday in San Francisco, will be Kai-Fu Lee. Lee is no stranger to Silicon Valley. Google once feuded over him with Microsoft, wrangling in court about whether a noncompete agreement precluded him from heading up the search giant's fledgling operations in China. But now, having amassed 50 million followers on Weibo and having started a successful venture-capital firm, Lee returns to Silicon Valley to complete two missions at once: convincing U.S. engineers to respect China's prowess in AI implementation, and persuading humans to embrace AI rather than fight it. Over the past several months, Lee has undertaken a PR tour that commenced with a TED Talk in April and will culminate in September with the publication of his latest book, AI Superpowers. We asked Jim Fallows, who blurbed the book, if Lee's case for AI is convincing. His answer: "Yes."
The Skies
Next week, American Airlines will let holders of its lowest-price "basic economy" tickets fly with a carry-on bag without paying extra. Until then, basic-economy passengers no matter their destination have had to make do with a small "personal item," stowed under their seat, bin space forbidden. The airline introduced basic economy earlier this year, stripping amenities in favor of savings. Its reversal is a surrender to the travelers choosing other carriers that found a way to be both inexpensive and bag generous. Budget-minded flyers will enjoy that the policy change coincides with the seasonal fare drop in flights as summer turns to fall—in mid-September, prices will plummet for travel across the Atlantic. Have carry-on bag, will travel.
100 Years Ago
I build my poems with little strokes of ink
Drawn shining down white paper, line and line,
And there is nothing here which men call fine,
Nothing but hieroglyphs to make them think.
I have no broad and blowing plain to link
And loop with aqueducts, no golden mine
To crest my pillars, no bright twisted vine
Which I can train about a fountain's brink.
Those others laced their poems from sea to sea
And floated navies over fields of grain;
They fretted their full fancies in strong stone
And struck them on the sky. And yet I gain,
For bombs and bullets cannot menace me,
Who have no substance to be overthrown.
Cathedrals crash to rubbish, but my towers,
Carved in the whirling and enduring brain,
Fade, and persist, and rise again, like flowers.
Items this week by Caroline Kitchener, Matt Peterson, Matt Thompson, and Karen Yuan.
What's New
Updates on your Masthead membership
One thing you should know: "For me, what was perhaps the most helpful thing about writing the book was that it gave me the opportunity to spend some time with my positive memories," Tara Westover, the author of the New York Times best-seller Educated, wrote in our forums this week. She discussed what she's learned about mental illness, how she processes difficult pieces of family history, and why she's predisposed to question any one person's historical account of "what actually happened." We especially loved her advice for book lovers: "Read anything that makes you want to write!"
Where you can dive in: Catch up on The Masthead's book club, or start thinking about what we should look at next. We're deciding what book The Masthead should read in September, and we need your help. What's a book you've been dying to read but haven't picked up yet? Email us at themasthead@theatlantic.com, or fill out our survey. [Read our conversation with the Yale historian Timothy Snyder about The Road to Unfreedom.]
What's coming: We won't be publishing Monday, since it's the Labor Day holiday in the United States. Wednesday, we'll announce the winner of our first-ever Longreads Bracket. Our two finalists are "Been Down So Long It Looks Like Debt to Me," by M. H. Miller, and "How E-Commerce Is Transforming Rural China," by Jiayang Fan. Which one do you think should win out? Cast your vote here.
We want to hear what you think about this article. Submit a letter to the editor or write to letters@theatlantic.com.
Ashley Fetters
is a writer based in New Jersey, and a former staff writer at
The Atlantic
.