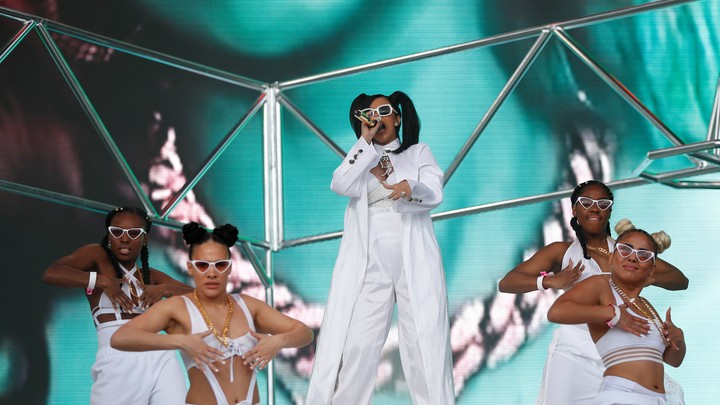 What to Know: Hip-Hop's Dominance of the Summer
By Spencer Kornhaber
Hip-hop and R&B officially leapfrogged rock to become the most consumed genres in America last year. 2018's race for the song of the summer makes clear just how profoundly the center of popular music has shifted. On Billboard's Hot 100 chart this past week, you'd have to skip down 14 slots to find a song that doesn't have a rapper and wouldn't be classified as R&B. That song is Ariana Grande's "No Tears Left to Cry," a diva-led anthem of the sort that would have once been a fearsome contender for song of the summer. But instead, the battle is between Drake, this decade's unstoppable musical force, and Cardi B, the era's most exciting insurgent.
What should a non-music obsessive know about this? Summer kicked off with a show of strength from Kanye West, who oversaw the release of five albums, by both himself and his collaborators, across five weeks. But the more significant commercial event was the drop of Drake's Scorpion, a 22-song double disk that quickly set a number of historic records and resulted in the rapper beating a Beatles' milestone by having seven songs in Billboard's top 10 at the same time. Three of Scorpion's tunes have stuck around as monster smashes, with the playful "In My Feelings" cresting most recently thanks in part to a viral dance craze. Yet there's serious competition from Cardi B's "I Like It," a Latin-trap earworm that, as my colleague Hannah Giorgis predicted all the way back in May, will likely be remembered as 2018's song of the summer. That'd make for the second year in a row that America's beach parties have been ruled by a tune with Spanish lyrics.

What's really going on? The rise of streaming—a platform where digital natives thrive and some traditional gatekeepers can be bypassed—helps account for hip-hop's dominance. So do broader trends in demographics and tastes. But there's also something to be said for how the genre has shifted sonically. Thanks to Drake's influence, today's rappers can often sing too, and the music that's trending right now is more melodic than hard-edged. Just look to Drake's three recent No. 1's—the airy "God's Plan," the ebullient "Nice for What," and the infectious "In My Feelings"—to hear how broadly accessible this music is. Or listen to Post Malone's "Psycho," which hit No. 1 in June: It's basically a nursery rhyme.  

What's next? Ariana Grande's fourth full-length album, Sweetener, arrives today. Its chart performance will test whether female-led sing-alongs, once a music-industry mainstay, can break a recent slump. Meanwhile, Nicki Minaj's 20-song opus Queen* is just beginning to affect the landscape. And on and off the charts, a crop of exciting newcomers like the moody Juice WRLD and the irreverent Rico Nasty could be the superstars of next summer. The biggest question of all, 10 years after Drake began his onslaught: Will the public ever tire of him?
* Of course, it'd be wrong to use the word queen when discussing this week in music without saluting the late, great, revolutionary, radiant, uncompromising, all-natural Aretha Franklin.

What to Expect
Notes on the news to come
Global
Two punitive economic measures implemented by Donald Trump's administration are set to take effect next week. Taken together, they paint an interesting contrast. Around Wednesday, a new set of sanctions—triggered by the poisoning of a former Russian agent and his daughter—will be imposed on Russia. The sanctions, which will prohibit U.S. exports to Russia of certain items with potential military uses, could be dramatically expanded if Russia doesn't prove within 90 days that it has stopped its use of chemical weapons. On Thursday, the Trump administration is set to levy tariffs on $16 billion worth of imports from China, while at the same time conducting a series of hearings over the next two weeks concerning U.S. plans for tariffs on Chinese imports worth up to $200 billion more. The president's recent tweets contain much boasting about the new tariffs. The sanctions don't seem to have made it to his Twitter feed yet, but perhaps they will in time. Or perhaps not. —Matt Thompson
Food and Drink
Next Sunday, residents of Austin, Texas, will welcome a pop-up dedicated exclusively to the American fried-cake delicacy known as the donut. The interactive donut museum—which includes a donut wall (edible), a donut pool filled with inflatable donut-shaped floaties (not edible), and a donut swing (??)—will be open for one day only. The donut museum appears in the wake of other wildly popular Instagram-friendly shrines to food: the Jell-O Gallery Museum in New York, the Shin-Yokohama Ramen Museum in Yokohama, Japan, and the Museum of Ice Cream, which has toured to Los Angeles, San Francisco, and Miami. These museums, it seems, prioritize an eye-catching aesthetic over taste. The ultimate goal of the donut museum, said Jane Ko, its designer, is to create an "Instagrammable experience." —Caroline Kitchener
National
August 21 will mark the beginning of a 19-day national prison strike. Incarcerated individuals across the United States will stop working, spending money on prison goods, and, in some cases, eating. Jailhouse Lawyers Speak, a group of incarcerated activists, declared the strike in April in response to events at the Lee Correctional Institution in South Carolina, where a riot left seven inmates dead. The strikers' demands include state-standard minimum wages for their labor, an end to imprisonment without parole, and rehabilitation services for all inmates. In the past, some prison strikes have led to pay raises, prisoner-led unions, and improved conditions; some have ended in chaos and mass casualties. And some have made little difference at all. —Faith Hill
Technology
Next week, LG, which has been losing money in its smartphones division, is launching a $1,800 luxury phone. The limited-edition V35 phone will be coated in zirconium ceramic—the scratch-free material knives are made of—and comes with bespoke customer service as well as a free pair of $500 designer headphones. In the same week, Xiaomi, a smartphone manufacturer known for its budget phones, will launch its first premium phone, the mysterious Poco F1. Xiaomi and LG, historically stalwart holdouts on ultra-pricey phones, are now attempting to catapult beyond the stratosphere of Pixels, Galaxys, and iPhones—and are circling back to the BlackBerry age, when a mobile phone was a status symbol. —Karen Yuan
100 Years Ago
A preventative war is the most immoral of acts and the most detestable of political crimes. To drench the world in blood because something may happen which has not happened, is both criminal and foolish ... Do not the episodes of this war suggest that, if Germany had left well alone, she would have accomplished more by peaceful intercourse than she has gained in arms? Is it not probable that her bugbear, Russia, would have been soon transformed into a democratic state, from which no military aggression was to be feared? Has the preventative war been worth while? Who can affirm it? It is a question only whether it was most criminal or most foolish. —Charles à Court Repington, August 1918
What's New
Updates on your Masthead membership
Join the book club: Our book-club discussions are in full swing in the forums. Join in with your thoughts about our Masthead summer reads: Timothy Snyder's The Road to Unfreedom (discussion here) and Tara Westover's Educated (discussion here). And mark your calendar for next week, when Timothy Snyder will jump into the forums to take questions from you about his work on democracy and tyranny in America and Europe.
Dive into the debate: Should the government give people money? We're holding a Masthead-wide debate in our forums on whether the United States should implement a universal basic income in order to alleviate rising inequality in the country. Read our arguments and share your rebuttals. As the debate goes on, we'll bring in experts for insights.
What's coming: There is more great journalism than any one person could possibly read. To help you decide which meaty pieces most deserve your attention, we're launching a "Longreads" bracket: Over the next three weeks, Masthead members and Atlantic staffers will read some widely circulated deep dives published in July and vote on which ones they like best. We'll send you our judges' arguments for their favorite pieces, ultimately landing on one definitive "best" longread from last month.
We want to hear what you think about this article. Submit a letter to the editor or write to letters@theatlantic.com.
Faith Hill
is a senior associate editor at
The Atlantic.
Karen Yuan
is a former assistant editor at
The Atlantic
.