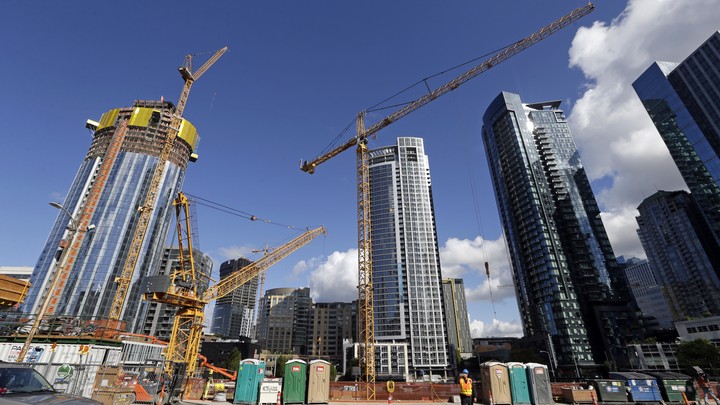 If you've ever shopped at Amazon.com, it's probably been difficult for you to escape the fact that today is Amazon Prime Day. The #PrimeDay frenzy speaks to the magnitude of the attention—and questions—surrounding the tech giant. We wanted to take the opportunity to discuss one of the current open questions about Amazon: where the company will house its second headquarters, or HQ2, as it's widely nicknamed. Last fall, Amazon threw open the call for host cities, and this spring it announced a shortlist of 20 contenders for the location of the new facility. It's still uncertain when Amazon will announce its pick.
Hundreds of cities vied to host "HQ2." The facility could bring with it as many as 50,000 well-paying jobs, a $5 billion campus, and a stratospheric boost in economic and cultural capital. But it could also come with a heavy price tag. Which leads us to our question: Would you want your own city to host the new Amazon behemoth? Below, we've listed some questions and answers that might help inform your thoughts. Share your answers with us in the forums.
---
What can you learn from Seattle's experience?
Seattle's local government has attempted, sometimes unsuccessfully, to adapt to the weight of Amazon on its economy and real estate. One recent proposal of a "head tax"—a tax per employee—for Seattle-based businesses was intended to help fund community initiatives. But as The Atlantic's Alana Semuels reported, Amazon fended off the proposal by announcing it would halt construction on a new downtown tower. "That really changed things overnight," a transit-union representative told Alana. "People got scared." The original head-tax proposal was scrapped, and a revised, cheaper one was introduced.
Amazon's search for a new city is a sign that it's hit a ceiling of sorts in Seattle. There are only so many new workers it can acquire in one city, and only so much a city can do to sustain those workers. That's important to keep in mind for HQ1, but also HQ2. In the future, these questions could even be directed toward an HQ3.
What could your city get out of it?
In the past seven years, according to Amazon, the city of Seattle has gained over 50,000 jobs on top of the 40,000 jobs at Amazon's headquarters, $17 billion in salaries and wages, and $38 billion in investment. Other tech giants like Facebook, Uber, and Google have also built campuses in the region as part of an effect called agglomeration—more companies attract more workers, which attract more companies, which attract more workers, and so on.
A study commissioned by Montgomery County, Maryland, one of the locales under HQ2 consideration, stated that the construction of the headquarters alone would bring $3 billion in wages to the state. It also mentioned "spin-off" benefits, such as more trade activity in Baltimore's port and more international travel through Baltimore's airport.
What indirect costs would it impose on your city?
While every city is different, Seattle might again provide a blueprint for what Amazon's next host city might shoulder. Seattle's housing prices have grown nearly twice as fast as other cities. And housing prices around HQ2 will almost certainly go up as cities receive an influx of new residents. Apartment List projected an average jump of 2 percent. "How the chosen city's housing market reacts will depend on how flexible it is," said Danielle Hale, the chief economist at Realtor.com, to Marketwatch.
In addition to housing prices, residents might also have to contend with rising traffic congestion (Seattle's traffic is now the fourth worst in the country) and growing income inequality (while tech salaries are high, half of Seattle's workers earn less than $50,000 a year). These costs might accrue disproportionately to the city's existing residents. "My worry is that benefits will mostly go to people who move to the area instead of local residents, which will isolate local residents already in the community," Amy Liu, the director of the Metropolitan Policy Program at the Brookings Institution, told me.
What would your city have to give up or offer?
Several of the cities contending to host HQ2 are offering Amazon billions of dollars in tax incentives. Experts question how much these tax breaks really influence Amazon's decision. "Amazon has performed a great public service by dragging the obscure site location process out of the shadows and into a harsh public spotlight," mused Greg LeRoy, the executive director of Good Jobs First, in CityLab. As the urban theorist Richard Florida argued in CityLab:
The broad consensus among urbanists, economists, and local economic policy experts is that outlandish tax breaks ultimately have little influence on where a company decides to locate. Those decisions are based on more fundamental factors like location, talent, access to markets, and real estate costs. Instead, tax breaks simply transfer public funds that could be used for more much-needed public services like schools, housing programs, job training, and transportation to private corporations.
Some cities, like Boston, are offering Amazon alternative incentives, such as the opportunity to connect its campus to regional transit. While we can't know whether such offers will be effective in luring Amazon, in 2015, Boston was able to use similar appeals to make a successful bid for General Electric's headquarters.
What are the effects on local businesses and organizations?
Local universities may meet the arrival of Amazon by developing pipelines for new employees. Construction companies and real-estate developers will anticipate new work. The latter, said Liu, could be key to ensuring local residents don't get left behind. "They should commit to financing the preservation of affordable housing," she advised.
Local philanthropies, while perhaps less visible, can advocate for city residents and support any new community needs that emerge, such as funds for affordable housing. Liu pointed out that the visibility of the HQ2 search may spur Amazon to serve as a strong corporate partner to local foundations. To an extent, local organizations can help cities make demands. "My sense is Amazon leadership wants to be a good neighbor. In this sense, philanthropies have enormous sway over enforcing collaboration with Amazon."
Who would you be competing against?
CityLab's Sarah Holder has surveyed all the contenders to host HQ2, highlighting the different opportunities and disadvantages that different cities face. Sarah likens the competitive process of coming up with new incentives to the Hunger Games. Check out the front-runners on her list, and assess how your city stacks up.
---
Today's Wrap Up
Today's Question: It's in the headline. Would you want HQ2 in your city?

What's Coming: On Wednesday, we discuss new frontiers in philosophy.

Your Feedback: Click that button.
We want to hear what you think about this article. Submit a letter to the editor or write to letters@theatlantic.com.
Karen Yuan
is a former assistant editor at
The Atlantic
.