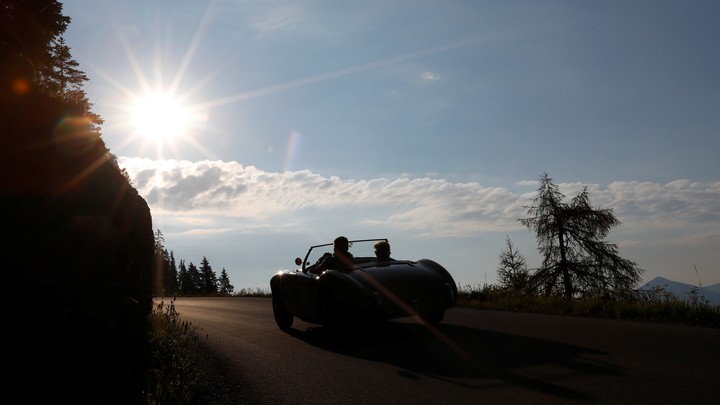 "I'm interested in the concept of 'home,' one Masthead member recently posted on our forums, "what draws us to a place, and why we stay there." Dozens of members responded, describing the towns, cities, and states that they've come to call home. (One member posted breathtaking photos of the mountains and turquoise river in Yukon, Canada, noting, "We expect to be buried here.") In today's issue, we look into what the geographic mobility of some Masthead members reveals about us, and how these patterns of mobility affect our lives. We share some stories from members that illuminate both the privilege of being able to seek a home—40 percent of Americans never leave the place they were born—and the pleasures of making a home in a place you've been given. Then we'll hear from The Atlantic's outgoing creative director, who is about to set off on a year-long journey with his family in search of a home of their own.
—Caroline Kitchener
---
How mobile are Masthead members?
By Caroline Kitchener
Last week we put out a survey to find out how often, and how far, Masthead members move. Over 275 of you responded.
The big takeaway: Survey respondents are far more mobile than most Americans.
"The typical [American] adult lives only 18 miles away from his or her mother," according to The New York Times. And Americans tend to move much more than residents of other developed countries. But 50 percent of our respondents live more than 500 miles away from the places their mothers live or lived, and 71 percent live more than 100 miles away.

Nearly forty percent of Americans have never left the place they were born. Only 9.5 percent of survey respondents say they still live within ten miles of their birthplace, while more than half say they live over 500 miles from it.
What does an expert say?
We asked Robert Pollak, an economics professor at Washington University in St. Louis, who specializes in geographic mobility, to analyze the results of our survey. Here's what he said.
What does this data suggest about our survey respondents?

It's a highly educated group. "People with more education live substantially further away from their parents than people with less education," said Pollak. Based on the number of people who live more than 500 miles away from both their parents and their place of birth, he predicts that the majority of survey respondents have college degrees, and that many also hold advanced degrees. Those long-distance jumps, he said, often follow from the cross-country or international employment opportunities available to highly-educated candidates.

Many are in good financial shape. Highly-mobile individuals are more likely to be upper-middle class or upper-class, Pollak told me, for roughly the same reasons they're likely to be highly-educated. Lower and middle class individuals also might be more likely to rely on the support networks of family and close friends, Pollak said, so they could be more hesitant to leave them behind.

The group probably skews older. "The respondents to your survey"—almost half of whom said they'd lived in their current area for ten or more years—"are relatively settled," Pollak pointed out. Considering the group's high geographic mobility, he said, respondents are likely to have higher ages as well.

How are respondents' lives likely to be affected by their degree of geographic mobility?

The nuclear family is likely a "particularly important locus." Because many respondents live far from their parents and their place of birth, Pollak said, they're likely to have relatively few nearby relatives. "If you're having trouble, you don't have other family members you can draw on for emotional support or material support," he told me. "That said, this probably isn't a group that is going to need much financial help."
When their children leave home, they're likelier to move far away. "Highly mobile people have highly mobile children," Pollak said. The correlation, he said, follows the same trend as education. "If your mom is a college grad, the chance that you're also going to be a college grad is much higher."

If we did this survey over again, what additional questions should we ask to better understand our members, and their mobility?

How many went to college? How many have advanced degrees?

How far do survey respondents live from their children?

What do respondents do for their children, and what do their children do for them?
---
---
What is the definition of "home?"
By Karen Yuan
It's hard to articulate how a place alchemizes into a home, so we appreciated the dozens of members in our forums who shared their stories of how that process unfolded for them. Below, we've excerpted a few of the many ways our members found (or created, or chose, against odds) each of their very different homes.
Barbara, who lives in Cincinnati, Ohio, at some distance from friends and family, wrote that the community she's become a part of in the city is what anchors her there.
I'd say in general that Ohio, like other parts of the Midwest, has less in-migration than out-migration. And yet I stay here. I've put down my own roots, different than many of my friends but meaningful all the same. When your family lives far away, your relationships with friends take on a different dimension. I won't say it's the same as family, but it's deeper than just friends who get together for social occasions.

My neighborhood lost two vital businesses last week to a four-alarm fire, and two people lost their homes and all their possessions. We—all of us—began organizing fundraisers to help with rebuilding. As of day three, we have GoFundMe pages that have taken in over $20K (and counting) in donations; a concert fundraiser organized by a number of professional musicians in the community; a brunch this morning for the fire departments that responded; and a collection of cards and goodies for other first responders. Other community members with requisite skills have volunteered their time to help with rebuilding. That's what keeps me here.
Sometimes, it takes the prospect of leaving a place to highlight its meaning to you, as Shana, from Portland, Oregon, wrote.
This is becoming a bittersweet topic for me. I'm a Portland, Oregon, native facing a likely move in a year. I've lived in Oregon my entire 35 years. My family is here, all of it. Same for my husband. But later this year, I'll be applying to PhD programs in various parts of the country, as well as Canada and the U.K. I desperately hope to get accepted, but hate the thought of leaving my home. I wish I could say our move will be temporary, but I doubt it will be. Home for me is rain, and grey skies, and evergreen forests, dark and dripping with moss and ferns. It's distant, snow-capped mountains and rugged coastlines. It's valleys and rivers, high deserts, and urban growth boundaries that contain the sprawl found in other cities. It's business-casual to the extreme, and recycling as religion. And I worry I won't find this same mix of things I love anywhere else.
Tracy moved from Northern California to a seaside town in Southern California for her teaching profession, but stays, among other reasons, because of "the sun's magic spell."
I never left Orange County. I finished school and became a teacher. I married and raised kids. I divorced and found a ramshackle cottage in Laguna Beach with below-market rent. As pricey as it is here in the "orange bubble," and as unrelentingly my profession is denigrated and strangled, I persist here, loving the sun, the ocean, the creative people, and the friends and colleagues. Like me, they are simultaneously under the sun's magic spell and unable to transfer credentials and job tenure to other districts with lower costs of living. I know when I retire, this bubble will pop and I'll probably have to move somewhere like Idaho, where a pension goes farther and the dentists don't peddle veneers and whitening or serve sugar cookies in the lobby. I'll never return to my agri-smoggy origins in the Central Valley, and though I have read here from lovely people that there are many lovely places, I cannot imagine living far from the glittering western ocean, looking for a mythical green flash when the burning orb winks beyond the bulge of the earth.
NancyKay, a lifelong New Yorker, lives in one of the few limited-equity co-op apartments in New York City.
For the last ten years I've been fortunate to live in one of the last remaining limited-equity co-op communities in Manhattan. After many years on the wait list, I was offered an apartment just as the 2008 financial crisis hit, which affected my income as a freelancer and ability to pay my mortgage. If that timing hadn't been so fortuitous, I'm not sure where I'd be today.

The limited-equity co-op community gives me a spacious apartment in a well-maintained group of buildings, in a great neighborhood, at a price much below market.  The co-op receives federal and state funding and tax exemptions that allow it to continue to keep the apartments and monthly maintenance affordable. Everyone I know here feels fortunate.

New York City has always been the place I've most identified with; I never wanted to be anywhere else. I like knowing, when I'm just reading a book in my living room, that there's a lot going on out there that I could attend. I like doing my errands on foot, having a panoply of museums and galleries to drop into, classes to take, a great public library system. The co-op, where I've made acquaintances and even friends, and which constitutes a neighborhood, gives me a sense of belonging somewhere in particular, while I still get to enjoy the anonymity and variety of New York City life.
In Yukon, Canada, on a quiet, tucked-away riverbank, Barrett and his family built a home from scratch. He shared a photo of their view.
We moved to Yukon because our son had moved here after university and announced that he never wanted to live anywhere else, that he would one day be buried here. When my wife and I visited him some months later, we likewise fell in love with this remarkable and unique place. So we asked if it would ruin it for him if his mom and dad also lived in Yukon. He expressed enthusiasm and apparently was sincere, given that some months later he announced that he had found a place for us to purchase—20 acres on the banks of the Yukon River.

We bought the property, built our home, and have lived here since. We are totally off-grid with sun, wind, diesel (for the dark winter months), and wood for heat. We named our home "Still Point" from some lines in T.S. Eliot's poem, "Burnt Norton":

At the still point of the turning world. Neither flesh nor fleshless;

Neither from nor towards; at the still point, there the dance is.

There is something that seems to us uniquely beautiful and captivating about Yukon—its geography, its people—a paradoxical combination of grandeur and intimacy, harshness and comfort, fierce independence along with generous interdependence. And so it has become home. And we expect also to be buried here.
---
What if you're not sure where your home is?
David Somerville, our former creative director, whom you've gotten to know through our "Behind the Cover" series, recently left The Atlantic to embark on a nationwide search for a new home. Packed up in their new RV, David, his wife Casey, and their three young children will soon begin a year-long road trip, trying out a variety of towns and cities across the country. Here's what he had to say about their decision to prioritize finding a home:
If we stay in D.C. for much longer, [our children] will be from here. And that might be fine, except we don't know if here is where we want to be from. We could just buy a house in our hometown, settle down right where we started…but that doesn't feel right. That doesn't fit with the life that we hope to lead, or the legacy we want to leave for our children.

If we're going to spend the next twenty years or so doing neighborhood trick-or-treating, little league, scouts, bake sales, music classes, after-school clubs, driver's ed, prom, college visits, the whole thing, we want it to be in a place, in a community, that we're passionate about. We want to choose it, so that we can know that we're giving our kids the best home we could find for them.

So we're going to go look for that home.
---
Today's Wrap Up
Today's Question: Where is home for you? How did you come to find it? If you haven't had a chance to jump into our forum discussion, now is the time!

What's Coming: On Monday, we'll review how the news from President Trump's recent trip to Helsinki looked from a few different geographical and ideological vantage points.

Your Feedback: How are we doing? Hit the button below, and let us know.
We want to hear what you think about this article. Submit a letter to the editor or write to letters@theatlantic.com.
Karen Yuan
is a former assistant editor at
The Atlantic
.