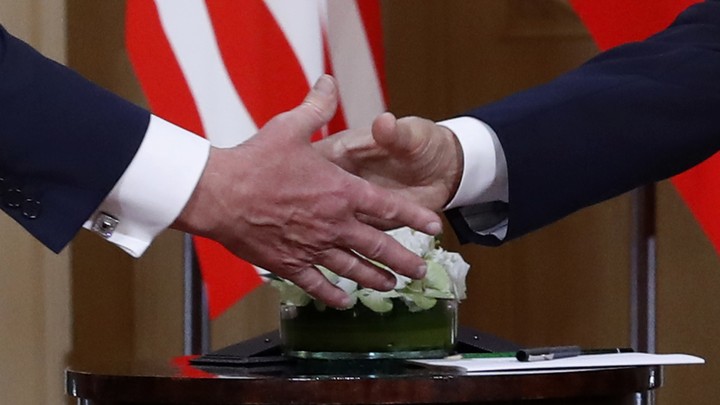 What to Know: The Unsolvable Helsinki Mystery
Before last week's summit in Helsinki, speculation abounded that President Donald Trump was hatching a grand geopolitical bargain with Russian President Vladimir Putin. In exchange for Russia's consenting to restrain or end Iran's actions in Syria, the United States would back off sanctions over Russia's invasion of Ukraine and potentially recognize Crimea. Though no agreement was announced after the meeting, the subsequent days have done little to dispel the idea that Trump and Putin made secret deals. Is there any way for the public to learn what was discussed in Helsinki? And what does it mean for the country that the heart of American foreign policy is a black box?
Practically speaking, there are a few ways to determine what was said in Helsinki.
Ask the administration. Presidents have met privately with world leaders before, and usually their cabinet secretaries can explain what was said. In 1972, Secretary of State Henry Kissinger had to chase after a Soviet interpreter to demand notes from a meeting between President Richard Nixon and Soviet Premier Leonid Brezhnev. In that case, no one was concerned that Nixon had been handled by the Russians, and Kissinger got the details eventually. Secretary of State Mike Pompeo's testimony before Congress on Wednesday, on the other hand, failed to convince his audience that he knew what Trump and Putin had discussed.

Ask the interpreter. Congressional Democrats want the State Department's interpreter to testify personally or hand over notes, but they've been blocked—for good reason. If translators knew they had to face grillings from politicians, their work would become much harder. Still, the interpreter's story might come out eventually. The Soviet interpreter in that Nixon-Brezhnev meeting talked publicly about what he'd heard … after two decades.

Ask the spies. As Edward Snowden revealed, the U.S. has a covert program to steal secrets from foreign diplomats and negotiators. According to Politico, American spies have likely used it to gain access to Putin's internal readout—or even possible clandestine recordings—of the meeting. But spying on the American president directly is virtually unthinkable.
Trump's Foreign-Policy Paradox
While we may not soon know what Trump and Putin discussed, the Helsinki summit and its aftermath remain fascinating because they reveal a paradox. The more the administration tries to explain what happened, the less convincing their answers become.
Indefensible idea: The American and Russian ways of making policy have flipped. Here's a former Soviet foreign minister, after the fall of the U.S.S.R., describing to Americans how different the two countries' political systems are.
In a peculiar sense, we give each too much "credit," so to say, for knowing everything in advance. So, we say, for example, that the Soviet Union had a master plan to conquer the world, or something of this nature. Those of us on the inside, of course, as we have said, had no such experience of any master plan. Or even, sometimes, any plan at all ... In real life, so it appears, events, our relations, and our policies depend more on accidents, coincidences, and acting on very little real knowledge of what is going on. We have been through so many crises in this way.
What's next: Expect a continuing drip-drip of stories about murky deals that might have been struck, like this one alleging a secret Trump-Putin deal over Kosovo. Russian officials will continue alluding to backroom dealings, whether they happened or not. As Hezbollah and other Iranian-supported militias in Syria continue to threaten Israel, more violence in the region is likely. But neither the U.S. nor Iran has the political will for a full-on military conflict, so the leaders of both countries will have to resign themselves to proxy wars for now.
What to Expect
Notes on the news to come
Global
Zimbabwe's elections next week will constitute the first vote since independence without an appearance on the ballot by longtime strongman Robert Mugabe, who was ousted by fellow party members in 2017. That party now faces strong opposition, but not from Morgan Tsvangirai, the ex–union leader who for years sought peaceful change. He passed away earlier this year. "I don't want to walk to State House over the dead bodies of fellow Zimbabweans," an aide recalled Tsvangirai saying. It may be the dead who help elect Mugabe's replacement. Activists allege that the voting rolls have been heavily rigged by Mugabe's party and contain hundreds of thousands of questionable names. Many are likely dead or, like one Phidas Ndlovu, improbably alive. He was born, allegedly, in 1877.  —Matt Peterson
Technology
Next week, Americans will be able to legally produce and possess homemade 3-D-printed guns. The first arrest for the production of a 3-D-printed gun was made in 2014, not in America but in Japan. Yoshitomo Imura was sentenced to two years in prison for possessing five plastic weapons, including a working version of a six-shot revolver known as the "ZigZag." His cause won support from gun producers worldwide, including Defense Distributed, the open-source website behind the case that led the United States to legalize the 3-D printed guns. —Karen Yuan
Arts and Letters
New York museums will likely be busier than usual in August, as Culture Pass, the new program that grants New Yorkers free admission to 33 museums and other cultural institutions with their library card, kicks off throughout the five boroughs. The program was immediately in high demand: Passes to 10 of the most sought-after institutions, including the Frick Collection and the Guggenheim, sold out within three days. The program's success is a quiet answer to Forbes' much-derided hate-read suggesting that Amazon replace libraries. The next round of passes will open up next week for visits starting in November. In the meantime, New Yorkers who missed out on this round can check out exhibits at some of the smaller, less well-known museums—perhaps the "Infinite Compassion" exhibit at the Jacques Marchais Museum of Tibetan Art, on Staten Island, or the "Akari" exhibit at the Noguchi Museum, a gallery of the Japanese American artist Isamu Noguchi's art and legacy. Or just visit a library.  —Caroline Kitchener
Entertainment
Next week, the last traces of Netflix's user reviews—already invisible on the connected TVs and mobile apps where most Netflix viewing happens—will finally be swept out of public view. When Netflix was a DVD-by-mail service, reviews were a vital aid; if you didn't like your selections, you could only mail them back and await the next. The company had only your reviews and ratings to tell it whether you'd even watched the film, much less whether you'd liked it. But in today's streaming universe, Netflix can not only know what you watched, but what you binged, what you didn't finish, even what types of images make you want to watch. In short, the death of user reviews is a product of the fact that Netflix now watches you more closely than you watch it.  —Matt Thompson
125 Years Ago
"Lessons from books, and not from nature, have been the tiresome lot of school children. Questions and answers, cut and dried, have tended to deaden the inquiring spirit. That portion of a child's brain which is involved in observation has been reduced to atrophy by the usual public-school methods … Agassiz said: 'The pupil studies Nature in the schoolroom, and when he goes out of doors he cannot find her.' I shall never forget the bitter disappointment I felt as a boy, on my first journey, when the stage driver pointed out to me with his whip the dividing line between the States of Maine and New Hampshire. There was no colored line! There was no change in the color surfaces of the two sides! I felt grieved and rebellious at the imposition which had been practiced upon me." —Edward Morse, 1893

What's New
Updates on your Masthead membership
The one thing you should know: Among a wasteland of dubious policies, school integration has been highly effective at narrowing racial achievement gaps in American education. Yet the consensus is that American schools are resegregating, 64 years after the Supreme Court intervened decisively with Brown v. Board of Education, reports Adam Harris. In recent years, courts have released a number of schools from orders to improve racial equity. "I think the appetite for aggressively policing resegregation is not necessarily there," Harris says. [Read our briefing on school integration.]
Where you can dive in: To win in 2018, should Democrats focus on rallying their base or attracting centrist voters? That's the topic for our July members debate. If you don't have time to read the forums, we'll synthesize the argument next week in an email. [Join the debate on our forums.]
What's coming: Our book club is taking up not one but two volumes in August: Timothy Snyder's The Road to Unfreedom and Tara Westover's Educated. Choose your level of involvement: You can follow along as The Masthead works through the books in the forums, talk directly with the authors in August, or just hang back and wait for our email next month summing up what we've learned. [Weigh in on the book-club choices on the forums.]
We want to hear what you think about this article. Submit a letter to the editor or write to letters@theatlantic.com.
Matt Peterson
is the editor of The Masthead, the membership program at
The Atlantic
.
Karen Yuan
is a former assistant editor at
The Atlantic
.