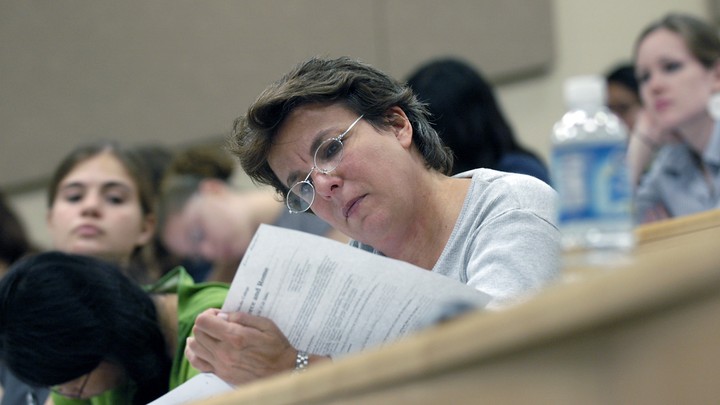 A few weeks ago, I watched my mom, at age 59, walk across the stage to accept her college diploma. She graduated from Smith, in a special program for students aged 24 and up. In today's issue, I'll tell you a little bit about my mom, and what compelled her, and other women her age, to go for their degrees. Rather than new jobs or economic opportunities, I found that women in their 50s and 60s were largely seeking a more internal achievement. Traci Williams, who graduated at 51, told me, "My college degree gave me the opportunity to be me."
—Caroline Kitchener
---
Ask Olga Khazan Anything
Atlantic health writer Olga Khazan is answering your questions on the forums next week on Tuesday, July 3, from 11 a.m. to 12 p.m. ET. Olga wrote about health inequity in America for our July/August magazine issue. She's also written about the opioid epidemic, wealth disparity, and cannabis. Leave your questions for her here.
---
Ask A Historian
So many of today's issues can be addressed with a historical perspective. We'd like to ask a historian the questions that matter to you. If you've got one, post it here, or reply to this email. Your questions can span any topic and any time period.
---
The Baby Boomer Women at the Front of the Class
By Caroline Kitchener
On the morning of her college graduation, my mom, Nancy Kitchener, was one of the first students lined up in the gym. She had her late father's dog tags in her pocket, the hood of her gown pinned to show just the right amount of stripe. As others trickled in, futzing with graduation caps that wouldn't stay in place, she was the one handing out bobby pins.
"A lot of people were rushing, but I was prepared," she told me when I asked her to think back on the day. "I wanted to make sure I could take in this moment."
My mom had started her degree seven years earlier, taking two or three courses a semester at community college. Eventually she transferred to Smith's Ada Comstock program for nontraditional students. She was one of the oldest students in every class she took—often older than her professors—but she didn't mind. She was graduating with one of the highest GPAs in her department; she loved her teachers; she'd made friends. Right before graduation, she took me to meet Sasha, her bleach-blonde friend from art class, a few years younger than me. "Are you going to cheer for me, Sasha, as I walk across the stage?" My mom asked. Sasha grinned. "Are you kidding? How could I not cheer for Nancy Kitchener?"
My mom went to a two-year art school when she was younger, and dropped out of the workforce at age 35 when my dad got a job overseas. For her, a bachelor's degree was a means of reclaiming her identity. For twenty years, she told me, she was defined primarily in relation to someone else: John's wife, Caroline's mom. She'd had a formidable career in graphic design, but by the time she thought about going back, the field was inundated with computers she didn't know how to use. When she finally enrolled in school, she said, she became the center of her own universe for the first time since I was born. Prize-winning professors wanted to know what she thought—what she took away from the reading. "I'd lost my sense of self-worth," she told me. "And I got it back."
My mom is part of a swell of baby boomer women, born between 1946 and 1964, who are going back to school in mid-late life, typically once their kids are in high school or out of the house, said Susan Barcinas, a professor who specializes in adult higher education at North Carolina State University. Women are, in general, more likely than men to go back to school later in life: 61 percent of nontraditional students (25 and up) are female. For students in their 50s and 60s, multiple experts told me they suspect that percentage is even higher. (Data on this specific group is hard to come by, as most studies lump nontraditional students together, whether they're 24 or 94.)
The majority of these women, Barcinas said, aren't enrolling in college to make more money. Going back to school at 50 or 60, typically doesn't correlate with higher wages, several academics said. Instead, they're doing it to prove that they can. "For mid-life women, this is a very powerful concept: I am going to be smart, I am going to show my kids I can do this, I am going to have this identity as an educated person," said Barcinas. "It's about claiming, 'This is my time.'"
Of course, finding identity through a late-life college degree isn't an option for the vast majority of women, who work full-time and can't afford steep tuition bills. Andrea Rossi-Reder, who runs Smith's Ada Comstock program, told me most mid-to-late life Ada scholars are on the verge of retirement, happily working part-time jobs they've had for years, or, like my mom, considering next steps after staying home with their kids. "Let's face it," Rossi-Reder said. "Women in their 50s and above are not as employable, so it's hard to see an economic reason for doing this." The older students, she said, are generally familiar with these odds, but choose to do the program anyway. And they do well. Students in their 50s and 60s, Rossi-Reder told me, tend to have higher GPAs than their classmates. (My mom would often decry the large group of students "slouched in the back on their smartphones." The women her age, she said, always sit up front.)
"Very few men" enroll in college in their 50s and 60s, said Sara Kimmel, a professor of business and management at Mississippi College who has researched nontraditional students' motivations for going back to school. This gender disparity, Kimmel said, is "telling." She found that men of that age "did not necessarily see a need to enroll in a program like this. They felt they were solid in their careers—they were moving up—they'd gained all the skills they needed."
Women of that age, on the other hand, are far more likely to have put their schooling or careers on hold for what Barcinas calls a "relationship-driven reason:" moving because of a partner's job, taking care of a sick parent, getting pregnant unexpectedly, opting to stay home to raise kids. In their 20s, 30s, and 40s, women of the baby boomer generation, even more so than women today, "saw relationships as the driving force," Barcinas told me. Men in their 50s and 60s tend to "maintain, and present to the rest of the world, an identity separate from their identity as a father or spouse," she said. But for many baby boomer women, "identity gets so wrapped up in their relationships."
Traci Williams, an African-American woman from inner-city Baltimore, and one of my mom's classmates, got pregnant at 20. She'd been planning to go to college, but after she had her baby—soon followed by two more—she didn't feel like she could. "I had to provide," Williams told me. "I didn't think it was fair for me to go to school, knowing that I had to get my kids through school." When her children graduated and left home, she, like my mom, enrolled in her local community college. "The classroom was almost like therapy for me," she said. After years of feeling ashamed of her background—a broken home that left her homeless at age 18—she wanted to prove she could excel academically. "It was like someone was saying, 'You are Traci, and you have a chance to be Traci—not just to let the world see, but to let myself see.'" Williams graduated from Smith at age 51 with a degree in Africana Studies, and plans to go on to graduate school.
Everyone is proud on graduation, but, for the older women, Rossi-Reder told me, it's different. "I get the sense they want to shout it from the mountaintops," she said. "It's their crowning moment, the achievement of their careers." On graduation day, as my mom's class began processing into the stadium, trooping behind a full Scottish pipe band, I abandoned my folding chair, climbed up on the bleachers, and squeezed my way through the throng of proud moms and dads, trying to spot her. When I finally did, I jumped up and down, arms flailing. "Yay Mom!" I managed to choke out. She did it.  
---
Today's Wrap Up
Today's Question: Did you go back to school later in life? Have you thought about it? Over on our forums, Masthead members have been discussing why they returned to college. Join in.

What's Coming: On Monday, we'll weigh in on Justice Kennedy's retirement, and what it means for the future of the Supreme Court.

Your Feedback: What did you think of today's email? Let us know. Hit the button.
We want to hear what you think about this article. Submit a letter to the editor or write to letters@theatlantic.com.