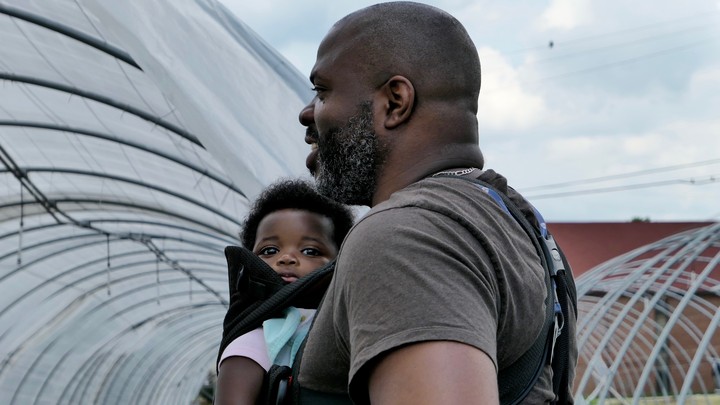 Residents of Baltimore's rich, white suburbs can expect to live a full 20 years longer than those who live in the city's poor, majority-black neighborhoods, Olga Khazan writes in the magazine. She tells the story of Kiarra Boulware, a black woman who struggles with obesity and addiction, problems exacerbated by factors like mice-infested homes and fast food advertising that systematically targets the poorest communities.
Telling Kiarra's story is only a small piece of the process of addressing the historic legacies of discrimination. To move closer to solutions, The Atlantic recently convened a group of Baltimore's leading public health experts. In today's issue, Saskia Miller, an AtlanticLIVE producer who organized the events, shares takeaways from those experts.
---
"Being Black in America Can Be Hazardous to Your Health"
Here's an excerpt from Olga's magazine story. The full piece is available online.
Across the United States, black people suffer disproportionately from some of the most devastating health problems, from cancer deaths and diabetes to maternal mortality and preterm births. Although the racial disparity in early death has narrowed in recent decades, black people have the life expectancy, nationwide, that white people had in the 1980s—about three years shorter than the current white life expectancy. African Americans face a greater risk of death at practically every stage of life.

Except in the case of a few specific ailments, such as nondiabetic kidney disease, scientists have largely failed to identify genetic differences that might explain racial health disparities. The major underlying causes, many scientists now believe, are social and environmental forces that affect African Americans more than most other groups.

To better understand how these forces work, I spent nearly a year reporting in Sandtown and other parts of Baltimore. What I found in Kiarra's struggle was the story of how one person's efforts to get better—imperfect as they may have been—were made vastly more difficult by a daunting series of obstacles. But it is also a bigger story, of how African Americans became stuck in profoundly unhealthy neighborhoods, and of how the legacy of racism can literally take years off their lives. Far from being a relic of the past, America's racist and segregationist history continues to harm black people in the most intimate of ways—seeping into their lungs, their blood, even their DNA.
---
The Atlantic Asks, "What Can Be Done?"
By Saskia Miller
Olga's piece left open one big question: What can be done to advance health equity in America? To get answers, fellow AtlanticLIVE producer Gloria Oh and I produced an on-the-record roundtable dinner and a live public forum in Baltimore, bringing together many of the area's leading public health experts as well as a few of those most affected by the disparities, including Kiarra. Here are what I found to be the key points of debate.
Only a national reckoning of historic proportion can address the root causes of structural racism.
Health disparities can be only partially remedied by being "absolutely focused" and "working together across all the sectors," said Diane Bell McKoy, president of Associated Black Charities, a foundation that responds to issues of importance to Maryland's African-American communities. But McKoy added that the issues affecting African-Americans cannot be truly addressed "unless you tackle the structural racism," a vestige of a long history of discriminatory policies in the U.S.
The consensus among health and policy experts at the events is that Americans of color still experience the impact today of decades of discriminatory policies, from redlining to poor transportation planning. Some of the basic foundations of health—safe housing conditions, access to fresh, affordable food, and quality health care—remain elusive to many communities.
Those historically responsible—namely, the lawmakers who put in place policies on water quality or gun control that intentionally or unintentionally harm communities of color—must begin by publicly acknowledging that their actions were harmful and wrong, says Darrell Gaskin, a health policy researcher at Johns Hopkins University. He recommends forthright repentance: "I'm sorry for what I've done, and therefore I need to make amends."
Targeted, measurable tactics might be the best hope for change.
On stage, Baltimore Health Commissioner Leana Wen put it this way: "Part of what is frustrating about public health is that we are focused on these long term goals [...] but if we only had long term aims, when is the community going to see any impact of our work? And so our work very much is about asking the community: What is it that we can do right now?" Wen also acknowledged at the events that "between healthcare, housing, food, environment, then poverty and racism, we often don't know where to start," but that data should be the "north star." In a follow-up email, her office pointed to the example of the B'More for Healthy Babies initiative, which provides services like home visiting and wellness education for at-risk pregnant women. According to the Baltimore City Health Department, the initiative has reduced infant mortality by 38 percent over 7 years.
Community programs need sustained money.
"There is no one at the end of the day putting their money where their mouth is," says Janet Abrahams, executive director of the Housing Authority of Baltimore City. Abrahams argues that in the weeks following a public crisis, such as the demonstrations that followed the death of Baltimore resident Freddie Gray, "we jump on board, come in with the cavalry, and then a month later we walk away." Reliable funding is a core challenge for organizations working to improve community health outcomes over time, says Debra Hickman of City Temple of Baltimore. Her nonprofit, Sisters Together and Reaching, has offered support to HIV/AIDS-infected and at-risk women in Baltimore for over 27 years.
Rather than waiting on outside charity, some community members are acting on their own.
"I'm not one for beggin'," says Heber Brown, co-founder of the Black Church Food Security Network, who spoke during a reporting trip prior to the events. In the immediate aftermath of Gray's death, Brown said he recognized the need for black communities to take charge of their own health. Baltimore is saturated with food charity programs, Brown argues, but "the health, the wealth, the ownership, those issues—those underlying issues—are not being addressed by these feel-good stories." So Brown and Darriel Harris co-founded their own organization. Its mission is to create an African-American-led food system that leverages land owned by black churches and the collective power of the network's  members to run urban farms. They distribute, market, and sell healthy produce back to the community at affordable prices.
Those in power need to listen more.
Many felt that the powers that be—policymakers, large charities, and the media—should focus on listening more, and analyzing less. When Gustavo Torres, executive director of immigrant rights organization CASA, asked local constituents about the biggest issue they face, he was surprised to hear that it was their lack of a driver's license. Without a driver's license, Torres said, you lack identity. And without identity, it's hard to access critical services, get a job, take your kids to school, and keep your family healthy.
One person was definitely listening. After one of the events, a woman working as a server told me she was happy to see that people cared about the issues that affected her. As an American citizen with two undocumented parents, she felt scared every day that authorities would take her parents away. (I'm withholding her name because of that fear.) But, as a student, she hoped one day to make her voice heard and help improve her community. Her field of study? Public health.
---
Today's Wrap Up
Today's Question: What's your take on these experts' views on how to address racial disparities in health care? What other resources should the powers that be—the media included—consider? Weigh in by email or on our forums.

What's Coming: On Monday, author and psychologist Jonathan Haidt will be joining us on our forums. He'll be talking about his book, The Righteous Mind: Why Good People Are Divided on Politics and Religion, our Masthead Book Club selection for this month. Submit your questions for Jonathan on our forums.

Your Feedback: What did you think of today's issue? Take our quick survey below.
We want to hear what you think about this article. Submit a letter to the editor or write to letters@theatlantic.com.